Return to News
Videocast: Working in Cotton, Metal and Fayence: Ottoman Artisans in the Early Modern Age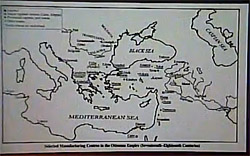 Suraiya Faroqhi delivered a riveting lecture on Ottoman crafts, textiles and the guilds on December 14, 2010 in Cotsen Hall. The lecture is in English.
Professor Faroqhi has studied at the universities of Hamburg (Dr. Phil. Germany) and Istanbul (Republic of Turkey), as well as at Indiana University/ Bloomington (MA for Teachers). Before becoming a professor in Munich at the Ludwig Maximilians Universität, she had a lengthy career in Turkey working at Middle East Technical University (Ankara).
Between 2002 and 2007, she chaired the 'Institute for the History and Culture of the Middle East and Turkish Studies' (Nahost-Institut). After retirement in 2007, she accepted a position as a professor of history at Istanbul's Bilgi University, where she is currently teaching; she is also the chairperson of the History Department. She is an honorary member of the Middle East Studies association (MESA) and holds an honorary doctorate from Boğaziçi Üniversitesi, Istanbul (2001).
She is widely published and has written eight books. Her most recent works are The Ottoman Empire and the World Around It (London: I. B. Tauris 2004) and Artisans of Empire: Crafts and Craftspeople under the Ottomans (London: I. B. Tauris 2009). She is also the editor of The Cambridge History of Turkey, vol. 3 (Cambridge: Cambridge University Press, 2006) and of Animals and People in the Ottoman Empire (Istanbul: Eren, 2010).
Approximate running time 66 minutes. If you have trouble viewing this videocast, make sure your browser has Flash installed: Download Flash Player
This year we are able to share videocasts of presentations worldwide via the Internet thanks to the generosity of Alex Zagoreos, president of the Board of Overseers of the Gennadius Library. The School also thanks Lloyd E. Cotsen for support of the Gennadius lectures, the Cannellopoulos Foundation, and the U.S. Dept. of Education.
Suraiya Faroqhi, Working in Cotton, Metal and Fayence: Ottoman Artisans in the Early Modern Age part 1
Suraiya Faroqhi, Working in Cotton, Metal and Fayence: Ottoman Artisans in the Early Modern Age part 2
Suraiya Faroqhi, Working in Cotton, Metal and Fayence: Ottoman Artisans in the Early Modern Age part 3