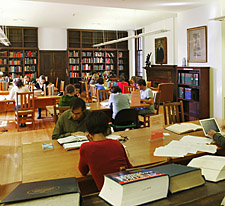 Blegen Library is a non-circulating library. No book may leave the library.
Members and visitors all abide by the same general rules, with the exception that members have unlimited access to the library and occupy assigned seats. Visitors may use the library during open hours.

LIBRARY ACCESS
Members: 24/7 access to the library. They receive a special identification card from ASCSA.
Visitors': Monday-Friday 8:30-21:00 ; Saturday 9:00-14:30. Shortened summer hours are usually in effect in August, during which no new cards are issued and no orientations take place. The library staff is normally available to provide assistance from 8:30-19:00 Monday through Friday.
Visitors' library cards: Long-term readers are issued blue cards (valid for 1 and/or 3 years) and short-term readers are issued pink cards. All visitors must submit 2 small recent photographs of themselves and some proof of their eligibility to use the library (please visit the library's webpage on approved visitors). As an exception members of the British School at Athens may use their BSA cards to enter the library.
New visitors' cards are issued:
Mondays and Fridays (9:00 to 10:00 a.m.) and
Mondays and Thursdays (14:30-15:30).
Renewals: Blue cards are renewed October 1st of every year; proof of current eligibility should be presented when renewing cards.
Sign-in: Visitors are required to register in the visitors' book upon entry and exit.
Internet access for visitors: Visitors may use their own laptops in the Library using the Blegen Visitors Network, while they should not use the Computer Room, even if accompanied by a member. Please read the Visitors Internet Policy
GENERAL RULES FOR ALL LIBRARY USERS
Do not bring any of the following items into the library: handbags, briefcases, plastic bags, computer cases. Lockers are available for temporary storage of these items at Reception. Please use a locker only during the time you are actually in the buildings, and return the key when you leave.
Readers must present their papers and bags to the receptionist for search when leaving the library.
Mobile phones must be in silent mode and must not be used for conversations anywhere in the library. Violators may have their library cards revoked.
Smoking, food, and drinks, with the exception of water (in a small transparent bottle), are not allowed anywhere in the library.
Computers: Laptop computers may be used throughout the library. The library holds no responsibility for any loss or damage of your equipment.
Please avoid talking in the library.
Behavior which interferes with others' ability to use the Blegen Library or with the staff's ability to perform their duties may result in the revocation or suspension of library privileges.
Vandalism and removal of library books will result in loss of library privileges. Underlining and writing notes in books in pen, pencil or highlighter is absolutely forbidden. Please do not use adhesive post-it notes to mark pages because they can tear pages or lift the print. Do not leave one open book stacked upon another. Books checked out to carrels and tables should be supported by bookends to protect the bindings and the text. Please keep windows and curtains closed to protect the books.
RULES FOR CONSULTING BOOKS
No book should ever be removed from a shelf unless a sign-out card is completely and legibly filled out and put in place of the book. Sign-out cards are available at the ends of the stacks. Cards already on the shelves must not be removed from their places. Failure to check out books properly may result in forfeiture of library privileges.
MEMBERS may sign out up to 20 books at a time to a carrel or table. Books may be checked out from a member's carrel for up to a day by placing a sign-out card in place of the book. Please return the book to the carrel the same day. Members are requested to keep their books upright between bookends to facilitate locating them on the desk. Members and staff are requested to reshelve their books if they will be away from the library for more than one week.
VISITORS should only use tables marked with pink signs. There are visitors' tables on each floor of the library. Anyone using these tables (visitors or members) must reshelve their books each time before leaving the library.
Books from the New Books Shelf, the Reference Tables, and the Unbound periodical Shelf should be consulted at the tables on the ground floor of the New Extension and not taken to other parts of the library.
Rare Book Room: Please ask the receptionist for assistance.
Photocopying in the library: Photocopying is limited to 150 copies per month per person for both visitors and members. Cards valid for 50 or 100 copies can be purchased from the receptionist. Certain materials may not be photocopied (maps, fold-outs, oversize books, damaged or brittle books): please observe the restrictions posted by the photocopier. If you are not sure whether a certain book can be photocopied, please consult the library staff. Books from the Rare Book Room should not be photocopied.
Scanning is free for all library users with the option to save the scans in the USB.
Visitors should complete photocopying/scanning 15 minutes before closing time to allow time to reshelve the books.
Your cooperation in abiding by these rules is essential to the smooth operation of the Blegen Library.
Please do not hesitate to ask the library staff for assistance of any kind.

Visitors Internet Filtering Policy

1.0 Purpose

The purpose of this policy is to define standards for systems that monitor and limit web use from any host within the Blegen Library Visitors network. These standards are designed to ensure Library visitors use the Internet in a safe and responsible manner.

2.0 Scope

This policy applies to all Blegen Library Visitors with either a personally-owned computer or public workstation connected to the Blegen Library Visitors network. This policy applies to all end user initiated communications between Blegen Library Visitors network and the Internet, including web browsing, instant messaging, file transfer, file sharing, and other standard and proprietary protocols.

3.0 Policy
3.1 Web Site Monitoring

The Information Technology Department shall monitor Internet use from all computers and devices connected to the Blegen Library Visitors network. For all traffic the monitoring system must record the source IP Address, the date, the time, the protocol, and the destination site or server.

3.2 Internet Use Filtering System

The Information Technology Department shall block access to Internet websites and protocols that are deemed inappropriate for Blegen Library environment. The following protocols and categories of websites should be blocked:

advertising, aggressive, alcohol, anonvpn, automobile/bikes, automobile/boats, automobile/cars, automobile/planes, chat, costtraps, abbonement, dating, downloads, drugs, dynamic, finance/banking, finance/insurance, finance/moneylending, finance/realestate, finance/trading, finance/other, fortunetelling, forum, gamble, hacking, hobby/cooking, hobby/games-misc, hobby/games-online, hobby/gardening, hobby/pets, homestyle, imagehosting, isp, military, models,movies ,music ,news ,podcasts ,politics ,porn, radiotv , recreation/humor, recreation/martialarts, recreation/restaurants, recreation/sports, recreation/travel, recreation/wellness, redirector, remotecontrol, ringtone, science/astronomy, science/chemistry, sex/education, sex/lingerie, shopping, socialnet, spyware, tracker, updatesites, urlshortener, violence, warez, weapons,webphone ,webradio ,webtv
The Information Technology Department shall periodically review and recommend changes to web and protocol filtering rules. Changes to web and protocol filtering rules will be recorded in the Internet Use Monitoring and Filtering Policy.

3.5 Internet Use Filtering Exceptions

If a site is mis-categorized, visitors may request the site be un-blocked by submitting a ticket to the Information Technology help desk at computersupport@ascsa.edu.gr . An IT employee will review the request and un-block the site if it is mis-categorized.

4.0 Enforcement

The IT Department will periodically review Internet use monitoring and filtering systems and processes to ensure they are in compliance with this policy.