Άρθρα και βάσεις δεδομένων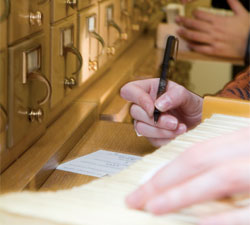 Electronic Resources and Journals
AMBROSIA
Online bibliographic resources
Electronic journals
Databases and CD ROMs available on main floor
Other online resources
Document Delivery
Anemi
Digital Library of Modern Greek Studies
L'Année Philologique
(Access restricted to Blegen and Gennadius Libraries and Agora Excavations)
Searchable version of the full contents of L'Année Philologique from 1969-2000.
Bibliography of the History of Art
(Access restricted to Blegen and Gennadius Libraries and Agora Excavations)
European and American art from late antiquity to the present. Coverage is from 1973.
BL Online
The bibliographical database of linguistics
Duke Databank of Documentary Papyri
Searchable electronic version of about 500 published volumes of documentary papyri.
Berlin mirror site. Oxford mirror site. Checklist of Editions of Greek, Latin, Demotic and Coptic Papyri, Ostraca and Tablets.
Dyabola
(Access restricted to Blegen and Gennadius Libraries and Agora Excavations)
Check IP-Zugang and then Start to enter database.
Subject index of the Deutsches Archaologisches Institut in Rome; bibliography on classical antiquity (including Greek, Roman, Egyptian, Near Eastern and Byzantine archaeology, epigraphy, numismatics, and history) from 1958 on. CD-ROM also available.
Electronic Access to Patrologiae Graecae
Electronic Access to Index of Christian Art
Gnomon
Searchable index to journals in classics, ancient history, and archaeology; contains full records from 1997 to present. Includes a thesaurus. Use the CD-ROM by the card catalogue for more complete coverage.
JSTOR
(Access restricted to Blegen and Gennadius Libraries and Agora Excavations)
Arts and Sciences I and II collections. Fully searchable articles, presented as page images.

Mapping Mediterranean Lands

Nestor
Bibliography of Aegean Prehistory and Related Areas.
Searchable index to articles and books relating to Aegean, eastern Mediterranean and southeastern European prehistory, Homeric society, Indo-European linguistics, and related fields.
TLG online
(Access restricted to Blegen and Gennadius Libraries and Agora Excavations)
Searchable digital library of most texts written in Greek from Homer to the fall of Byzantium in AD 1453.
TOCS-In
Tables of Contents of Interest to Classicists.
Searchable index to tables of contents of classics and archaeology journals, and some collected works.
WorldCat
(Access restricted to Blegen and Gennadius Libraries and Agora Excavations)
Union catalogue of libraries all over the United States, including many European libraries.
(Most available only from the Blegen and Gennadius Libraries or Agora Excavations)
Complete list of ASCSA's online subscriptions
Classics Journals
Archaeology Journals
Anthropology Journals
Modern
Medieval Studies
Religious Studies
(These databases are available to all library users).
Bibliographie Papyrologique
Bibliotheca Teubneriana Latina
Searchable database of Latin texts through the second century A.D. and major later authors; from Teubner editions.
Byzantinische Zeitschrift Bibliographie 1991-2000
Catalogue de l'École biblique et archéologique française de Jérusalem
Cetedoc library of Christian Latin texts
Latin texts with translations in English, French, German, and Italian, chiefly from the following corpora: Corpus Christianorum. Series Latina; Corpus Christianorum. Continuatio Medievalis; Corpus scriptorum ecclesiasticorum Latinorum; Patrologiae cursus completus. Series Latina; Patrologiae Latinae supplementum; Sources chrétiennes; S. Bernardi opera omnia; and: Biblia sacra juxta vulgatum versionem.
Database of Classical Bibliography (L'Année Philologique)
Collection of all references appearing in L'Année Philologique from 1974-1989.
Dyabola
The most complete index for classical archaeology. Coverage from 1958 on. The web version is also available to members; see above.
Encyclopaedia Britannica
try also the Encyclopaedia Britannica's web version.
Gnomon
Electronic version of the print compilations in Gnomon: Kritische Zeitschrift fur die gesamte Klassische Altertumswissenschaft. A less complete web version is available; see above.
PHI CD-ROM #7
Duke Databank of Documentary Papyri and inscriptions from the Cornell Greek Epigraphy Project. Most of the contents of the cd-rom are contained in the Checklist of Editions of Greek, Latin, Demotic, and Coptic Papyri, Ostraca, and Tablets and from the Cornell Greek Epigraphy Project.
Thesaurus Linguae Graecae
Topographical Database
Searchable database of articles in journals held by the Blegen Library. The card version of the topographical database is more complete. Online Topographical Database.
American Society of Greek and Latin Epigraphy
Links to images and texts of inscriptions.
Armarium Labyrinthi: Labyrinth Latin Bookcase
Includes the Latin Vulgate and other Bibles, Liturgical texts, and Classical Greek and Latin texts mostly in translations, including works by Horace, Lucretius, Ovid, Aristotle, and Plato
Biblioteca Augustana
Greek and Latin texts.
Bibliotheca Latina
A rich collection of Latin texts including medieval, NeoLatin, and ecclesiastic from the University of Wisconsin Classics Department.
Diotima
Materials for the Study of Women and Gender in the Ancient World.
Includes searchable bibliographies.
Dumbarton Oaks Hagiography Database
A searchable database of the Saints lives from the 8th to 10th Centuries A.D.
Electronic Resources for Classicists
Encyclopedia of the Hellenic World. Ist Volume: Asia Minor
Index to Classical Dissertations
US & Great Britian
Internet Ancient History Sourcebook
Links to texts and related websites; human origins through late antiquity.
Latin Library at Ad Fontes Academy
A collection of Classical, Christian, Medieval, and Neo-Latin texts
Numismatic Literature
Annotated bibliography of published work in all fields of numismatics produced by the American Numismatic Society.
Prosopography of the Byzantine World

The Perseus Digital Library
RomArch: Roman Art and Archaeology
The Ecole Initiative
Early Church On-Line Encyclopedia
The Internet Classics Archive
Translations of Greek and Latin authors.
University of Chicago's Classics Reading Room
A useful and comprehensive list of print resources for classical studies.
Articles from journals which are not held by the American School can be ordered from the British Library's Remote Copy Services. Articles cost about £10 for standard delivery and about £20 for rush delivery. Any copyright fees are additional. Payment is by credit card only.