Return to News
VIDEOCAST-Fikret Yegül "Our Complicity in this Classical Looting: Triangulating the Past at Sardis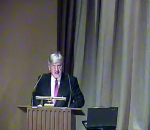 During the turbulent years that followed the end of World War I the American Society for the Excavation of Sardis and its field team of excavators removed 58 crates of antiquities from the site as a "gift" to the Metropolitan Museum of Art in New York. This unfortunate and untimely event undertaken just as the Turks asserted the control of their home territories was in defiance of the legal agreement that existed between the Turkish State and the American excavators. Causing much concern and unhappiness between the two sides the situation was endemic to the late Ottoman period when incoherent regulations and inconsistent applications contributed to the looting and loss of antiquities.

The Sardis case was eventually solved by sharing this material after long and sometimes acrimonious negotiations in which influential scholars and politicians as well as prestigious institutions, such as ASCSA played their part. Described pithily by one frustrated United States State Department officer as "our complicity in this Classical looting," the disagreement illustrates not only the conflicting policies of an excavation through the difficult, transformative years of peace and war, but the perceptions of its wealthy and patriotic sponsors for whom the concept of cultural patrimony only operated in enriching national museums and excavation on foreign soil was another form of business investment. In the end, the sharing of the "Sardis treasure" between the Turkish state and the Metropolitan Museum of Art (including the beautiful capital from the Temple of Artemis, the iconic gateway to its new Classical Art section) constitutes one of the earliest and successful attempts illustrating the controversial practice of partage.
The School would like to thank the Paul and Alexandra Canellopoulos Foundation for their generous support, and also Barry J. Jacobson for support of the Director's series.