Current Hours
Membership in the ASCSA includes 24-hour access to the Blegen Library.
Visitor Access:
Monday-Friday 8:30-21:00
Saturday 9:00-14:30
Summer hours (August):
Mondays-Fridays 8:30-15:30
Saturday closed
Notice: Reclassification Project and Library's opening
Βlegen Library re –opened for ASCSA members on June 5th and for visitors on June 10th, 2019, after having completed the reclassification project.
Since it is important for all of our patrons to become familiar with the new arrangements and procedures, we kindly request that you attend one of the scheduled orientations:
Monday -Friday
11.30 a.m
&
17.30 pm
We would like to thank you all for your understanding during our closure and we will be here to assist you during the transition. Hoping that you will find the new arrangement beneficial to your research, we look forward to welcoming you in our premises.
You may find more information on the specific categories of the classification system here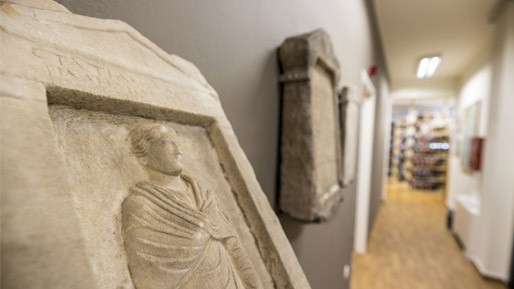 Take a look at our new addition outside the epigraphy room of Blegen Library.
Read More
The Blegen Library will remain closed to non-members for the summer. We hope to open to non-members in September so please consult the School's website at that time for further information.
Read More