Malcolm H. Wiener Laboratory for Archaeological Science
Final update on the Blegen library's closure dates: The library will close on March 4, 2019 to allow for the completion of the reclassification project. It is scheduled to reopen in June 2019. We will provide more information on the library's reopening as soon as possible.
Read More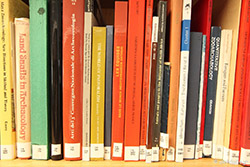 The ASCSA's libraries (Blegen, Gennadius and the Wiener Laboratory) are undergoing a major reclassification project for their collections following the Library of Congress system of call numbers. Live updates will be posted here as well as on the Facebook pages of the School.
Read More