Return to News
VIDEOCAST - History in Shadows: Shadow Theater Venues and Audiences in Greece and Turkey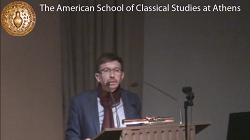 History in Shadows: Shadow Theater Venues and Audiences in Greece and Turkey from ASCSA on Vimeo.
Prof. Serdar Öztürkr , Department of Radio Television and Cinema, Faculty of Communication in Gazi University, Ankara, Turkey
*** Note: Anna Stavrakopoulou has not given permission to post the video of her lecture as the material is unpublished.
Upon publishing the material and by Mrs Stavrakopoulou's approval, the video of her lecture will be released. We will inform our audience by e-mail for the release.