Presented By
Γεννάδειος Βιβλιοθήκη
Location
Αμφιθέατρο Cotsen Hall, Αναπήρων Πολέμου 9, Κολωνάκι
* The lecture will be broadcasted live. Please click on the play button bellow to start watching or click HERE.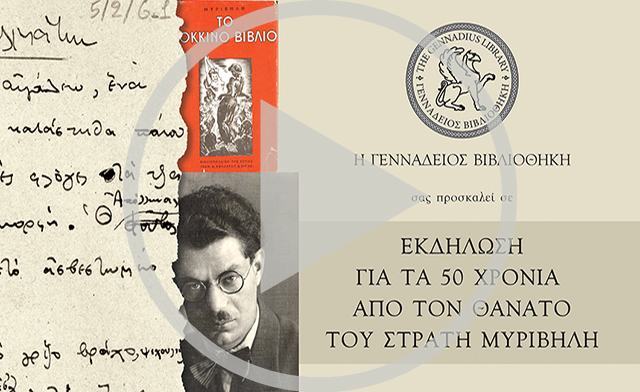 Θα μιλήσουν οι: Μάριος Κυπαρίσσης-Μώρος, Παντελής Μπουκάλας και Γιώργος Συρίμης.
Η ηθοποιός Λένα Παπαληγούρα θα διαβάσει αποσπάσματα από το έργο του Μυριβήλη Η δασκάλα με τα Χρυσά Μάτια.
Θα υπάρχει έκθεση χειρογράφων και φωτογραφιών από το αρχείο του συγγραφέα στη Γεννάδειο Βιβλιοθήκη.