Return to Events
Athenian Pottery Up Close
9/17/2020
7:00pm (Greece) 12:00pm (EDT)
Presented By
American School of Classical Studies
Speakers
Prof. Jenifer Neils,
Director of the American School of Classical Studies
---
The video of our webinar is now available in our video archive.
---
Live from the Agora
About the webinar:
Come take a peek inside the Agora Museum storerooms with Prof. Jenifer Neils, Director of the American School of Classical Studies and an authority on Greek art. She will discuss pottery produced in ancient Athens from the lowly salt cellar to the magnificent wine vessels used at Greek symposia. Viewers will have the chance to see this pottery up close and in detail, and to ask questions during the webinar.
About the Speaker: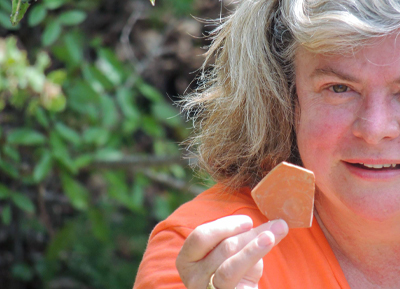 Jenifer Neils (A.B. Bryn Mawr College, Ph.D. Princeton University) is the Director of the American School of Classical Studies at Athens — the first woman to hold that position in the School's 136 year history. Formerly the Elsie B. Smith Professor in the Liberal Arts and the Ruth Coulter Heede Professor of Art History at Case Western Reserve University, she served as Chair of the American School's (academic) Managing Committee from 2012 to 2017. As a field archaeologist, she has excavated in northern Greece (Torone), Tuscany (Poggio Civitate), and Sicily (Morgantina), and she has published material from all of these sites. A former curator of ancient art at the Cleveland Museum of Art (1980–1986), she has organized two major exhibitions on the ancient world: Goddess and Polis: The Panathenaic Festival in Ancient Athens (1992) and Coming of Age in Ancient Greece: Images of Childhood from the Classical Past (2003). As an art historian, she has written extensively on the Parthenon sculptures, Athenian vase painting, and iconography. Her most recent books are The British Museum Concise Introduction to Ancient Greece (2008) and Women in the Ancient World (2011). Prof. Neils has held a number of distinguished fellowships, including at the American School of Classical Studies at Athens, the American Academy in Rome, the Getty Research Center, and the Center for British Art at Yale University. She has been a visiting professor at the University of California at Berkeley and Johns Hopkins University, and she was the Martha Sharp Joukowsky Lecturer of the Archaeological Institute of America, an institution for which she also served for four years as Vice President for Publications.