Return to Events
EXHIBITION: Books of Asia Minor. Cultural Traces of Asia Minor Hellenism [1764-1922]
Starts

Ends
Presented By
The Gennadius Library, American School of Classical Studies at Athens
Location
Gennadius Library, Main Reading Room
Exhibition curated by Irini Solomonidi, Senior Librarian of the Gennadius Library.
The exhibition presents 70 of the most important specimens of Asia Minor editions, manuscripts, and documents from the Gennadius library collections, focusing on the geographical dispersion of Greek printing houses in Smyrna (more than 2,000 publications are recorded in the "Smyrnaic Bibliography"), but also in Kydonies and Trebizond from 1764 to 1922.
As a cultural asset, the book is directly linked to the education, culture, and political and religious activity of the Greek Orthodox populations of Asia Minor.
The exhibition opens with a presentation of the land and multicultural population of Asia Minor, through maps, historical and geographical books of the 19th century, rare Karamanli and Francochiot publications, as well as dictionaries (in the balcony of the Gennadius Library). Recently acquired historical testimonials complement the panorama: the manuscript notebook of a teacher who studied at the School of Kydonies, the scrapbook of a teenager from Smyrna, the diary of a soldier of the Asia Minor Campaign, and a scrapbook with photos from the Catastrophe of Smyrna, compiled by film director Elia Kazan.
Editions from the School of Kydonies at the time of the Greek Revolution of 1821, regulations of the schools of Smyrna, alphabet books, and textbooks demonstrate intense educational activities. Liturgical and theological books, the earliest one being the Akolouthia of Saint Simeon, the first book printed in Smyrna in 1764, bear witness to t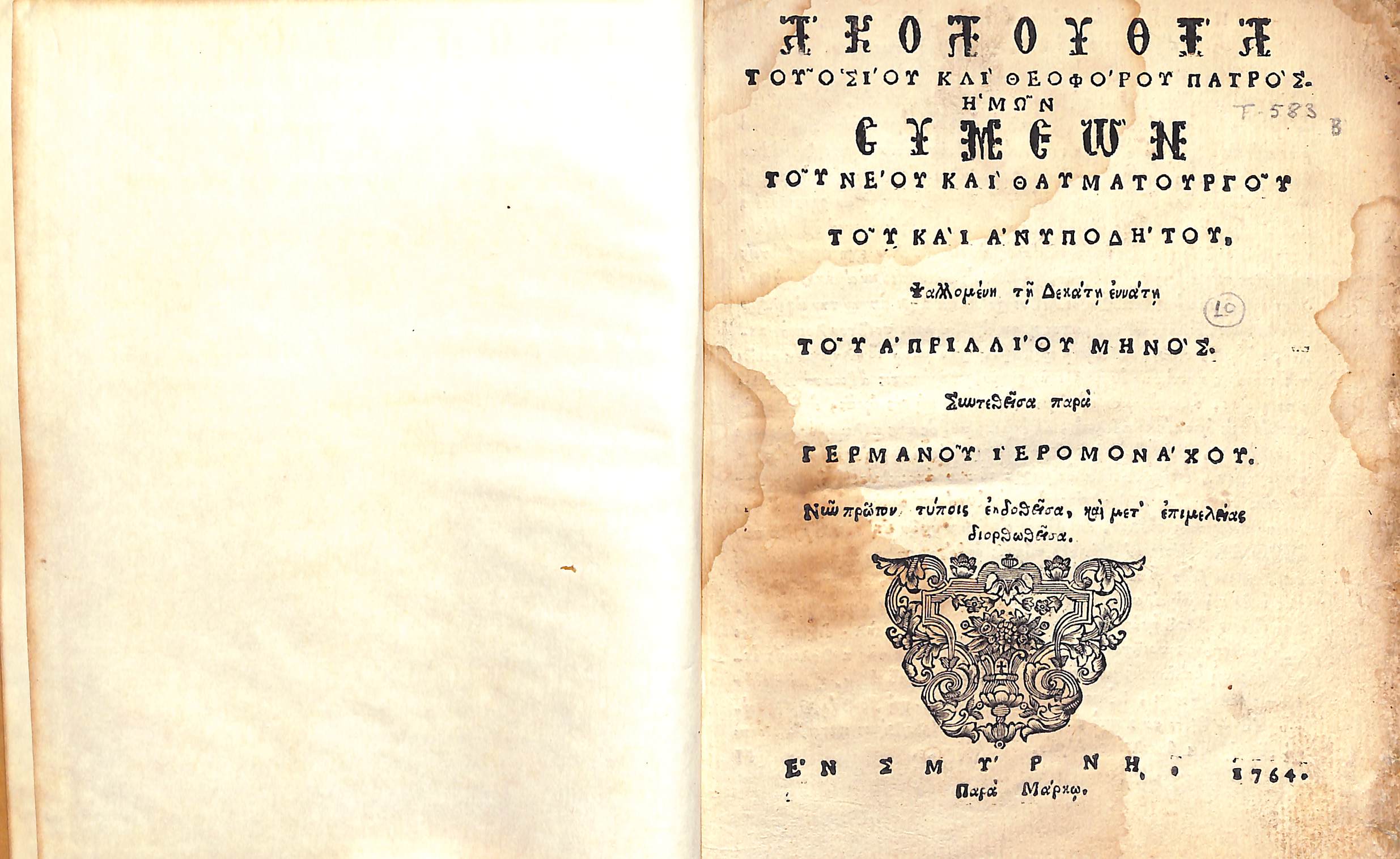 he intense religious activity of the Greek Orthodox populations of Asia Minor.
A wide range of novels or theatrical plays attest to a strong cultural interest in literature. The Neos Erotokritos by Dionysios Foteinos, works of the Phanariot Panagiotis Soutsos, and anthologies of poetry stand out. Numerous novels or plays were translated into Greek, from the French (Moliere, Montesquieu, Lamartine, Voltaire etc.) or the Russian (Dostoyevsky). Even Karamanli literary publications were in circulation.
Rich material on the edification of women, moral or otherwise, ushered by the translation of Jean Nicolas Bouilly's Conseils à ma fille [Advice to my daughter] by the female scholar Evanthia Kairis, along with the periodical press of early 20th century Smyrna, showcase the changing social position of women and the move to modernity.
Duration: December 14, 2022 - February 28, 2023
Opening Hours:
Monday, Tuesday, Wednesday & Friday: 9:00 - 16:30
Thursday: 9:00 - 19:30
Saturday: 9:00 - 13:30
To make arrangements for guided tours for groups: msmali.genn@ascsa.edu.gr
Free admission (the use of a mask is strongly advised)