Return to Events
Commemorating the Battle of Salamis
9/29/2020
7:00pm (Greece) 12:00pm (EDT)
Presented By
American School of Classical Studies
Speakers
John R. Hale,
Director of Liberal Studies University of Louisville
With a response by:
Geoffrey R. Pyatt,
U.S. Ambassador to the Hellenic Republic
---
The video of our webinar is now available in our video archive.
---
Reflection and Discussion with US Ambassador Geoffrey Pyatt & Professor John Hale
About our Webinar:
The Battle of Salamis was one of the defining moments in Greek history, and an event which has remained relevant to the present. In this webinar, The American School of Classical Studies will commemorate the 2,500th anniversary of the battle with an interdisciplinary retrospective, focused on the historical, archaeological, and political implications of this momentous event. We pleased to present John R. Hale, nautical archaeologist and author of Lords of the Sea (Penguin Books, 2009), who will explore details of the battle, its political ramifications, and its modern relevance in the contemporary geopolitical climate. Geoffrey R. Pyatt, Ambassador of the United States to the Hellenic Republic will be offering his repsonse about this epic naval battle, that changed the course of human history.
About the Speakers:
John R. Hale is director of the Liberal Studies Program at the University of Louisville and an experienced historian and archaeologist. Author of Lords of the Sea, Professor Hale is an expert in nautical archaeology and the intersection between naval power and politics in the ancient world. He has conducted both terrestrial and underwater fieldwork in Greece, England, Turkey, and Guatemala.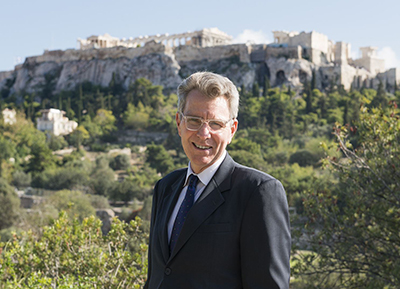 Geoffrey R. Pyatt is a career member of the Foreign Service, class of Career Minister, who was sworn in as the U.S. Ambassador to the Hellenic Republic in September 2016. He served as U.S. Ambassador to Ukraine from 2013-2016, receiving the State Department's Robert Frasure Memorial Award in recognition of his commitment to peace and alleviation of human suffering in eastern Ukraine. Ambassador Pyatt grew up in La Jolla, California Irvine.