Presented By
American School of Classical Studies at Athens and Overseers of the Gennadius Library
Location
Gotham Hall
1356 Broadway
New York 10018
Contact
Nancy Savaides at nsavaides@ascsa.org or 609-454-6810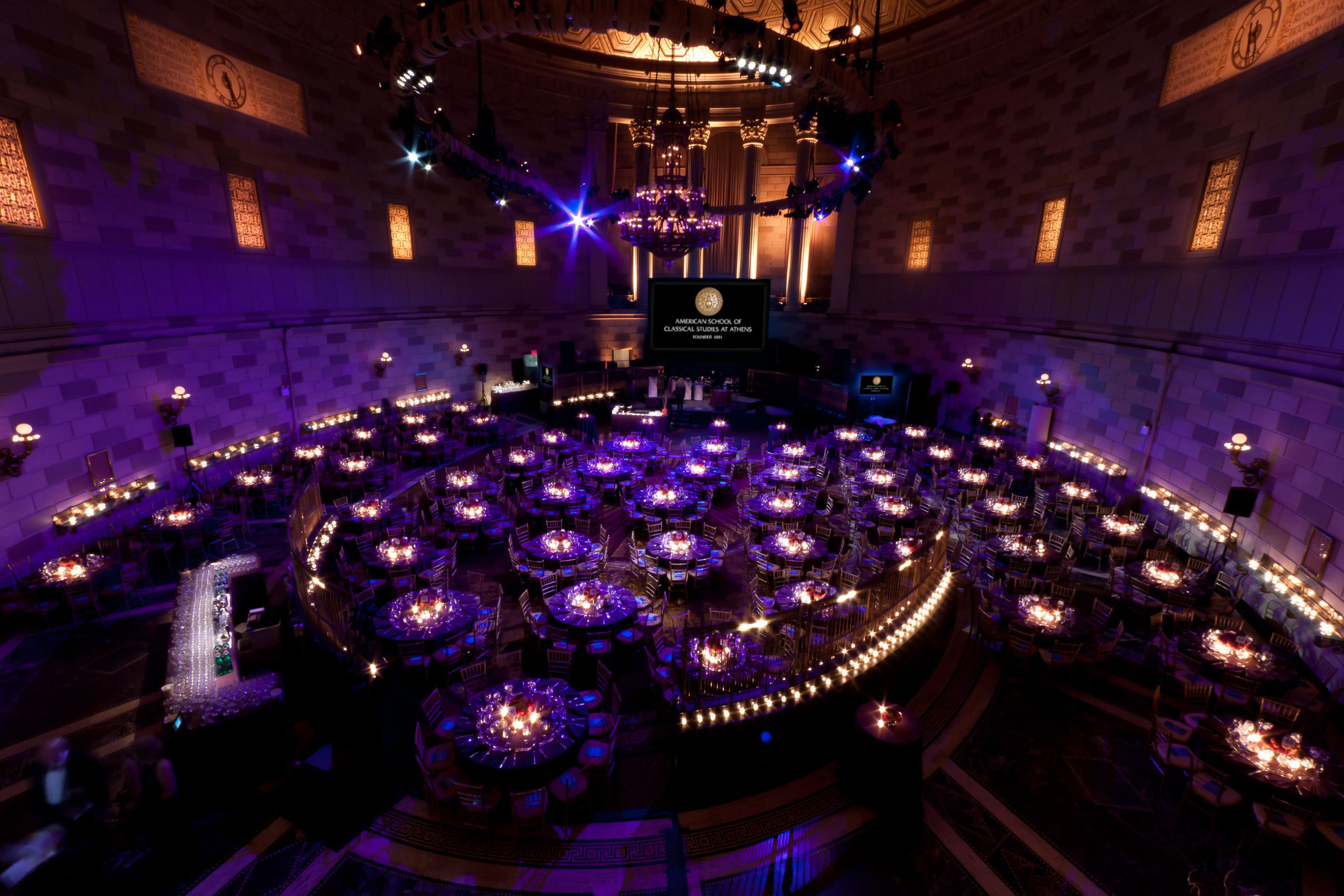 Gala 2020
Join us on Thursday, May 14, 2020 for the American School of Classical Studies at Athens' fifth annual Gala at Gotham Hall in New York City. Experience an extraordinary evening of culture, cuisine, and inspiration at a landmark venue in Midtown Manhattan. Celebrate Greece's rich heritage with the Hellenic world's most influential leaders and scholars, and help support our vital mission. The Gala provides an important source of funding for the School. All proceeds from the event will directly benefit our acclaimed programs in archaeological exploration, education, outreach, publications, and research. If you cannot attend, we hope you will consider supporting the School with a monetary or auction item donation at gala.ascsa.org.
Schedule of Events
Cocktails: 6:00 PM
Dinner and Program: 7:00 PM
Honorees
At Gala 2020, we will be honoring two distinguished scholars: Edward E. Cohen and Curtis Runnels.
Edward E. Cohen, Recipient of the Athens Prize: Edward Cohen has had a very active career as a lawyer, banker, and businessman, and is currently the CEO of Atlas Energy Group. This has not prevented him from publishing four books and more than 25 articles and reviews on topics in Athenian Law, Economy, and Society, including most recently Athenian Prostitution: The Business of Sex (Oxford University Press 2015). He holds B.A. and J.D. degrees from the University of Pennsylvania and a Ph.D. from Princeton. An alumnus of the American School (Regular Member, 1961–1962), he was a Trustee from 1981 to 2009, when he became an Overseer of the Gennadius Library.
Curtis Runnels, Recipient of the Gennadius Prize: Curtis Runnels is Professor of Archaeology, Anthropology, and Classical Studies at Boston University. He has been a pioneer in the promotion of long-term studies of landscapes through the integration of geological and archaeological approaches, and his fieldwork and publications on the very earliest periods of Greek history (Paleolithic through Neolithic) were recognized in 2019 when he was awarded the Archaeological Institute of America's highest award—its Gold Medal for Distinguished Archaeological Achievement. His work on Greek Prehistory has also resulted in publications on 19th-century pioneers in that field, notably George Finlay and Heinrich Schliemann. In the course of that work, he has become a prolific collector of early books, diaries, maps, and drawings, which he has been donating to the Gennadius Library and the Archives of the American School. In 2019, he was elected an Overseer of the Gennadius Library.
Silent Auction
Our Gala will feature a silent auction at which you can bid on unique and exciting items. We are currently soliciting in-kind donations of unique and varying experiences, jewelry, wine, restaurant gift certificates, apparel, and various other items. All contributors will be acknowledged on this site and in the Gala program. Once all items have been confirmed, we will commence online bidding. Be sure to visit us again soon to view the auction items.
Tickets
Tables and individual tickets are purchase at gala.ascsa.org. For more information, please contact Nancy Savaides, Director of Stewardship and Engagement, by email at nsavaides@ascsa.org or by phone at 609-454-6810.
Donate Today
The Gala provides an important source of funding for the American School. If you cannot attend this event, please consider supporting us with a monetary or auction item donation. To offer an in-kind gift, please click this link, or contact Nancy Savaides at nsavaides@ascsa.org or 609-454-6810. Thank you for supporting the American School.