Return to Events
Hippos - The Horse in Ancient Athens
Starts

1/20/2022
Wed, Fri, Sat & Sun, from 12:00 - 18:00 - Thu, from 14:00 - 20:00

Ends
Presented By
The American School of Classical Studies
Malcolm H. Wiener Laboratory
Location
Makriyannis Wing of the Gennadius Library
Souidias 61
Athina 106 76

An exhibition in the Ioannis Makriyannis Wing of the Gennadius Library

Curated by Professor Jenifer Neils
January 20, 2022, to June 5, 2022
Opening hours: Wednesday – Sunday: 12.00 – 18.00 & Thursday: 14:00 – 20:00
Free Admission
The use of a mask is mandatory
---
"A horse is a thing of beauty….no one will tire of looking at him
As long as he displays himself to the spectator in all his splendor."
So said the Athenian Xenophon in his treatise On Horsemanship in the fourth century B.C. That the ancient residents of Greece intensely admired their horses and held them in high esteem is evident from the Bronze Age horse burials (1200 B.C.) to the sculpted images of equestrians on the Parthenon. Horses also figure prominently in Greek literature as we know from Homer where Achilles' steeds can actually talk or more comically in Aristophanes' play Hippeis with its chorus of knights.
An exciting new art and science exhibition is being held in the School's Makriyannis Wing from January 20th to the end of April. Entitled "Hippos: The Horse in Ancient Athens" this exhibition foregrounds the important role of science for our understanding of the past. A well preserved ancient horse skeleton from the Phaleron cemetery is displayed for the first time. Studied by Malcom H. Wiener Laboratory associate, Dr. Flint Dibble, it is featured along with its archaeological context and zoological data. This exhibit highlights the American School's unique collaboration with the Ephorate of Piraeus and Islands for the conservation and study of the osteological material from the Phaleron cemetery.
Horses were depicted in all forms of ancient Greek art and the exhibit will display a variety of antiquities from Greece and abroad, such as marble reliefs, ceramic vases, and silver coins, ranging from the Protogeometric (1050-900 BCE) to the Hellenistic period (330-30 BCE). These works of art, especially Attic painted vases, illustrate the ancient Athenians' obsession with horse breeding and racing. The excavations at the Athenian Agora have produced much evidence for the organization and important role of the Athenian equestrian corps, the hippeis, in the form of inscriptions, tokens, and cavalry monuments. One of the highlights of the exhibit, displayed for the first time in Greece, is the loan from the Florence Archaeological Museum of the life-size Hellenistic bronze horse head which once belonged to Lorenzo the Magnificent.
Ancillary programs will involve weekly educational tours for school children conducted by our Steinmetz Family Foundation Museum Fellow, Eleni Gizas. To book an educational tour for a school group, please contact Eleni Gizas at steinmetzfellow@ascsa.org. The show also includes special labels for children and a children's book, Avra, An Amazing Greek Horse, penned by the Director of the School, Professor Jenifer Neils.
The purpose of the exhibition, which is addressed not only to the art-loving public, but also to families and school groups, is to highlight the importance of horses in ancient Athens and to educate visitors about the roles they played in the lives of Athenians, young and old. Through this exhibition the American School aims at fulfilling one of its most important missions, the dissemination of its archaeological and scientific research.
The American School would like to especially thank all the generous donors that contributed to the realization of this exhibition, as well as all the Ephorates of Antiquities and the Museums for their loans of important antiquities.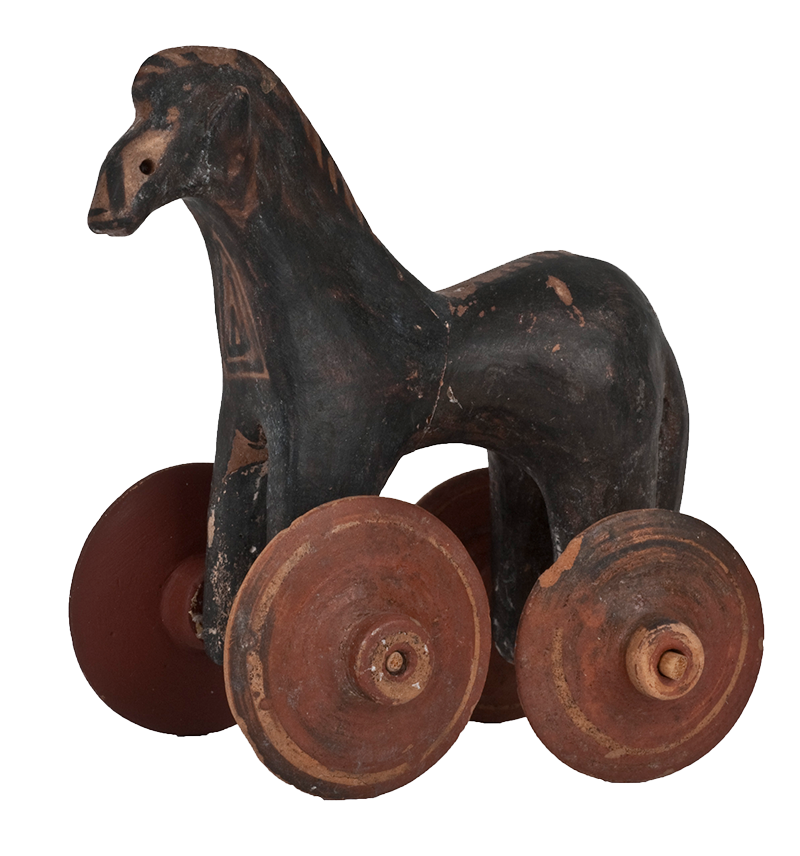 Terracotta toy horse from a child's burial

Photograph by G. Asvestas
Ephorate of Antiquities of Athens – Kerameikos Museum.
© Hellenic Ministry of Culture and Sports / Hellenic Organization of Cultural Resources Development (H.O.C.RE.D.)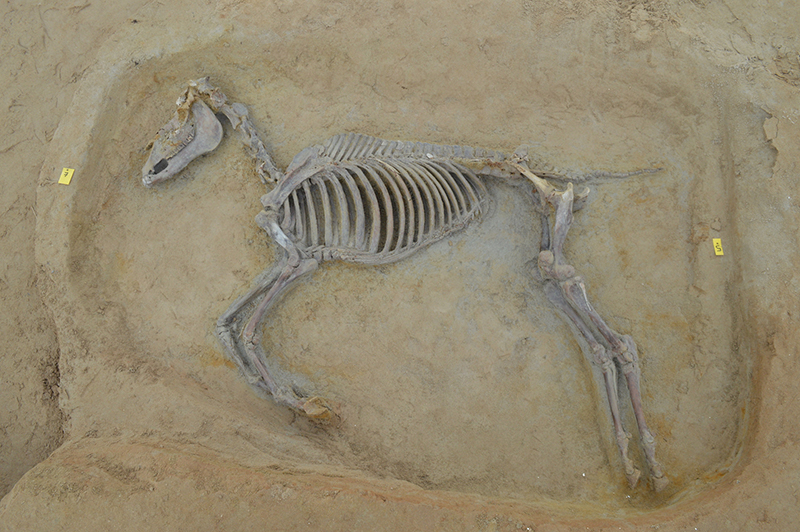 Horse burial from the Phaleron cemetary

Ephorate of Antiquities of Piraeus and Islands
© Hellenic Ministry of Culture and Sports / Hellenic Organization of Cultural Resources Development (H.O.C.RE.D.)


Medici Riccardi life-size bronze horse head

Museo Archeologico Nazionale di Firenze (Direzione Regionale Musei della Toscana)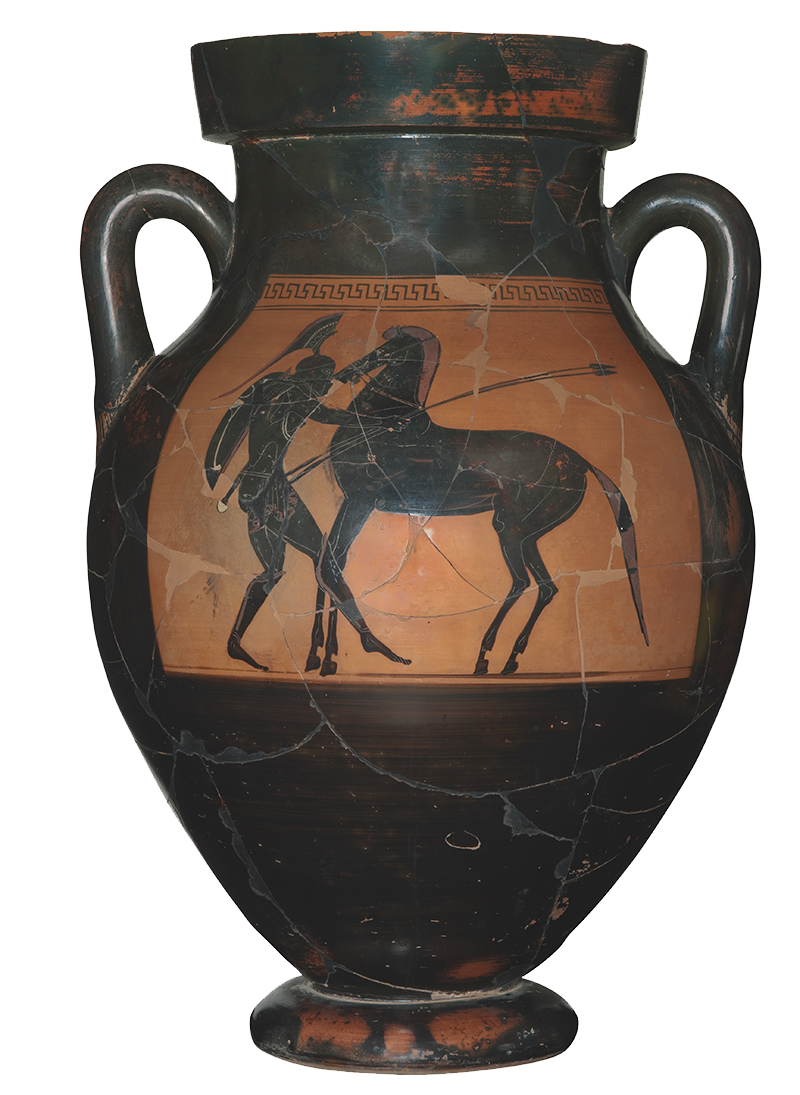 Attic black-figure amphora with warrior mounting horse

Photographer: S. Mavromatis
Ephorate of Antiquities of Athens – Kerameikos Museum.
© Hellenic Ministry of Culture and Sports / Hellenic Organization of Cultural Resources Development (H.O.C.RE.D.)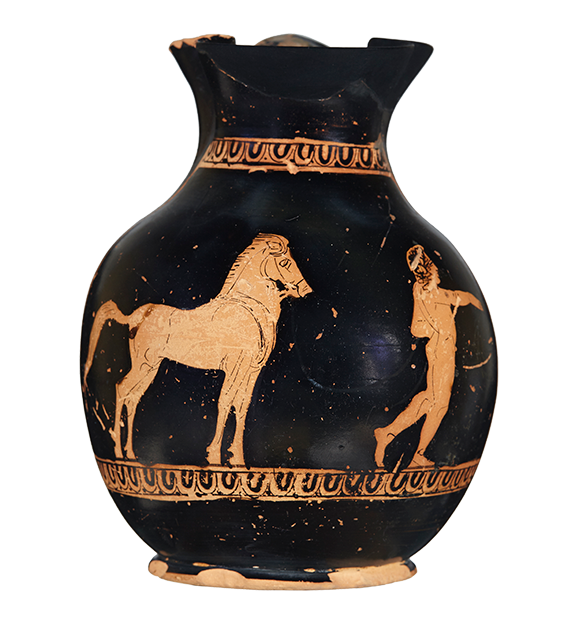 Red-figure oinochoe with boy leading horse

American School of Classical Studies, Athenian Agora Excavations
Ephorate of antiquities of the City of Athens
© Hellenic Ministry of Culture and Sports / Hellenic Organization of Cultural Resources Development (H.O.C.RE.D.)