Return to Events
Live from the Agora - The Temple of Hephaestus
10/8/2020
7:00pm (Greece) 12:00pm (EDT)
Presented By
American School of Classical Studies at Athens
Speakers
John McK. Camp II, Director of the Athenian Agora Excavations
---
The video of our webinar is now available in our video archive.
---
About the Webinar:
From its origins in the Archaic period, through its conversion to a church in the 5th century, and ending with its scars from the Greek Civil War, the Hephaesteion is a monument of Athenian history as much as it is a piece of the Classical past.
Standing tall above the Athenian Agora, the Temple of Hephaestus is the best-preserved example of a Doric temple on the Greek mainland, but there's much more to the Hephaisteion than its architectural magnificence! Jointly dedicated to the goddess Athena and Hephaestus—the god of the forge, blacksmithing, and artisanal production—this temple symbolized industrial activity in the heart of Athens. Built over a period of some 60 years, from its foundations in the 480s to the completion of its sculptural program in the 420s, the construction of this temple is linked to some of the most momentous moments in Athenian history, featuring some of its most famous citizens.
The American School of Classical Studies at Athens invites you to join John Camp, Director of Excavations in the Athenian Agora, for a very special tour of this spectacular building.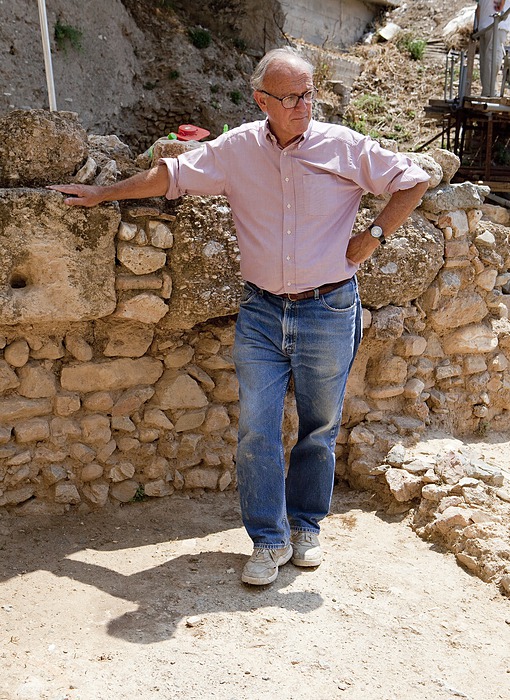 About the Speaker:
John McK. Camp II is one of the best known archaeologists in the world and is regarded as the foremost expert on the topography of Athens and Attica. Dr. Camp's long association with the American School's Athenian Agora excavations dates back to 1966, when he first served as Field Supervisor, later as Assistant Director, and currently as Director (since 1994).
He received his A.B. in Classics from Harvard University (1968), and his M.A. (1972) and Ph.D. in Classical Archaeology (1977) from Princeton University. He was the Andrew W. Mellon Professor at the American School from 1985 to 1996, and since then has served on the faculty of Randolph-Macon College in Ashland, Virginia, where he is the Stavros Niarchos Foundation Professor of Classics.