Return to Events
Nights of Classical Music at the Gennadius Library, September 27-30, 2022
Starts

Ends
Presented By
Gennadius Library, American School of Classical Studies at Athens
Schwarz Foundation
Curtis Institute of Music
Location
ASCSA, Cotsen Hall, 9 Anapiron Polemou, 106 76 Athens


Contact
210-72.10.536 (ext. 301)

Nights of Classical Music at the Gennadius Library
27–30 September 2022, 8:30pm
Cotsen Hall
9 Anapiron Polemou Street, Kolonaki, tel.: 210-72.10.536
Free admission with priority vouchers, available at the venue 1 hour before each concert
Curtis on Tour, The Nina von Maltzahn Global Touring Initiative of the Curtis Institute of Music returns to Athens, where Curtis students, faculty, and alumni have appeared annually since 2015. Four unique concerts at Cotsen Hall, the auditorium of the American School of Classical Studies at Athens, are presented by the Schwarz Foundation and the Gennadius Library of the ASCSA, under the auspices of the U.S. Embassy in Greece.
For more than 10 years, Curtis on Tour artists and ensembles have delighted audiences around the globe with performances that are "exhilarating from beginning to end" (The Washington Post). "One of the world's finest music academies" (BBC Culture), the Curtis Institute of Music pairs tradition and innovation, educating exceptionally gifted young musicians as artist-citizens who engage a local and global community through music-making of the highest caliber. Grounded in the school's "learn by doing" philosophy, tours feature extraordinary emerging artists alongside celebrated alumni.
The festival of concerts at the Gennadius Library includes four compelling programs – from a delightful concert of opera and song to chamber music favorites, such as Brahms's thrilling piano quartet in g minor. A highlight of this year's festival is a newly commissioned work by Richard Danielpour entitled Canti della Natura (Songs of Nature). These exciting new songs set sonnets penned by Antonio Vivaldi, which were written to accompany his own Le quattro stagioni (Four Seasons). All four concerts in Cotsen Hall will be broadcast live.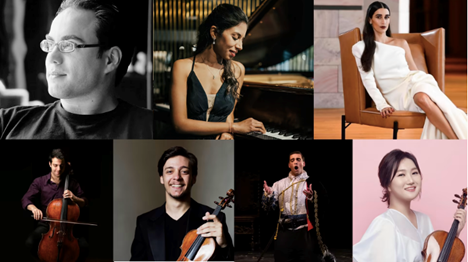 ARTISTS
Elena Perroni, soprano
Joseph Tancredi, tenor
Andrea Obiso, violin
Haesue Lee, viola
Timotheos Gavriilidis-Petrin, cello
Miloš Repický,piano
Pallavi Mahidhara, piano
The tour continues in October to Berlin, Germany (Konzerthaus Berlin), Vercelli, Italy (Salone Dugentesco), Alicante, Spain (Auditori Teulada Moraira) and Madrid, Spain (Fundación Juan March).
Tuesday, 27 September 2022
Piano Sonata No. 12 in F Major, KV332
Wolfgang Amadeus Mozart (1756 - 1791)
I. Allegro
II. Adagio
III. Allegro Assai
Pallavi Mahidhara, piano
From Jewish Life
Ernest Bloch (1880 - 1959)
I. Prayer
II. Supplication
III. Jewish Song
Timotheos Gavriilidis-Petrin, cello
Pallavi Mahidhara, piano
Sonata for Cello and Piano, L.135
Claude Debussy (1862 - 1918)
I. Prologue: Lent, sostenuto e molto risoluto
II. Sérénade: Modérément animé
III. Finale: Animé, léger et nerveux
Timotheos Gavriilidis-Petrin, cello
Pallavi Mahidhara, piano
Violin Sonata No. 3 in D minor, Op. 108
Johannes Brahms (1833-1897)
I. Allegro
II. Adagio
II. Un poco presto e con sentimento
III. Presto agitato
Andrea Obiso, violin
Pallavi Mahidhara, piano
____________________________________________
Wednesday, 28 September 2022
From Canciones Clásicas Españolas
Fernando Obradors (1897-1945)
La mi sola, Laureola
Corazón porque pasais?
Del Cabello más sutil
Chiquitita, la Novia
Elena Perroni, soprano
Miloš Repický,piano
Heimliche Aufforderung Op.27, No.3
Zueignung Op.10, No.1
Schön sind die Himmelssterne Op. 19, No.3
Cäcilie Op. 27, no.2
Richard Strauss (1864-1949)
Joseph Tancredi, tenor
Miloš Repický,piano
"Glück das mir verblieb" from Die tote Stadt
Erich Korngold (1897-1957)
Elena Perroni, soprano
Miloš Repický,piano
"Lippen Schweigen" from Die lustige Witwe
Franz Lehár (1870-1948)
Elena Perroni, soprano
Joseph Tancredi, tenor
Miloš Repický,piano
"Meine Lippen sie küssen so heiss" from Giuditta
Franz Lehár (1870-1948)
Elena Perroni, soprano
Miloš Repický,piano
"Di rigori armato il seno" from Der Rosenkavalier
Richard Strauss (1864-1949)
Joseph Tancredi, tenor
Miloš Repický,piano
"O mio babbino caro" from Gianni Schicchi
Giacomo Puccini (1858-1924)
Elena Perroni, soprano
Miloš Repický,piano
"Signor né prinicipe... É il sol dell'anima" from Rigoletto
Giuseppe Verdi (1813-1901)
Elena Perroni, soprano
Joseph Tancredi, tenor
Miloš Repický,piano
____________________________________________
Thursday, 29 September 2022
String Trio in B-flat major, D.471
Franz Schubert (1797-1828)
I. Allegro
II. Andante sostenuto (fragment)
Andrea Obiso, violin
Haesue Lee, viola
Timotheos Gavriilidis-Petrin, cello
Canti Della Natura ("Songs of Nature")
Richard Danielpour (b. 1956)
* commissioned by the Curtis Institute of Music
Estate
Autunno
Inverno
Primavera
Elena Perroni, soprano
Timotheos Gavriilidis-Petrin, cello
Pallavi Mahidhara, piano
Piano Quartet No. 1 in G minor, K. 478,
Wolfgang Amadeus Mozart (1756 - 1791)
I. Allegro II. Andante III. Rondo
Wolfgang Amadeus Mozart (1756 - 1791)
Andrea Obiso, violin
Haesue Lee, viola
Timotheos Gavriilidis-Petrin, cello
Pallavi Mahidhara, piano
____________________________________________
Friday, 30 September 2022
Mozart-Adagio for violin, cello and piano
Arvo Pärt (b. 1935)
Andrea Obiso, violin
Timotheos Gavriilidis-Petrin, cello
Miloš Repický,piano
La mort du nombre
Olivier Messiaen (1908-1992)
Elena Perroni, soprano
Joseph Tancredi, tenor
Andrea Obiso, violin
Miloš Repický,piano
Piano Quartet No.1 in G minor, Op. 25
Johannes Brahms (1833-1897)
I. Allegro
II. Intermezzo. Allegro ma non troppo – Trio. Animato
III. Andante con moto
IV. Rondo all Zingarese, Presto
Andrea Obiso, violin
Haesue Lee, viola
Timotheos Gavriilidis-Petrin, cello
Pallavi Mahidhara, piano