Return to Events
Uncovering the Identity of Corinth
9/25/2020
7:00pm (Greece) 12:00pm (EDT)
Presented By
The National Arts Club
American School of Classical Studies
Speakers
Dr. Ioulia Tzonou,
Associate Director of Corinth Excavations

Eleni Gizas,
Steinmetz Family Foundation Museum Fellow, Corinth Excavations
---
The video of our webinar is now available in our video archive.
---
About our webinar: Since 1896, archaeologists from the American School of Classical Studies at Athens have devoted their efforts to piecing together the lives of those who created Corinth, a thriving ancient city. Dr. Ioulia Tzonou and Eleni Gizas highlight aspects of Greek Corinth, its destruction by Romans in 146 B.C., and the Roman colony founded by Julius Caesar in 44 B.C. They will discuss glorious artifacts, architectural monuments, and archival materials as well as their research.

About our Speakers: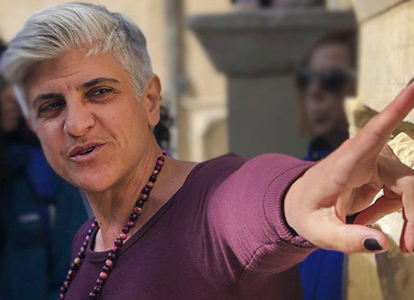 Ioulia Tzonou (Ph.D., University of Cincinnati) is Associate Director of Corinth Excavations at the American School. In collaboration with a staff of 10, she curates the School's substantial collection of artifacts at the Museum of Ancient Corinth, which amount to 190,000 physical objects and half a million digital records. She is an active researcher and teaches archaeology to everyone from kindergartners to doctoral candidates. A native of Siatista in Western Macedonia, Ioulia graduated from the University of Athens. She completed her M.A. on "Bronze-Age Cycladic Petroglyphs" and her doctoral dissertation on "A Contextual Analysis of Mycenaean Terracotta Figurines." She was Schliemann and Spitzer Fellow at the American School. Ioulia has excavated periods ranging from Neolithic to Modern in Roquemissou, France; at Makriyianni in Athens; at Midea in the Argolid; and in Kozani, Macedonia, and Corinth.
Ioulia's work is published in Αργοναύτης, the honorary volume for Professor Christos Doumas, in Encounters with Mycenaean Figures and Figurines, in Mycenaeans Up to Date, in The Oxford Handbook of the Bronze Age Aegean, in Carl W. Blegen. Personal and Archaeological Narratives, in the Blackwell Companion to the Archaeology of Early Greece and the Mediterranean.

In 2015 she organized a centenary celebration for Blegen's excavations at Korakou with Jim Wright. She has contributed to Ancient Corinth: Site Guide (7th edition) and in the Corinth Excavations Archaeological Manual. She is preparing a Corinth volume on Mycenaean Corinth, discussing the use of the entirety of the landscape from Acrocorinth to the terraces where the city lies to its harbor on the Corinthian Gulf. Her interests extend in addition to the processes of production and consumption in Archaic Corinth and to Corinth's role in the Mediterranean through time. She is in charge of the study of the material culture and Blegen's archive from Korakou. She enjoys discussing archaeological research with the public and is very actively involved in outreach.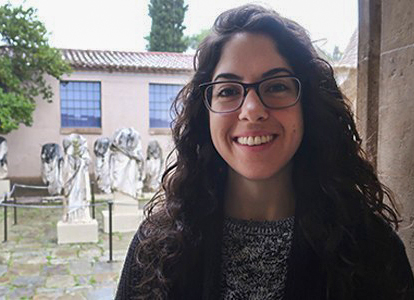 Eleni Gizas (M.A., Columbia University) is the Steinmetz Family Foundation Museum Fellow, Corinth Excavations. In addition to assisting with registrarial duties at the Museum, she runs online and on-site educational programs for children and adults, both in Greece and abroad. Eleni holds a B.A. in Classical and Near Eastern Archaeology from Bryn Mawr College. She interned at the Museum of Cycladic Art in Athens and the Brooklyn Museum in New York. She excavated at Mygdalia Hill in Patras, Gournia in Crete, Morgantina in Sicily, and Onchestos in Thebes. Prior to becoming the Steinmetz Fellow, Eleni worked as the Assistant Registrar at Kasmin Gallery in New York, where she was responsible for managing the gallery's Post-War and Contemporary Art collection and organizing local and international fine art shipments.
Under the supervision of Dr. Ioulia Tzonou, Eleni designs and implements educational programs and lessons that utilize the artifact collection at the Corinth Museum. As a Microsoft Educator, she actively leads Skype in the Classroom "virtual field trips" to Ancient Corinth. Since they were first begun by former Steinmetz Fellow, Katie Petrole, nearly 400 Skype field trips have allowed over 10,000 students in over 40 countries, including Ecuador, the United Arab Emirates, Hong Kong, India, and Australia, to see the monuments and artifacts of Ancient Corinth. Eleni participates in international museum programs, such as International Museum Day, International Archaeology Day, and Museum Week, she began the Open Day program that allows students and adults to observe the excavation live, and she works with local teachers to create custom on-site or virtual programs according to individual curricula.
About The National Arts Club
Founded in 1898, the mission of The National Arts Club (NAC) is to stimulate, foster, and promote public interest in the arts and to educate the American people in the fine arts. The NAC's Archaeology Committee, chaired by Dr. Michele Kidwell-Gilbert, invites prominent scholars and archaeologists from around the world to share their interesting work.