Return to Events
In Search of Contexts: The Wall Paintings of the Mycenaean Palace at Pylos Revisited
2/25/2021
7:00pm (Greece) 12:00pm (EST)
Presented By
American School of Classical Studies at Athens
Greek Painting in Context - Webinar Series
Speakers
Hariclia Brecoulaki, National Hellenic Research Foundation
---
---
* This webinar is part of our "Greek Painting in Context", webinar series.
If wish to see the entire program and register for our upcoming webinars, please click below.
About the Webinar:
Wall-paintings from the "Palace of Nestor" at Pylos constitute today one of the largest and most varied pictorial corpora of the Mycenaean mainland, preserving evidence of a painting tradition that began in Middle Helladic III and Late Helladic I contexts, as is demonstrated by material uncovered in recent excavations. In addition, the discovery, during the past two decades, of new pictorial representations among unpublished plaster fragments in the storeroom of the Chora Museum, has challenged us to evaluate in greater depth the cultural and artistic contexts in which the wall-paintings of the final phase of the palace were produced and displayed. In this lecture, Dr. Brecoulaki reflects on stylistic and technical differences that may serve as 'markers' of artistic micro-contexts to distinguish between paintings from earlier and later contexts in the palace. She also considers the multiple perspectives of a modern 'observer', which in turn affect the interpretation of ancient artefacts and their contexts. Finally, a new reconstruction of the well-known Battle Scene from Hall 64 is discussed under this prism.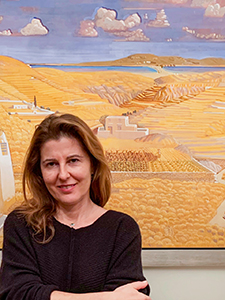 About the Speaker:
Hariclia Brecoulaki is a senior researcher at the Institute of Historical Research of the National Hellenic Research Foundation at Athens. An archaeologist, she holds a PhD from the University of Sorbonne (Paris I). Her research focuses on ancient painting and the use of color in ancient polychromy. Since 2000 she has been collaborating with the University of Cincinnati on the study of the wall-paintings from the palace at Pylos. Her publications include the books L'esperienza del colore nella pittura funeraria dell'Italia preromana V-III secolo a.C. (2001); La peinture funéraire de Macédoine. Emplois et fonctions de la couleur, IV-IIème s. av. J.-C. , ( 2006); Mycenaean Painting in Context. New Discoveries, Old Finds Reconsidered (co-edited with J. Davis and S. Stocker, 2015); and Archaeology of Colour. Technical Studies in Greek and Roman Painting and Polychromy, (forthcoming 2021).