Return to News
Meet a Member: Georgia Tsouvala
July 24, 2017
Moira Lavelle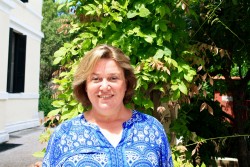 Georgia Tsouvala is an Associate Professor of History at Illinois State University. She specializes in Greek history, literature and epigraphy. Her current research focuses on Plutarch and the history of Greece during the early Empire, inscriptions, and women's history.
Q: What are you researching at the moment?
A: I have several projects in the fire, but the one that has consumed my summers in Greece for a few years is my research on women's participation in athletics and their membership in gymnasia and palaistrai during the late Hellenistic and early Roman periods.
We often use Classical Athens and its laws or customs as the ultimate paradigm for most cities and all periods in ancient Greece. Therefore, scholars have assumed for decades that since Athenian girls and women were not members of gymnasia, all Greek women were not –except maybe in Sparta. Even Spartan women's diverse athletic activity has been doubted (or dismissed as religious) at times, although it is discussed in our Greek and Roman literary sources and it is portrayed in art. What my research shows is that our assumptions on the topic are wrong –certainly for the periods under investigation.
Q: How did you get interested in this topic?
A: I have been interested in women's history in antiquity, in general, and in the Hellenistic and Roman periods, in particular, since I was an undergraduate at Hunter College. I have worked on Roman Greece for a while now. I wrote my dissertation on Plutarch's Erotikos and its social and historical context, while I was an associate member and a fellow at the School (2004-2005). During that time, I chanced upon this particular topic. I could clearly read the name of a woman on an inscription from Thespiai in Boiotia that had been categorized as an ephebic inscription. The name of a woman in that context did not make sense based on what we knew then. I went to Thebes and did autopsy of the inscription to verify the name, and came back and talked to numerous scholars at the School and elsewhere, while also doing research at the library. The conclusion was that this "oddity" could be explained only if she was a wealthy lady with no surviving male relatives that was commemorated on this stone because she benefited the local gymnasium, or because she belonged to some type of collegium associated with the gymnasium. I presented my findings at the APA (as the SCS used to be called then). None of us dared even to think that this was a woman athlete and that her name was on the gymnasium's membership list! If we dared to think it, we never said it out loud… The years went by, but this lady was in the back of my mind, and whenever I would come to the School I would do a bit more research on the topic, whenever I needed a break from Plutarch. It has taken many (partial) summers to work through the problem, partly because the evidence is sparse, and partly because you cannot take any categorization for granted; so, I had to look through most of the inscriptions from that period. I had to look through the epigraphic corpora –it was like looking for a needle in a haystack!
Q: What resources are you using to do your research?
A: This summer I am working primarily at the Blegen Library, because it has everything I need right now as I am wrapping up this project. Most of us do not have a library like this one at our home institutions. The Blegen is equipped not only with epigraphic resources, which I use regularly, but also resources in all the fields and subfields for the study of the ancient world.
This has been an unusual summer, however; usually, I am out in the museums doing autopsy, or in the countryside, exploring the topographical or archaeological context of a particular inscription, before I head back to the Blegen to research a specific question. If I have learned anything during my years at the School it is that you have to get out there, both physically and intellectually, and explore the many facets of an ancient object, site, or person. You will get much more interesting and diverse questions and answers for what you study, if you can look at something from different points of view. Therefore, the resources I use for my research go beyond books and stones when I am at the School.
The staff at the ASCSA are wonderful and so knowledgeable. I could not get permissions for my research without Ioanna's help, or permissions for sites without Elena's and Dylan's help. Where would I be without Maria and her staff at the Blegen? And these are only some of the people whose help I need on a regular basis to do my research.
And then there are so many good scholars here! I talk to people from diverse fields who can point me to, say, art associated with my topic, or who challenge me and give me new questions to explore. There are so many smart people here! Go to tea or ouzo or breakfast or lunch or dinner (there are so many opportunities for food and drink at Loring!), and talk to them!
The resources the School provides go beyond the walls of the "compound"; ephors and assistants are very generous to us, because we are "από την Αμερικανική Σχολή Κλασσικών Σπουδών της Αθήνας." Let's face it! There is a certain cache of intellectual and networking capital, when you make that phone call to a museum and you ask to see an inscription or an object, and you use the name of the School. I have never been turned away!
Q: What brought you to the ASCSA?
A: A poster at CUNY and my professors. I researched the information and, when I discussed the option with my advisers, they encouraged me to come. I was a student in the summer session in 1999, and then came back as an associate member in 2003. I received the D. Spitzer fellowship in 2004 and stayed another year working on my dissertation. I learned so much during those years. Molly Richardson introduced me to epigraphy, and opened another field of exploration for me.

Since 2008, I come back to the School every summer. It has taught me and shaped me in so many ways as a professional, and I feel that I owe a certain debt to the institution and its people. So, I have made the commitment to serve it in any way I can. I co-led a summer session in 2014, and served on the summer sessions committee for a year. I also served on the Gennadeion Library Committee for a few years. Since May 2016, I have been the President of the Alumni Association –and have been serving on many committees because of that role.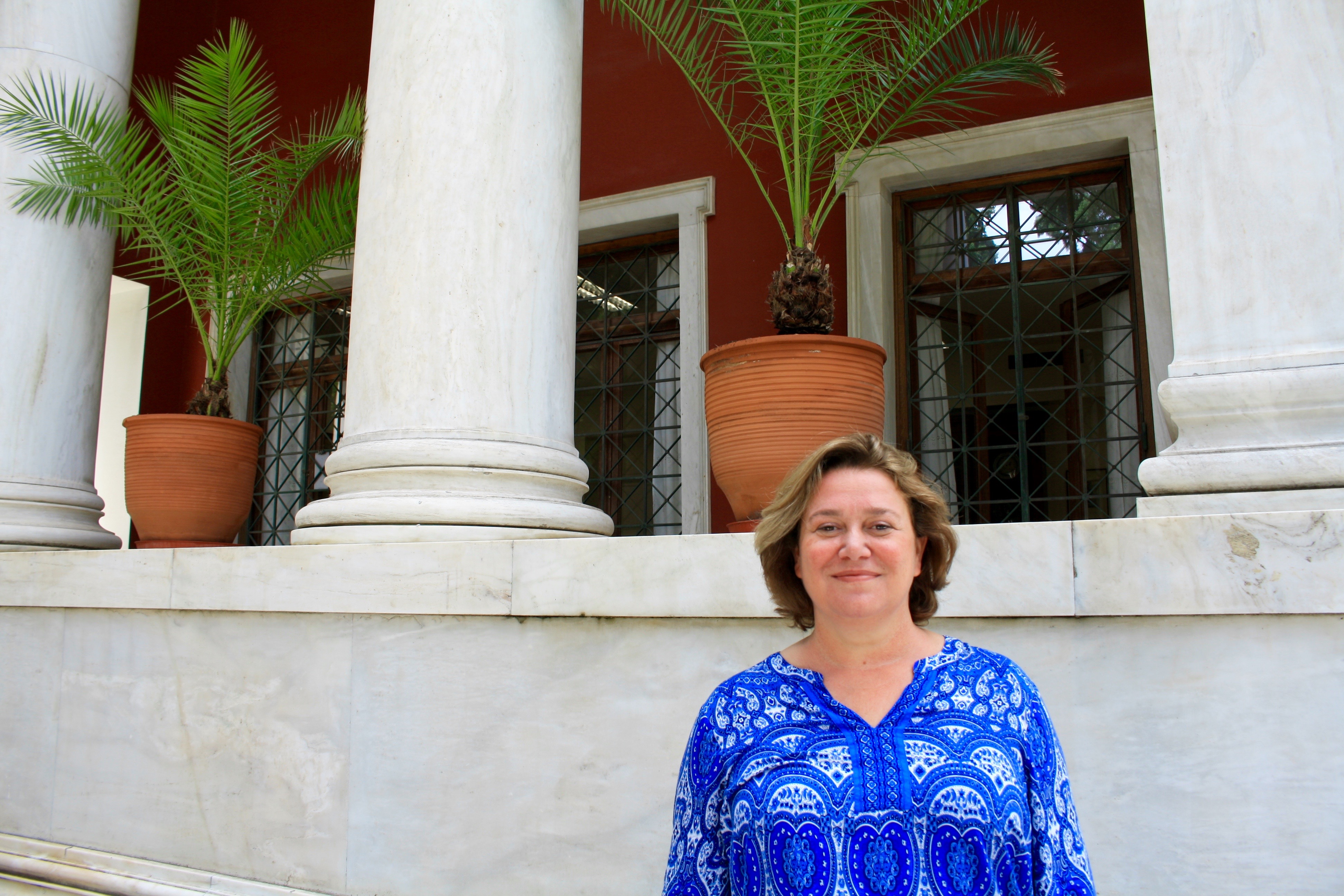 Q: What is the biggest difference in the school since you first started coming?
A: The technology and the facilities. I was here in the days when you had to go to the computer lab to do e-mail. There was no Wi-Fi anywhere -and certainly not in Loring. There was one printer, and you had to wait in line to make a phone call with a τηλεκάρτα from Loring. Everyone could hear your conversations!
The School and its facilities have been growing. We now have a state of the art Weiner lab, and Cotsen Hall and the West Wing at the Gennadeion. We are moving forward to incorporate the latest technology and to update the libraries. There is a long road ahead, however. In addition to providing supporting facilities and staff at our excavations in the Agora and Corinth, we need to renovate Loring. Loring is in the heart of our academic programs, and Niamh and her staff make it a home for so many of us in spite of all the difficulties they have to face. The facilities are outdated and we need to renovate Loring to make it comfortable for our students and the members who stay there. The recent heat-waves reminded us that the weather patterns have changed in Greece, and Loring needs a change as well. We hope that the administration will put Loring on the top of its list, and our alumni and alumnae will support us generously in that effort.
Q: What keeps you coming back to the school?
A: The resources and the people. The School gives me (all of us!) so many resources, so many tools to do our job, not only here but back home, too. The School with all its departments is a multi-faceted entity that embodies in real-time what most universities back home want to be. We are the embodiment of interdisciplinarity, diversity, multiculturalism, hands-on teaching, digital humanities, internationalization, etc. The School does not use these terms as buzz words; it "does" these things every single day and it does them well. It is a place where the humanities talk to the sciences and vice versa; where there are modern art exhibits alongside medieval manuscripts; where the ancient world is in constant discussion with the modern; where you will find students and professors from very diverse backgrounds; where new apps and old knowledge co-exist; where old questions find new answers and where new questions are created. The School is a laboratory for the creation and dissemination of research for all periods of Hellenic history; where young scholars can train and senior ones can thrive.
I have made so many friends at the School, and it is nice to meet new ones. I also love meeting the new generations of students who are coming through its programs. I believe in the School and what it stands for, and I want to support it and its mission in any way I can.
Q: What is your favorite restaurant in Athens?
That's a hard question. There are so many good restaurants!... I am a regular at Barbounaki –excellent fish at a good price.
Q: If you were a Greek god or goddess which one would you be?
Athena, because she is smart and a warrior.
Q: What do you get from your experience at the ASCSA?
A: I think it's all the things I mentioned already: the friendships you make, the collaborations you make, the people you meet here, the resources you have. The School for me is a home. It is the bridge between my roots in Greece and my blossoms in the States. I feel at home when I am here, and all the people make it easy.