Return to News
Richard Hodges "An 'Ice Age Settling on the Roman Empire'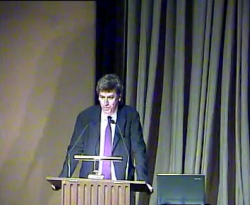 Butrint, Buthrotos in Greek, is a World Heritage archaeological site in southern Albania, in the continental hinterland of Corfu.
Richard Hodges, Williams Director of the University of Pennsylvania Museum, paints its history with a broad brush, considering vacillations in the size and nature of the settlement as it evolved in Roman and Medieval times.  What becomes clear is how firmly Butrint was embedded in the economy of the larger Mediterranean world and how clearly its fate reflected not only that of the eastern and western Roman empires, but also the establishment of new centers of power in northern and western Europe and in the Near East.
The School would like to thank the Paul and Alexandra Canellopoulos Foundation for their generous support, and also Barry J. Jacobson for support of the Director's series.
Running time: 1 hour and 10 min