Return to News
Agora and Corinth Partner for Online Excavation Databases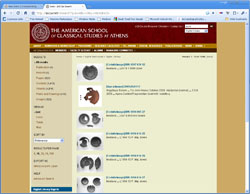 For a little over a year, the staff of the Athenian Agora and Corinth Excavations has been collaborating to bring their vast electronic resources together in a single online interface. As part of the ASCSA's growing digital library, these databases provide a valuable research tool for scholars far beyond Athens and Corinth. They are available at ascsa.net and are designed by Bruce Hartzler, Information Technology Specialist of the Athenian Agora. The work has been generously supported at various stages by many individuals and funding organizations. At the Agora, Packard Humanities Institute (PHI) has been involved over the last decade in an ambitious program of digitizing older materials and experimenting with the use of new technology to record continuing excavations. In Corinth, the forethought of Charles K. Williams, II (Excavation Director from 1965 to 1997) and the hard work of his Assistant Director, Nancy Bookidis, introduced digital record keeping to the excavations in the late 1970's. Bringing fruit to their vision and labor, the Greek Ministry of Culture and the Third Information Society program of the European Union funded scanning and cataloguing of over a quarter million digital objects from the Corinth archives. Not least, the Mellon Foundation funded initial studies for the unification of the excavation data.
Publications, excavation reports, excavation notebooks, contexts, objects, plans and drawings, and photos and other images can be searched using the Agora or Corinth field names, as well as the Dublin Core metadata standard set. Users can tailor the display of their search results in many formats such as list, icons (thumbnail), and table. The table display format is especially flexible with individual fields specified by the user. Find spots for objects from the Athenian Agora and from the recent Panayia Field excavations in Corinth can be plotted in Google Earth or on excavation plans (Agora only at the moment). Search results may also be exported into four file formats.
Material which has been published is made openly available to the public. Material which is unpublished is only available to researchers who have already obtained the necessary permission to study the material in person. Some additional material from Corinth Excavations is restricted by the directors of excavations.
Current efforts are focused on creating a participant based (wiki) user's manual and providing larger images for Corinth's collections. Cataloging of the Corinth Coin Study Collection funded by the Kress Foundation and a fourth package of the Greek Ministry of Culture and the Information Society program of the European Union for digitization and cataloging in the Agora will further enhance the databases.
Further inquiry can be made to the IT Specialists of the .(JavaScript must be enabled to view this email address) or .(JavaScript must be enabled to view this email address).