Return to News
New Publication: Votive Reliefs (Agora XXXVIII)
May 22, 2017
Destini Price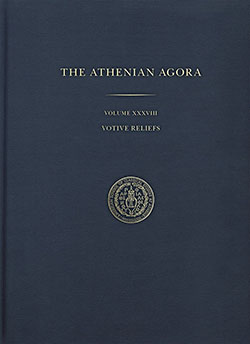 The American School of Classical Studies at Athens is pleased to announce the publication of Votive Reliefs (Agora XXXVIII) by Carol L. Lawton.
This volume includes all of the Classical, Hellenistic, and Roman votive reliefs found to date in the excavations of the Athenian Agora. In addition to providing a catalogue of the reliefs arranged according to their subjects, the author treats the history of their discovery, their production and workmanship, iconography, and function. A large part of the study is devoted to discussion of the original contexts of the reliefs, in an attempt to determine their relationship to shrines in the vicinity and to investigate what they can tell us about the character of religious activity in the vicinity of the Agora. The work will be an important reference for historians of Greek art as well as of Greek religion.
Contents
Chapter 1: Introduction
Chapter 2: Deities
Chapter 3: Heroes and Heroines
Chapter 4: Worshippers
Chapter 5: Anatomical Votives
Chapter 6: Unfinished Reliefs, Reliefs of Uncertain Content
Agora XXXVIII
248 pp, 12 col figs, 3 col and b/w plans, 60 plates
Cloth, 9" x 12"
ISBN: 978-0-87661-238-5
Votive Reliefs (Agora XXXVIII) can be purchased from our distribution partners: click below for information on how to order from Casemate Academic (in North America) or from Oxbow Books (outside North America).