Return to News
VIDEOCAST - Artemis Cooper "Patrick Leigh Fermor in Greece."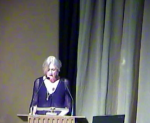 On May 24, Artemis Cooper spoke on "Patrick Leigh Fermor in Greece." Her lively and inspiring lecture stirred the interest of the audience that filled Cotsen Hall. She traced his life, experiences, and legacy in Greece from his early travels to the end of his life, on 10 June 2011. She talked about the things that drew Patrick Leigh Fermor to Greece in the first place; his 'participation' in the Venizelist rebellion of 1935; his early travels in Thrace and Macedonia, and first encounters with the Sarakatsani; his experiences in the war on the Albanian front and Crete, as well as the post-war explorations of Greece that produced Mani and Roumeli. She also touched on the Cyprus years; his friendship with George Seferis, George Katsimbalis, and Nicos Hadjikyriacos Ghika; how he and his wife came to settle in Kardamyli, and built their house with the architect Nicos Hadjimichalis; how the Greek translation of Mani was undertaken by Tzannis Tzannetakis, while he was in exile in Kythera under the Junta of the Colonels. Finally, she reflected on his position in the village of Kardamyli and how he is seen in Greece today.
Artemis Cooper studied English Literature at Oxford, and worked in Egypt and New Mexico before beginning her career as a writer. Her previous books include Cairo in the War: 1939-1945; Watching in the Dark, A Child's Fight for Life; and Writing at the Kitchen Table, The Authorized biography of Elizabeth David. She has also edited two volumes of letters, and co-authored Paris After the Liberation: 1945-1949 with her husband, the historian Antony Beevor. Her biography of Patrick Leigh Fermor is based on unrestricted access to his private papers, and interviews with him in England and Greece over several years.
If you have trouble viewing this videocast, make sure your browser has Flash installed: Download Flash Player
This year the Gennadius Library would like to thank Lloyd E. Cotsen and Margit Cotsen for their generous support.