Return to News
Videocast: Οδυσσέας Ελύτης. Στοιχεία μιας ποιητικής ταυτότητας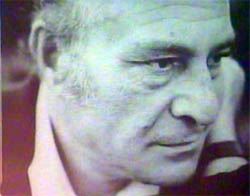 On the occasion of 100 years from the birth of Odysseus Elytis, the Gennadius Library organized this lecture by poet Ioulita Iliopoulou, "Οδυσσέας Ελύτης. Στοιχεία μιας ποιητικής ταυτότητας".
The lecture was held in conjunction with the recent exhibition "Odysseus Elytis: Poetry and Paintings" organized by the B. & M. Theocharakis Foundation for the Fine Arts and Music.
This year the Gennadius Library would like to thank Lloyd E. Cotsen and Margit Cotsen for their generous support.
Running time: 60 min (Lecture in Greek)
About the exhibition:
The Archives of the Gennadius Library have lent rich archival material from the Archive of Odysseus Elytis to this exhibition, which presents for the first time all the paintings of the Nobel-laureate Greek poet Odysseus Elytis. It comprises imaginative collages, temperas, and watercolors highlighting his unique artistic personality and reflecting his aesthetic preoccupations. The exhibition also features works by leading Greek artists that Elytis admired and wrote about, such as: Theofilos, Tsarouchis, Ghika, Kapralos, Kanellis, Moralis, Derpapas, Fassianos, Paniaras, and Tsoklis. The exhibition also presents manuscripts and editions belonging to the poet's private collection, along with published and unpublished photographs. In addition to the Gennadius Library, items have been loaned by the Benaki Museum, the Athens National Gallery as well as private collections. The exhibition, which was curated by Takis Mavrotas was made possible thanks to the valuable assistance of poet Ioulita Iliopoulou and in cooperation with the Athens Concert Hall. On view: September 22, 2011 - November 27, 2011. For further information visit: http://www.thf.gr/.
Οδυσσέας Ελύτης. Στοιχεία μιας ποιητικής ταυτότητας. Part 1
Οδυσσέας Ελύτης. Στοιχεία μιας ποιητικής ταυτότητας. Part 2