Return to News
Videocast: "Exploring Greek Manuscripts in the Gennadius Library"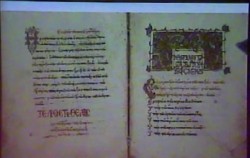 On October 11, 2011 there was the Book Presentation of Gennadeion Monograph VI: "Exploring Greek Manuscripts in the Gennadius Library," edited by
Maria L. Politi and Eleni Pappa. (In collaboration with the Greek Paleographical Society).
If you have trouble viewing this videocast, make sure your browser has Flash installed: Download Flash Player
The School is able to share videocasts of presentations worldwide via the Internet thanks to the generosity of the Cannellopoulos Foundation, Barry J. Jacobson Chairman of the Board "Joseph P. Day Realty Corporation", as well as Lloyd E. Cotsen for support of the Gennadius lectures.
Running time: approx. 1h, 40 minutes 
Part 1
Part 2
Part 3
Part 4