Return to News
Videocast: Οι Φαναριώτες και ο πρώιμος Διαφωτισμός (1680-1780)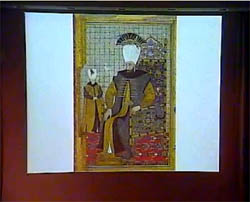 On the occasion of the 300th anniversary of Nicholas Mavrokordatos as the first Phanariote Hospodar of the Danubian Principalities—Prince of Moldavia, and then Prince of Wallachia, Jacques Bouchard lectured at Cotsen Hall on October 12, 2010 on the Phanariots and early Enlightenment. The lecture was entitled "Οι Φαναριώτες και ο πρώιμος Διαφωτισμός (1680–1780)" and delivered in Greek.
Jacques Bouchard is Professor of Modern Greek Literature and Director of the Interuniversity Center for Neohellenic Studies of Montreal (Université de Montréal). He also holds the Phrixos B. Papachristidis Chair of Modern Greek and Greek-Canadian Studies at McGill University. He teaches the courses on modern Greek literature.
The introduction was presented by historian Alexis Malliaris.
This year we are able to share videocasts of presentations worldwide via the Internet thanks to the generosity of Alex Zagoreos, president of the Board of Overseers of the Gennadius Library. The School also thanks Lloyd E. Cotsen for support of the Gennadius lectures, the Cannellopoulos Foundation, and the U.S. Dept. of Education.
Approximate running time 45 minutes.
If you have trouble viewing this videocast, make sure your browser has Flash installed: Download Flash Player
Οι Φαναριώτες και ο Πρώιμος Διαφωτισμός Part 1
Οι Φαναριώτες και ο Πρώιμος Διαφωτισμός Part 2