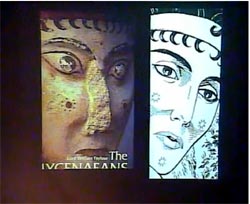 The ASCSA lecture series kicked off on October 5 with a special feature: three talks by award-winning cartoonists, all of whom draw on Greek antiquity for ideas, themes, and inspiration.
Apostolos Doxiades and Alekos Papadatos are best known for their graphic novel, the NY Times bestseller, Logicomix, which explores the origins of moral philosophy through the eyes of Bertrand Russell and the lens of ancient Greek thought. 
NY Times best-selling author Eric Shanower is renowned among Classicists for his prize-winning Age of Bronze series, which explores the reception of the Iliad.
This year we are able to share videocasts of presentations worldwide via the Internet thanks to the generosity of Alex Zagoreos, president of the Board of Overseers of the Gennadius Library. The School also thanks Lloyd E. Cotsen for support of the Gennadius lectures, the Cannellopoulos Foundation, and the U.S. Dept. of Education.
Approximate running time 110 minutes.
If you have trouble viewing this videocast, make sure your browser has Flash installed: http://get.adobe.com/flashplayer/
Graphic Greeks: Ancient Greece in Three Comics Narratives Part 1
Graphic Greeks: Ancient Greece in Three Comics Narratives Part 2
Graphic Greeks: Ancient Greece in Three Comics Narratives Part 3
Graphic Greeks: Ancient Greece in Three Comics Narratives Part 4