Return to News
Virtual Field Trip, Anyone?
January 29, 2018
Katherine M. Petrole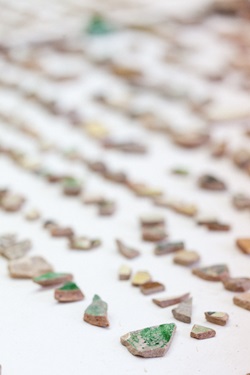 Three years ago, Corinth Excavations began systematic work to create K-12 educational resources thanks to the generosity of the Steinmetz Family Foundation. Now, after nine lesson plans, one bonus lesson called "Digital Field Trip", multiple presentations at international conferences, and 28 on-site, live programs for 929 budding archaeologists, Corinth Excavations has taken its educational efforts to a new level.
This year, Corinth Excavations joined the Microsoft Educator Community and Skype in the Classroom with a "Corinth Excavations Educator" profile and a Virtual Field Trip titled "A virtual trip to Ancient Greece and Corinth".
The Microsoft Educator Community is an online platform created for educators to connect and collaborate, find training and lessons, and earn badges and certificates on a personalized hub.

Skype in the Classroom is part of the Microsoft Educator Community, reaching 2 million teachers around the world, and enables teachers to inspire the next generation of global citizens through transformative learning over Skype, offering Virtual Field Trips, Mystery Skypes, Guest Speaker sessions, and more, aiming to remove geographic and economic boundaries to education through the innovative use of technology in a classroom environment. Through this free platform, teachers and students from around the world can connect with Corinth Excavations by simply clicking a button.
In our first two months, Corinth Excavations has booked 35 virtual field trips for 948 students in 13 countries, travelling over 113,000 virtual miles, including highlights such as: Alaska, California, Arizona, Colorado, Iowa, Illinois, Florida, North Carolina, Canada, the United Kingdom, Argentina, Brazil, Spain, Italy, the Czech Republic, Egypt, South Africa, Qatar, Ukraine, Georgia, Vietnam, India, Indonesia, and more.
Katie Petrole presented about this new project and its role in archaeological excavations during the Archaeological Institute of America's 4th Annual Conference for Heritage Educators in Boston in a presentation titled "Museum Collections: Out of Storage and Into a Virtual Field Trip" and a poster titled "Museums, Technology, and Teachers: A Virtual Trip to Ancient Greece and Corinth".
If you or someone you know would like to visit Corinth Excavations for an educational program on-site or online, email Katie to plan a fun, educational session.
Quick Links:
Corinth Excavations Virtual Field Trip
Corinth Excavations Educator profile
K-12 Educational Resources home page