Return to News
NEH Fellow's work on antiquities as state gifts has far-reaching implications
June 29, 2017
Joanie Blackwell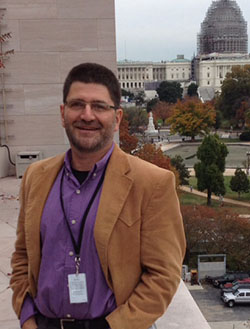 Nassos Papalexandrou, Associate Professor of Art History at the University of Texas at Austin, received a National Endowment for the Humanities fellowship from the School to spend a year researching "Greek Antiquities as Diplomatic Gifts in Greek-U.S. Relationships after WWII." An alumnus and former faculty of the ASCSA, Papalexandrou shares insights from his present work in this Q&A.
You mentioned that this project began as a distraction from another topic you were working on. Can you talk about that process?
Since the mid-2000s, I have been working on the Orientalizing phenomenon in the visual and material cultures of the 7th century BCE Mediterranean. This has been very rewarding, but the experience of the Greek crisis since the late 2000s has compelled me to rethink the history of the modern Greek state, especially the trajectory of the country after WWII. The theme of antiquities as diplomatic gifts given from Greece to the US after WWII has offered me an unexplored field with many potential insights. It is a vantage point for understanding the evolving conceptualizations of Greek antiquity within the wider framework of modern Greek identity and history.
How many objects are included in the project right now?
If one includes replicas or objects inspired by antiquity, I would say that so far I have to deal with about 100 objects. A major aim in my research is to place the Greek–U.S. exchange within a wider framework—e.g. that of exchange of objects between Greece and European states or, even more interestingly, between Greece and the Soviet Bloc.
What have you learned so far about Greek gift exchange with other countries?
Because of the organization of records and open access to information in the U.S., the diplomatic gifts presented by Greece to U.S. Presidents or high-ranking officials can be searched relatively easily. The case is not the same regarding what Greece presented to leaders of European countries in Europe or the Soviet Union. In France, for example, the Élysée does not disclose what the President of France receives from or presents to other heads of state.
These items are important on their own for what they convey about the ancient past. How do they take on additional meaning when playing a role in diplomatic relationships between modern countries?
This is very provisional, but on certain occasions the objects have been selected to epitomize ideological stakes or themes of political and diplomatic exchange. In the Cold War period, Greece found itself in a buffer zone between the Western world and the Soviet Bloc. Its ancient heritage and its material manifestations carried an extra-symbolic dimension for both givers and receivers. For example, in Spring 1949, it was important for the Greek government to communicate to the U.S. (government and public—especially the members of the extensive Greek Diaspora) its success over the insurgent communist guerillas in the north of Greece. It was, therefore, not by accident, that an architectural block from the Nike (Victory) bastion on the Athenian Acropolis was selected for presentation to President Truman.
What have been some of the more interesting gifts you've seen in your research?
I was shocked to find out that in 1995, a Minister of Macedonia and Thrace of the Hellenic Republic showed up in Washington with a gift for President Clinton: a replica of the famous Golden Larnax (box), the original of which held the cremated remains of the owner of the royal tomb that was excavated in the Great Tumulus at Vergina/Aigai, Macedonia, in 1977 by Manolis Andronikos. According to the Federal Register, this sumptuous object was estimated at around $6,500. I find this extravagant, but also indicative of the calculated usage of antiquity to push political agendas during a period of contention over the official name of a northern neighbor of Greece.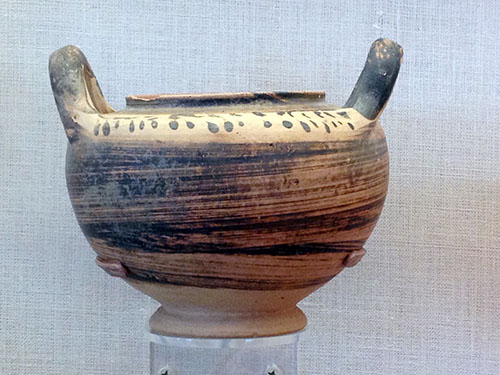 Boiotian Pyxis gift to U.S. President Clinton
Was gift exchange amongst states/empires practiced in antiquity? What is special or interesting about this practice as seen through the countries and time period you are researching?
Yes, gift exchange has been around for a long time. It was institutionalized in the ancient Near East where the practice dovetailed with economic exchange of goods and practices—the documentary record for this is rich. Scholars have also explored its Aegean dimensions. Gift exchange is of paramount importance in the world of Homer, and its basic premises underlie votive practices in the first millennium. The practice survived through the medieval world (east and west) when, very often, fabulous artifacts were seen as extensions of the personalities involved in gift exchange. More recently, there is even a record that Greek Prime Minister Eleutherios Venizelos received an Angora cat from president Atatürk during a very important trip to Ankara in October 1930.
As far as my topic is concerned, it is special in that it allows plenty of insights emerging from access to a rich documentary record. This documentary record enables understandings not possible in earlier historical periods. Artifacts can be very eloquent about givers, receivers, and circumstances of exchange.
How did Greek officials choose which items to give?
I do not have a straightforward answer to this, as my research is still on going. But I have come across evidence that high-ranking archaeologists were involved in selecting objects (e.g. from the collections of "duplicates" of the National Archaeological Museum—this category is documented as early as the beginning of the 20th century).
Do you think the U.S. recipients comprehended the meaning of the gifts? Did they have the intended effect/reaction or make a difference in policy?
I have found evidence that U.S. recipients comprehended the meaning of the gifts. The discursive practices during the ceremonies of presentation were of major importance in making recipients realize how the givers "charged" the artifacts with meaning. The second question is much more difficult to answer. One has to reckon with how qualities of artifacts work their way through to individual or collective mindsets. This not easy. The artifacts "punctuate" agendas in visible forms that are durable and showy in mass media.
Where are these artifacts now?
Presidential Libraries and Museums (administered by the National Archives and Records Administration—nara.gov) have done an excellent job curating these objects. You can't imagine my fascination when I examined, at close quarters, a rug woven in the Orphanage "Megas Alexandros," Ano Toumba, Thessaloniki, for presentation to President Harry Truman. This is not an antique object, but its iconography and symbols hark back to antiquity. In-and-of-itself this handmade artifact was presented as a token of the economic revival of Greece as a result of reconstruction instigated by the Marshall Plan under the Truman Doctrine. It is very interesting and professionally preserved at Truman's Library and Museum in Independence, Missouri.
Did giving these ancient artifacts as gifts devalue them or heighten their value?
Neither yes nor no. I believe these artifacts, as genuine remnants of the material and visual culture of the ancient world, are valuable in-and-of-themselves no less than any item surviving from antiquity. Almost all of them lack provenience, but one of the major gains of my research is finding out about their provenance in Greek museums and collections. Their biographies have embedded them in a fascinating web of relationships that are inextricable from what the biography of these objects has become after their usage as diplomatic gifts.

Giving artifacts as gifts would be illegal today. When did the practice change and what does Greece usually give instead?
The practice was discontinued in the late 1990s. Since about 2000, artifacts inspired by antiquity (e.g. replicas of ancient artifacts) or coffee-table books on Greek art and monuments seem to have been preferred as diplomatic gifts.
You are primarily an ancient art historian. What have you learned during this foray into modern history about research methodologies, etc.?
My research in the U.S. and Greece has been largely based on archival materials. These are important for the recent history of archaeology in Greece as well as for ideas about antiquity and its management. The most important challenge I face right now is how to distance myself from a historical period that still shapes perceptions of the impact of the past to the present. The practice of presenting antiquities as diplomatic gifts to U.S. presidents or high-ranking officials witnessed a big bang of sorts in 1949, during the civil war. This is a tremendously controversial period that is still as "hot" in public memory as it is in historiography. Trying to wade through it all is like walking through a minefield. I am learning to be extremely cautious, persistent, and patient in fleshing out my understanding of the sociopolitical nexus surrounding antiquities used as diplomatic gifts.
How has being at the American School helped your research?
I cannot imagine a more ideal base for my research. The ASCSA has awarded me an NEH grant that enabled me to pursue research in Athens. The Blegen Library is a wonderful resource, of course, because a major component of my research has to do with the archaeology of the artifacts themselves. ASCSA archivist Natalia-Vogeikoff and Eleutheria Daleziou at the Gennadius Library have graciously introduced me to all the nooks and crannies of archival research here in Athens, and I am looking forward to working with them to access records in the rich archives of the ASCSA and the Gennadius. Last, but not least, I cannot stress enough the insights I have gained from colleagues and members during informal conversations over meals or tea.