Return to News
Students and Friends Name Brunilde Sismondo Ridgway Room in New Student Center
The American School of Classical Studies at Athens is pleased to announce gifts from 85 Students and Friends of Brunilde Sismondo Ridgway in support of a double bedroom in the renovated Student Center. Located on the second floor of Loring Hall, the Brunilde Sismondo Ridgway Room is named in honor of the distinguished archaeologist and teacher whose long association with the School spanned five decades and continues to the present day.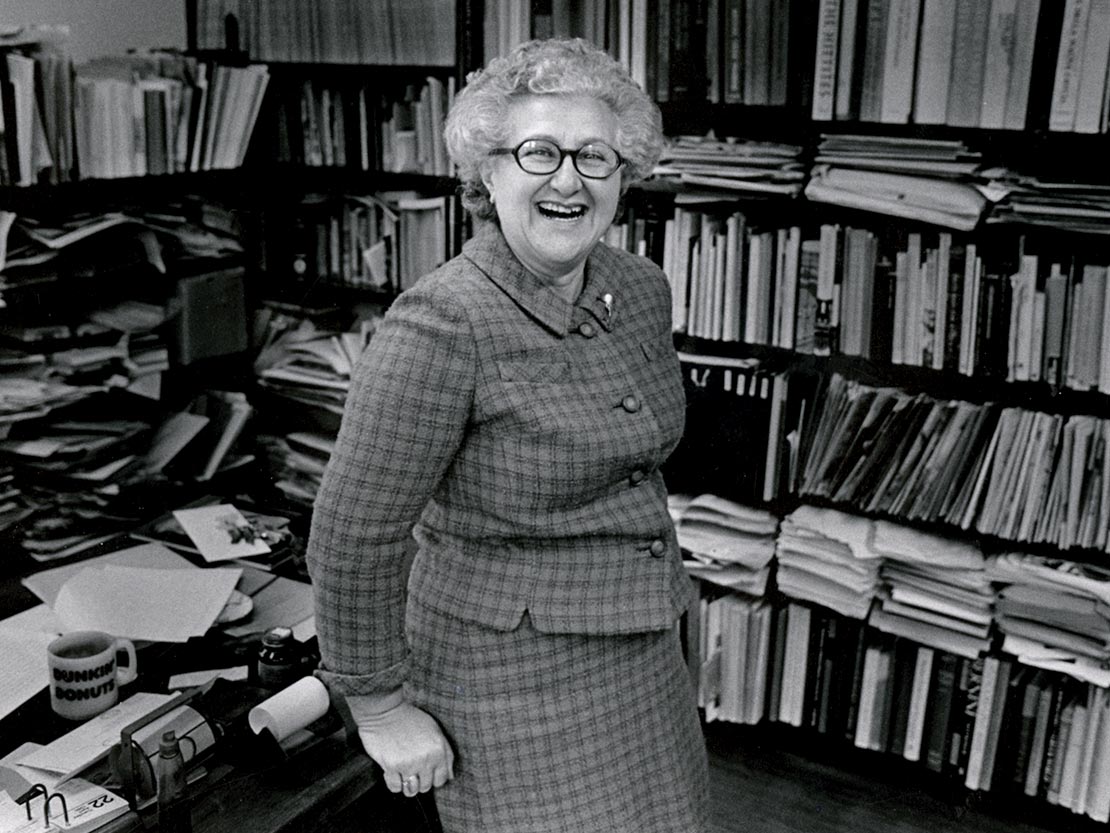 Brunilde S. Ridgway in her Thomas Library office at Bryn Mawr College, circa 1985 (photo by Bruce Stromberg, courtesy of Bryn Mawr College Photo Archives)
The daughter of an Italian career officer of the specialized Guardia di Finanza corps, Brunilde ("Bruni") Sismondo Ridgway was born in Chieti in the Abruzzi region and spent part of her childhood in then Italian East Africa before returning to Italy and earning her first doctoral degree (in Classics) from the University of Messina in Sicily in 1953. She then won the Ella Riegel Fellowship and a Fulbright travel grant to pursue graduate studies at Bryn Mawr College, where she earned her second Ph.D. (in Classical and Near Eastern Archaeology) in 1958. During this period, she spent two years at the American School (1955–1957), where her ebullient Italian personality earned her the nickname Δεσποινὶς Σεισμοῦ (Miss Earthquake). She later returned to the School to lead Summer Sessions in 1967 and 1971 and served as Whitehead Professor in the fall of 1988. In 1977–1979, she was Chair of the Alumni Council and a member of the Managing Committee.
Brunilde S. Ridgway seated on a camel (Cairo-Gizeh) with the Sphinx on the left and the Pyramid of Khufu (Cheops) on the right, 1955 (photo courtesy of Bryn Mawr College Photo Archives)
In 1958, Bruni Sismondo married Henry W. Ridgway, Jr. (with whom she had four sons). The same year, she began teaching at Bryn Mawr and was named Rhys Carpenter Professor of Classical and Near Eastern Archaeology in 1977, becoming emerita in 1994. She has supervised 31 dissertations for Bryn Mawr, one for the University of California, Los Angeles, and nine for other universities. A leading expert in Greek sculpture, she has published 16 books (including a magisterial seven-volume history of Greek sculpture), 105 articles, and 135 book reviews.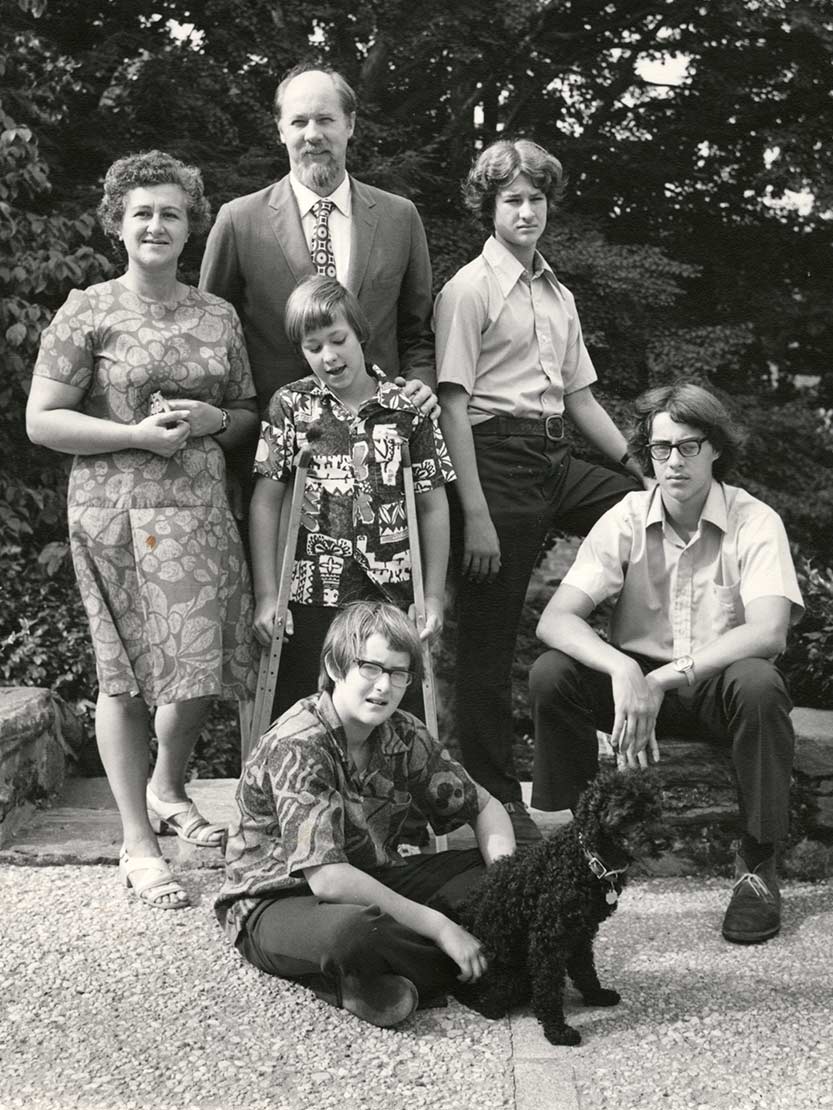 Brunilde S. Ridgway and Henry W. (Pete) Ridgway, III, with sons (oldest to youngest) Conrad Wright, Eric Robert, Kevin Paul, Christopher Llyod, 1974 (photo by Karl A. Dimler, courtesy of Bryn Mawr College Photo Archives)
Throughout her impressive career, Bruni has held many visiting professorships in the U.S. and Canada. She has also held many fellowships and lecture appointments the world over. Select positions she has held include: member of the Institute for Advanced Study in Princeton, NJ (1968); Guggenheim Fellow (1974–1975); Editor-in-Chief for the Archaeological Institute of America's (AIA)'s American Journal of Archaeology and ex-officio member of the Executive and Publication Committees (1977–1985); Thomas Spencer Jerome Lecturer, University of Michigan and the American Academy in Rome (1981–1982); Kress Senior Fellow at the Center for Advanced Study in the Visual Arts (CASVA) at the National Gallery of Art, Washington, DC (1986); Geddes-Harrower Chair in Archaeology at the University of Aberdeen, Scotland (1989); visiting professor for the Archaeological Institute of Australia at Athens' Australian lecture tour (1992); member of the American Philosophical Society (APS) in Philadelphia (1993–present); visiting professor for the Institute of Classical Archaeology at Aarhus University in Denmark (1995); Sather Lecturer and Professor at the University of California, Berkeley (1996); Langford Family Eminent Scholar at Florida State University (1997).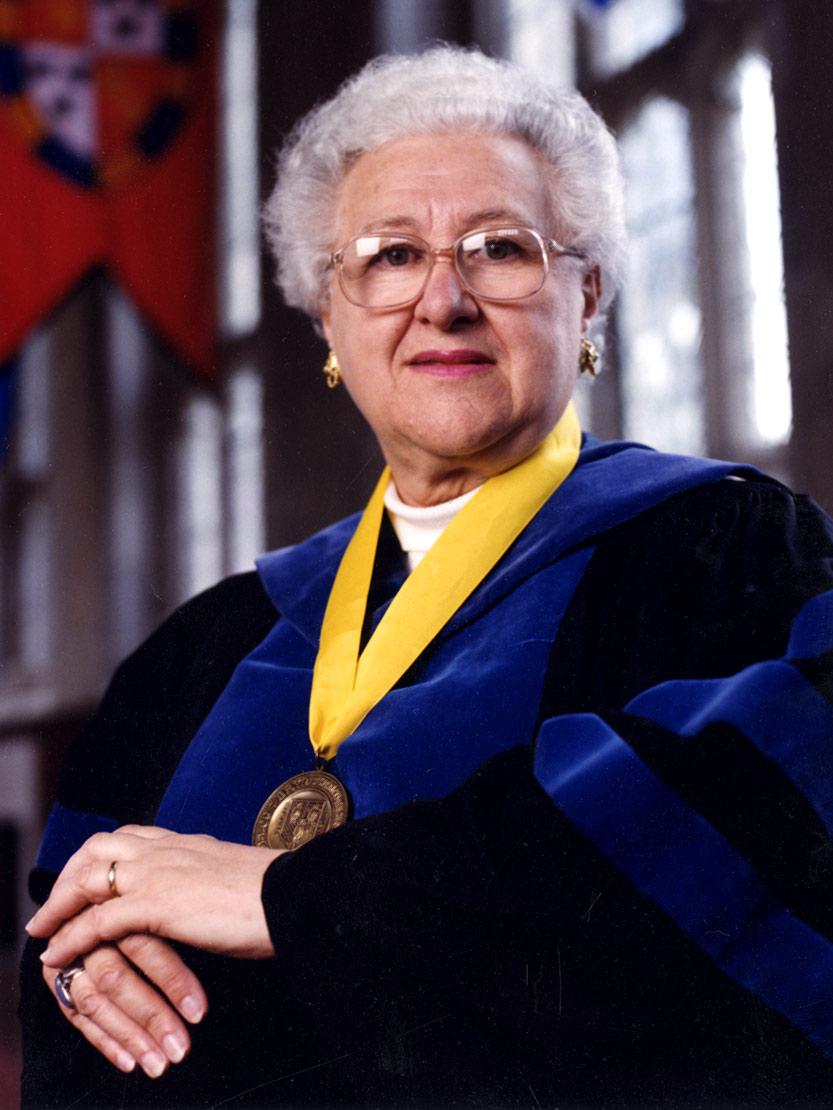 Official Bryn Mawr portrait of Brunilde S. Ridgway wearing academic regalia and her medal of emeriti, 1997 (photo by Larry Kesterson, courtesy of Bryn Mawr College Photo Archives)
Bruni has received many prestigious honors in recognition for her excellent scholarship and teaching. Feathers in her cap include Bryn Mawr's Christian R. and Mary F. Lindback Foundation Award for Distinguished Teaching (1981) and the AIA's Gold Medal for Distinguished Archaeological Achievement (1988). In the Council for Advancement and Support of Education's 1989 Professor of the Year Program, Bruni was a National Gold Medalist and was named Pennsylvania Professor of the Year. She received two honorary degrees: Doctor of Humane Letters, honoris causa, Georgetown University (1992) and Doctor of Letters, honoris causa, Union College (1992). In addition, in 2006 she won the Henry Allan Moe Prize in the Humanities for her paper at APS, which was delivered November 15, 2003, and published in Proceedings of the APS in March 2005: "The Study of Greek Sculpture in the Twenty-first Century." Finally, she was the first woman to receive a silver medal as 12th Felix Neubergh Lecturer at Göthenburg University in Sweden.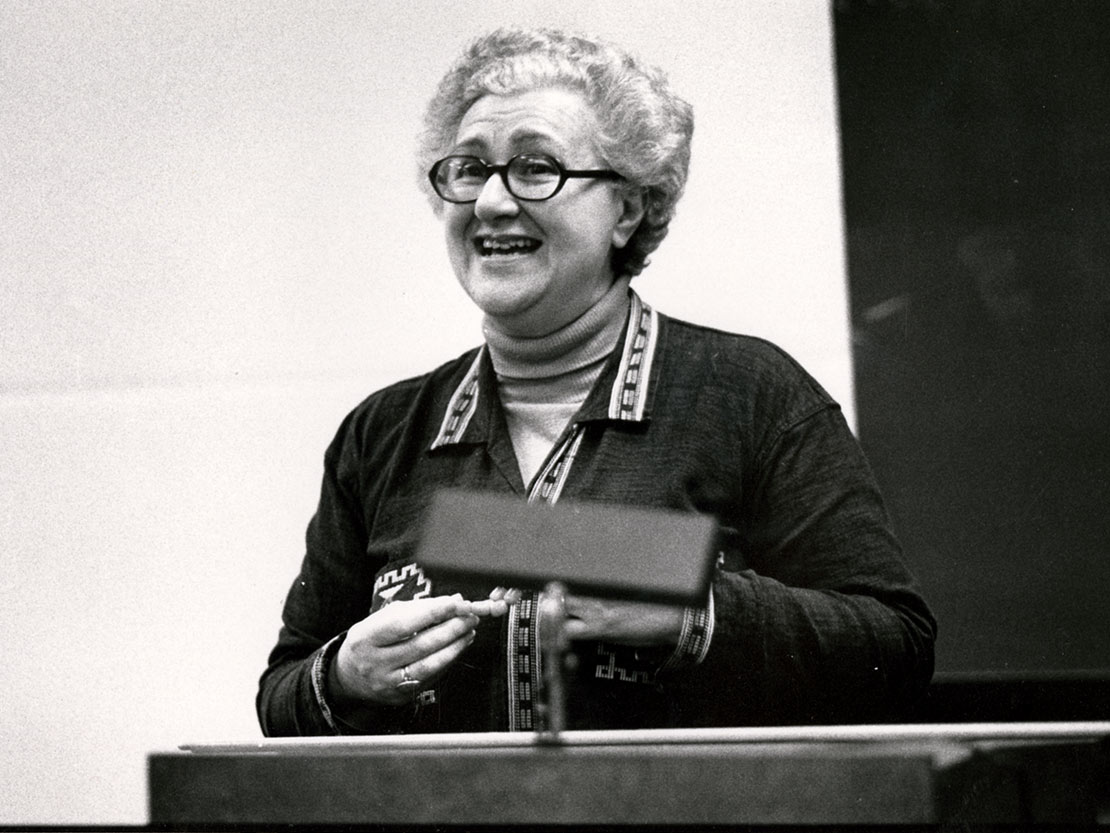 Brunilde S. Ridgway speaking at a podium, 1985 (photo courtesy of Bryn Mawr College Photo Archives)
George Orfanakos, Executive Director of the School, responded as follows: "On behalf of the American School, I want to express our heartfelt gratitude to the Students and Friends of Bruni Ridgway for honoring one of the School's most distinguished scholars and teachers. Future generations who pass by the Brunilde Sismondo Ridgway Room will learn about this giant of the American School and will be inspired by her example."
The fundraising campaign to name a room in Bruni's honor was led by four of her former students: Henry Bender (St. Joseph's University), Kim Hartswick (City University of New York), Mary Sturgeon (University of North Carolina at Chapel Hill), and James Wright (Bryn Mawr College). In his moving appeal to fellow "Bruniites" as he fondly calls them, Bender recalls how "Bruni made that summer of intense learning, walking, study, and ingesting—monument after monument. Looking at sculpture with her narration became similar to watching an artist bring form out of material. For my entire teaching career, Bruni has been an inspiration to me personally."
Brunilde S. Ridgway, 1965 (photo courtesy of Bryn Mawr College Photo Archives)
Mary Sturgeon, who was one of her students in the 1967 Summer Session while working with Bruni on her Ph.D. dissertation, fondly recalls Bruni's dynamic personality: "Bruni was an exciting and inspirational teacher: in the classroom, in the museum, and on archaeological sites. Her knowledge of ancient Greece, Greek sculpture, and literary and historical sources is encyclopedic, her enthusiasm contagious, and her engagement with her subject complete.
"My first seminar with Bruni at Bryn Mawr College was on Greek architectural sculpture, a subject so engrossing that I have conducted research in this area ever since. Like her teacher Rhys Carpenter (Director of the American School, 1927–1932, 1946), Bruni emphasized the importance of examining the object closely before considering its archaeological and historical context. Indeed, while discussing sculptures from the Corinth theater, our debate on the original orientation of an oddly-shaped piece became so intense that we were shouting. Our shouts were so loud that Professor Carl Nylander rushed down the hall to see if we were all right.
"On the trips I took with Bruni, her excitement was contagious. She expanded our horizons in the Summer Session (1967), the AIA study tour of Sicily (1971), and the AIA study tour of North Africa (Tunisia and Morocco, 1974). To her students, Bruni's energy seemed endless."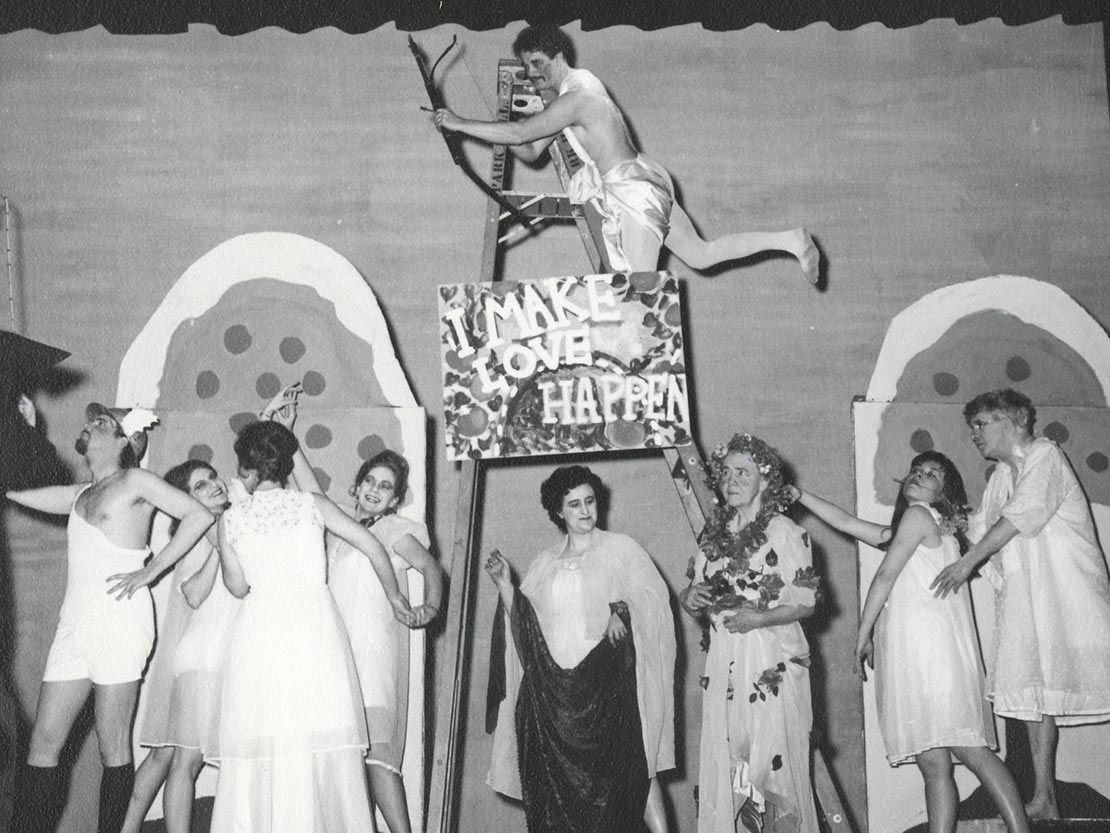 Brunilde S. Ridgway (fourth from right) performs in a Bryn Mawr faculty show, 1968 (photo courtesy of Bryn Mawr College Photo Archives)
In a letter to her former undergraduate professor, Jenifer Neils, the current Director of the American School, wrote: "You had a big impact on my life and career. I am honored that your name will be associated with the Student Center because you personally inspired me to go on in classical archaeology. The most important lesson you taught us was to question the party line, to probe and think anew about any subject, and this is something I've always tried to pass on to my students."
Martha Carlin recalls: "It is with deep pleasure that I contribute to this tribute to Bruni Ridgway, of whom I have very rich and fond memories as a stellar teacher and a terrific role model during my undergraduate days at Bryn Mawr." Similarly, Sarah Harvey writes: "Professor Ridgway was my mentor as an undergraduate, and one of the kindest, most encouraging professors with whom I ever worked." Maria Vlachou summarizes: "Bruni is an eminent scholar, an inspiring woman, a great heart."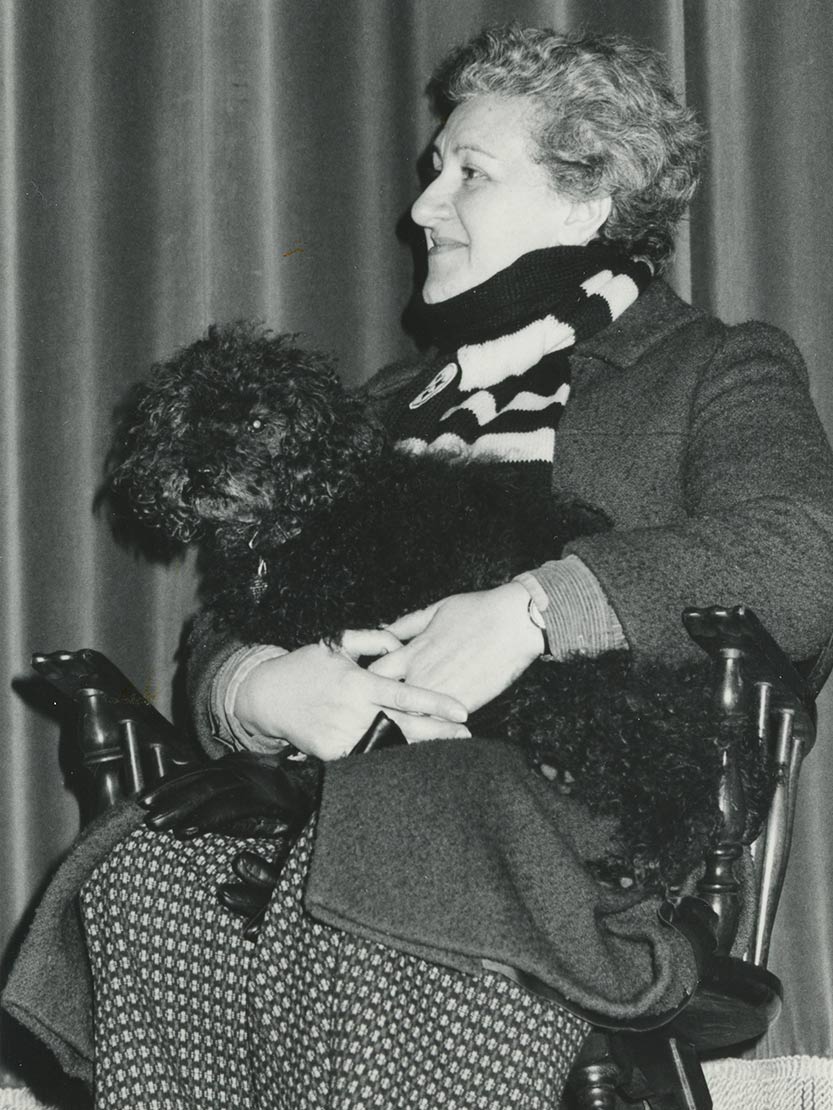 Brunilde S. Ridgway with her dog Charlie, when she was awarded the Carpenter Chair in 1977 (photo courtesy of Bryn Mawr College Photo Archives)
Upon learning of her eponymous room, Bruni responded as follows: "I am most honored, grateful, and delighted by it. The two years I spent at the School as a student, and my subsequent visits and connections with it have given me enormous joy through the years as well as a deep-seated affection for Greece and its inhabitants, both ancient and modern. The School's program has also been markedly beneficial for my activity as an archaeologist, for which I shall be eternally grateful. I have always recognized that my two years at the ASCSA profoundly altered and influenced my entire life. The unexpected announcement that a room at Loring Hall has now been named after me is such an honor that it literally brought tears to my eyes. I hope that students who shall occupy that room will derive from it as much profit and joy as I had."
ABOUT THE STUDENT CENTER CAMPAIGN
The Student Center Campaign was launched in October 2018 to raise funds for renovating and expanding the three aging buildings that serve as the intellectual and residential heart of the American School: Loring Hall, the Annex, and West House. This transformative project will increase housing capacity, reduce energy consumption, add state-of-the-art features and technology, and bring the buildings up to the latest technical standards—all while preserving the complex's historical appearance. The Student Center will remain the place where members of the community gather for meals, tea, ouzo hour, holiday celebrations, and lectures—a source of lifelong professional and personal relationships that characterize the collegial and intellectually vibrant atmosphere of the School. This modernized setting will enhance that experience and will meet the needs of the School community well into the future.
SUPPORT THE CAMPAIGN
The goal of the Student Center campaign is $9.9 million, inclusive of a maintenance endowment. Thanks to generous supporters like our trustees, $7.9 million has been raised to date. The new Student Center is expected to open in June 2021.
To learn more about how you can support this historic initiative, please contact Nancy Savaides, Director of Stewardship and Engagement, at nsavaides@ascsa.org or 609-454-6810. Naming opportunities for a variety of spaces in the Student Center are still available. Donors can choose from a wide range of gift levels to name a room or area in honor of themselves, an American School scholar, or a family member, friend, or group. Please click the links below to view the nameable spaces and options that remain: