Return to News
POSTPONED: Emily Wilson to Present on Reinterpretations of Ancient Greek Culture: The challenges, misunderstandings and their impact over millennia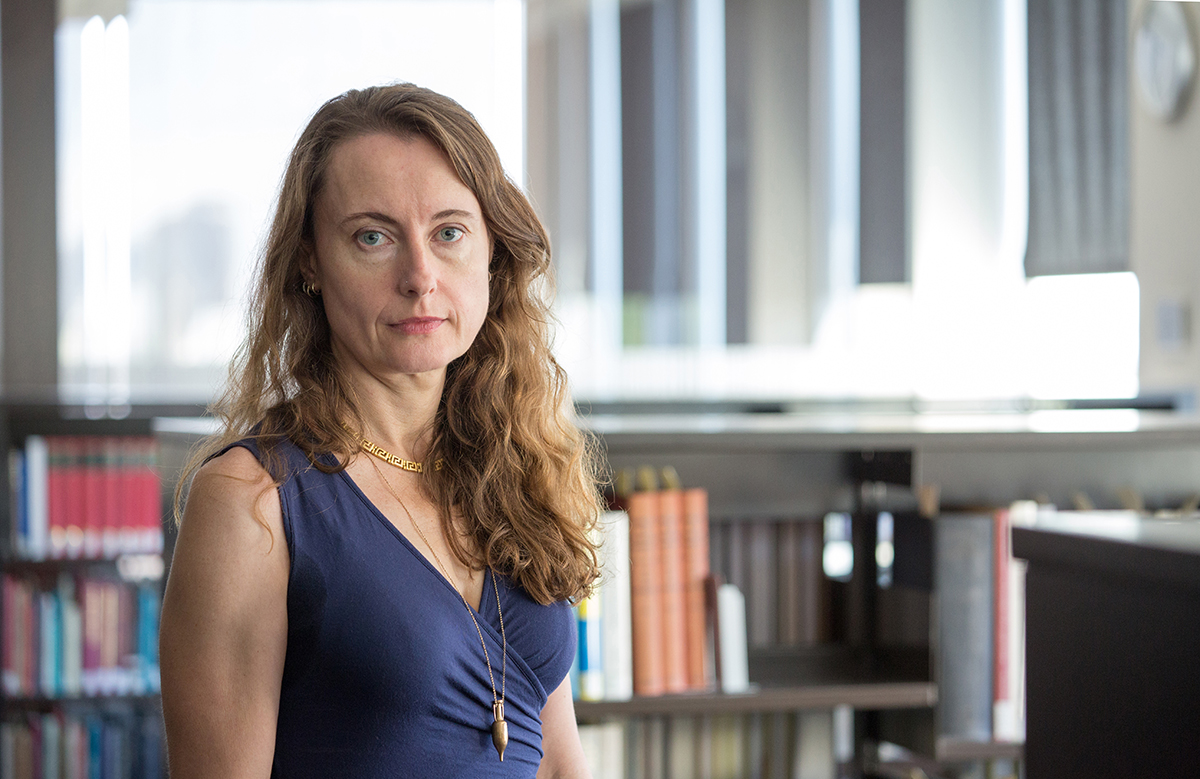 We regret to inform you that due to circumstances beyond our control, the Thalia Potamianos Annual Lecture Series 2022-2023 featuring Dr. Emily Wilson have been postponed to 2023-2024.
Ειμαστε στη δυσαρεστη θεση να σας ανακοινωσουμε οτι, λογω ανωτερας βιας, αναγκαστηκαμε να μεταθεσουμε τη σειρα διαλεξεων Θαλειας Ποταμιανου με ομιλητρια την Δρ. Emily Wilson στο ακαδημαϊκο ετος 2023-2024.

The Gennadius Library regrets to announce that Dr. Emily Wilson's Thalia Potamianos Annual Lecture Series on the Impact of Greek Culture have been postponed to 2023-2024.
2023–2024 Schedule for The Myth, Magic and Mystery of the Ancient Greeks
Lecture I: Heroes: Big Men, Big Mouths, Big Stories
Cotsen Hall, Athens, Greece
Lecture II: Destiny's Children: How I Learned to Stop Worrying and Love the Sphinx
Georgetown University, Washington, D.C.
Lecture III: Wisdom: Why the Ancient Greeks Can't Teach Us Anything
St. Bartholomew's Church, New York City
The Thalia Potamianos lectures are being made possible by a generous grant from Phokion Potamianos, an Overseer of the Gennadius Library. Mr. Potamianos named the series in memory of his grandmother, a distinguished Greek doctor, academic, and philanthropist.
---
ABOUT EMILY WILSON
Emily Wilson is a Professor in the Department of Classical Studies and Chair of the Program in Comparative Literature and Literary Theory at the University of Pennsylvania and the College for Women Class of 1963 Term Professor in the Humanities.
Wilson attended Oxford University (Balliol College B.A. and Corpus Christi College M.Phil.) and Yale University (Ph.D.). In 2006, she was named a Fellow of the American Academy in Rome in Renaissance & Early Modern scholarship. Between 2010 and 2016, Wilson was awarded three Penn Humanities Fellowships on the topics of Virtuality; Sex; and Violence; in 2017 to 2018 she was a Topic Director on Afterlives at Wolf Humanities Center; in 2019 through 2025 she was awarded MacArthur Fellowships; and in 2020, she won a Guggenheim Fellowship.
Professor Wilson's books include Mocked with Death: Tragic Overliving from Sophocles to Milton (Johns Hopkins 2005), The Death of Socrates: Hero, villain, chatterbox, saint (Harvard 2007), and The Greatest Empire: A life of Seneca (Oxford UP, 2014). She is the Classics editor of the revised Norton Anthology of World Literature. Her verse translations include Six Tragedies of Seneca (2010, Oxford), four translations of plays by Euripides in the Modern Library The Greek Plays (2016), Oedipus Tyrannos (2020, Norton), and the Odyssey (2017, with a Norton Critical Edition published in 2020). She edited a volume on Ancient Tragedy for Bloomsbury Cultural Histories (2019) and is now working on a new translation of the Iliad, which is due to appear in 2023.
---
ABOUT THE LECTURE SERIES
The Thalia Potamianos Annual Lecture Series commenced in 2021 with inaugural speaker, Dr. Peter Frankopan, a Professor of Global History at Oxford University and the Stavros Niarchos Director of the Oxford Centre for Byzantine Research. A world-renowned historian and award-winning author, he presented his series of lectures on "Global Greece: A History."
Each year, the Potamianos Lecture Series seeks to create a stimulating environment to draw both the academic community and public to the Gennadius Library of the American School of Classical Studies at Athens. Every year, a highly distinguished, internationally renowned scholar is selected to conduct research and develop programs on a topic relevant to the Gennadius Library. The research will culminate in a minimum of three annual public lectures, which will be delivered in Athens and the United States.
Please click here to learn more about this lecture series.