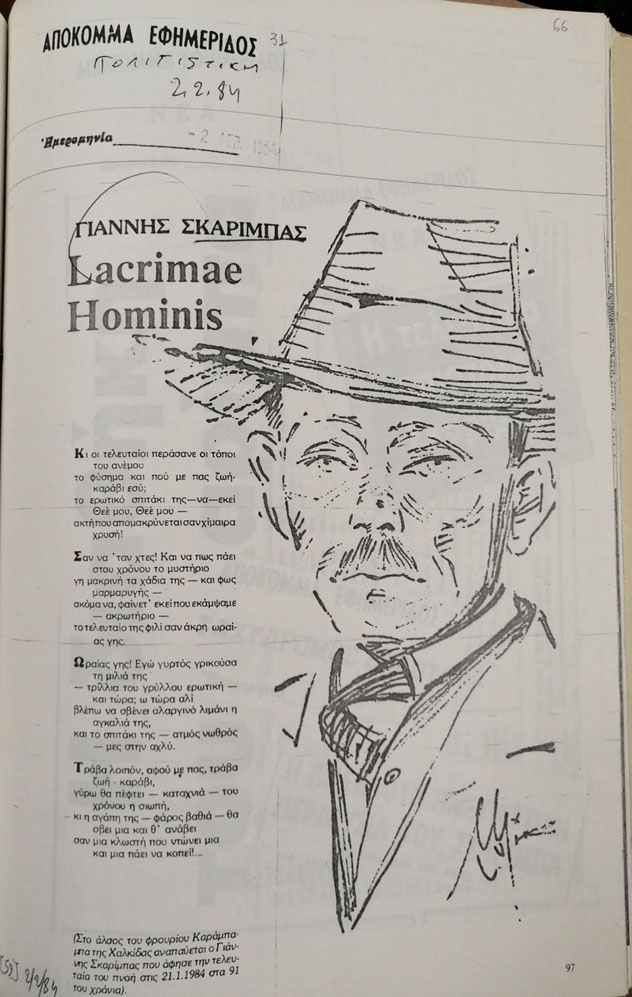 Return to News
Σαν σήμερα: Γιάννης Σκαρίμπας (1893-1984)
January 21, 2021
Eleftheria Daleziou
Giannis Skaribas (1893-1984), the unconventional Greek poet, novelist and play writer died thirty seven years ago today on 21 January 1984 in Chalkis. In case you wonder, yes, the ASCSA Archives do hold material related to the Greek writer of "Το Θείο Τραγί" and "Ουλαλούμ."
In 1997, E. N. Stathopoulos donated to the ASCSA Archives a collection of press cuttings about Skaribas. In addition, there are letters of Skarimbas in some of our literary collections (e.g., George Seferis Papers, Elias Venezis Papers). However, the most unusual item about Skarimbas in our collections is a framed photograph of his in the Elias Petropoulos Papers, with a handwritten dedication to Petropoulos. (Also click here to visit the Giannis Skaribas Archive at Chalkis.)

Photo credit: ASCSA Archives, E.N. Stathopoulos Collection; and ASCSA Archives, Elias Petropoulos Papers.
---
Ο Γιάννης Σκαρίμπας (1893-1984), ο ιδιότυπος ποιητής, λογοτέχνης και θεατρικός συγγραφέας πέθανε σαν σήμερα στις 21 Ιανουαρίου 1984 στην Χαλκίδα. Σε περίπτωση που ήδη αναρωτιέστε, ναι, τα Αρχεία της ΑΣΚΣΑ έχουν στην κατοχή τους τεκμήρια που συνδέονται με τον σπουδαίο λογοτέχνη.
Το 1997, ο Ε. Ν. Σταθόπουλος δώρισε στα Αρχεία μια συλλογή αποκομμάτων για τον Σκαρίμπα με δημοσιεύματα πριν και μετά τον θάνατό του. Υπάρχουν επίσης επιστολές του Σκαρίμπα στα αρχεία Γιώργου Σεφέρη και Ηλία Βενέζη. Ομολογουμένως, ίσως το πιο ιδιαίτερο τεκμήριο σε σχέση με τον Σκαρίμπα στις συλλογές των Αρχείων της ΑΣΚΣΑ είναι μια φωτογραφία του συγγραφέα με ιδιόχειρη αφιέρωση στον Ηλία Πετρόπουλο σε ξύλινη κορνίζα. (Επίσης βλ. Αρχείο Γιάννη Σκαρίμπα στη Χαλκίδα.)
Πηγή φωτογραφιών: Αμερικανική Σχολή Κλασικών Σπουδών, Τμήμα Αρχείων, Συλλογή Ε.Ν. Σταθόπουλου
Αμερικανική Σχολή Κλασικών Σπουδών, Τμήμα Αρχείων, Αρχείο Ηλία Πετρόπουλου