Return to News
In Memoriam: James R. McCredie
July 20, 2018
Mark Lawall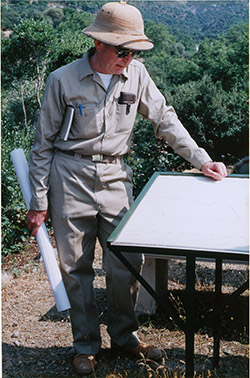 James R. McCredie died the evening of July 15 in Princeton.

His record of service to the American School is the stuff of legends: He was appointed director (1969–1977) just six years after finishing his dissertation; he chaired the Managing Committee from 1980–1990; and served as President of the Board of Trustees from 2001–2010. He continued to serve on the Board until just this past spring. All told his connections to the School span seven decades.

Jim McCredie's career as a field archaeologist was no less prodigious. After an introduction to the field at Gordion and Sardis, his dissertation research focused on the fortified sites of Attica. In the early 1960s, his work at Koroni alongside Eugene Vanderpool and Arthur Steinberg overturned long-held ideas about Hellenistic chronology; tea time in Loring Hall and at the Athenian Agora in those days was lively indeed! He began excavating at Samothrace in 1962 and served as director of the project starting in 1966. In 2010, his many friends and colleagues assembled the volume Samothracian Connections to honor his contributions to the field.

In January 2012, he received the Aristeia Award, and a special plaque in his honor hangs in the entry foyer of the Blegen Library.

Many of you reading this notice have countless memories of Jim McCredie's life, career and his immeasurable impact on the School over so many decades. Former Director Jim Wright's encomium sums up his career and character (read Wright's tribute here).

In an interview on the Samothrace excavation website, he offered the following sketch of his path into archaeology: "the Greek historian [at Harvard, Sterling Dow] said, "Do something useful," so he sent me out to Gordion in Turkey to dig, and I thought that was fun… I spent a year at the American School and I thought that was fun."

And his advice to someone hoping to become an archaeologist?

"See if you can participate in an excavation and see if that's fun or interesting."

Jim McCredie spent a long and fulfilling life in a fun career. The School is immensely fortunate to have been part of the fun.