Return to News
Inauguration of Ioannis Makriyannis Wing Tops Full Weekend of Activities
On the weekend of June 1–3, the Trustees of the American School of Classical Studies at Athens and the Overseers of the Gennadius Library welcomed guests to the inauguration of the Ioannis Makriyannis Wing. A full slate of activities surrounded this major event beginning with a special tour of the Agora by Excavation Director John Camp on Friday followed in the evening by the unveiling of donor namings at the Ioannis Makriyannis Wing prior to a dinner in the Cotsen gardens.
On June 2nd, guests toured the campus and learned about current activity and new initiatives at the School. The inauguration festivities began with a sneak peek of the Ioannis Makriyannis: Vital Expression exhibition in the new modern gallery space. The exhibition is dedicated to Ioannis Makriyannis (1797–1864), a general in the Greek War of Independence and advocate of the Constitution. The core of the exhibition is 24 emblematic paintings from the Library's collection that "narrate" episodes from the War of Independence of 1821. Makriyannis instructed the folk painters Panagiotis and Dimitrios Zografos from Sparta to depict separate scenes of battles as he described them in his Memoirs. The exhibition also presents archival material related to the life of General Makriyannis, as well as personal items on loan for the exhibition from the National Historical Museum, the Historical Archives of the Benaki Museum, the General Archives of the State and the Sylvia Ioannou Foundation. The exhibition will be on view at the Makriyannis Wing through September 29, 2018.
The formal inauguration followed and included remarks by Director of the American School of Classical Studies at Athens Jenifer Neils, Director of the Gennadius Library Maria Georgopoulou, George Macricostas representing the Macricostas Family Foundation, Chairman of the ASCSA Board of Trustees Alex Zagoreos, U.S. Ambassador to the Hellenic Republic Geoffrey R. Pyatt, and Chairman of the Overseers of the Gennadius Library Andreas Zombanakis. Guests were then invited to Cotsen Hall for Memoirs of Makriyannis/ΑΠΟΜΝΗΜΟΝΕΎΜΑΤΑ ΜΑΚΡΎΓΙΑΝΝΗ — a dynamic performance by Yannis Simonides.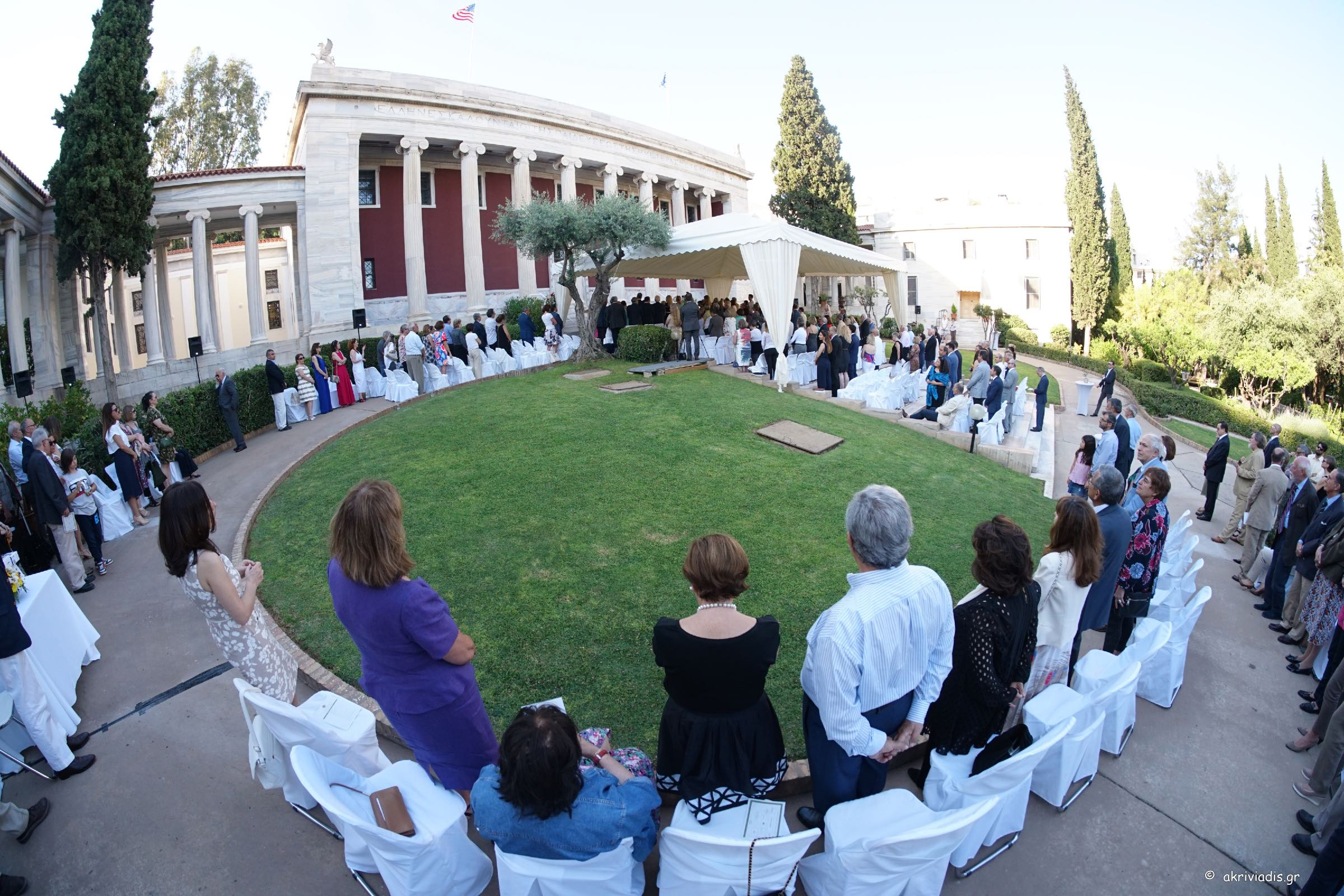 The School thanks its many donors, especially the Macricostas family, for this new and vital venue. For a full account of the inauguration see also The National Herald article online.
To conclude the weekend, guests visited the School's excavation at Ancient Corinth where they toured the recently added interpretive exhibits in the museum, viewed the current site of excavation with Director Chris Pfaff, and got a first look at the nearly completed, impressive apotheke.