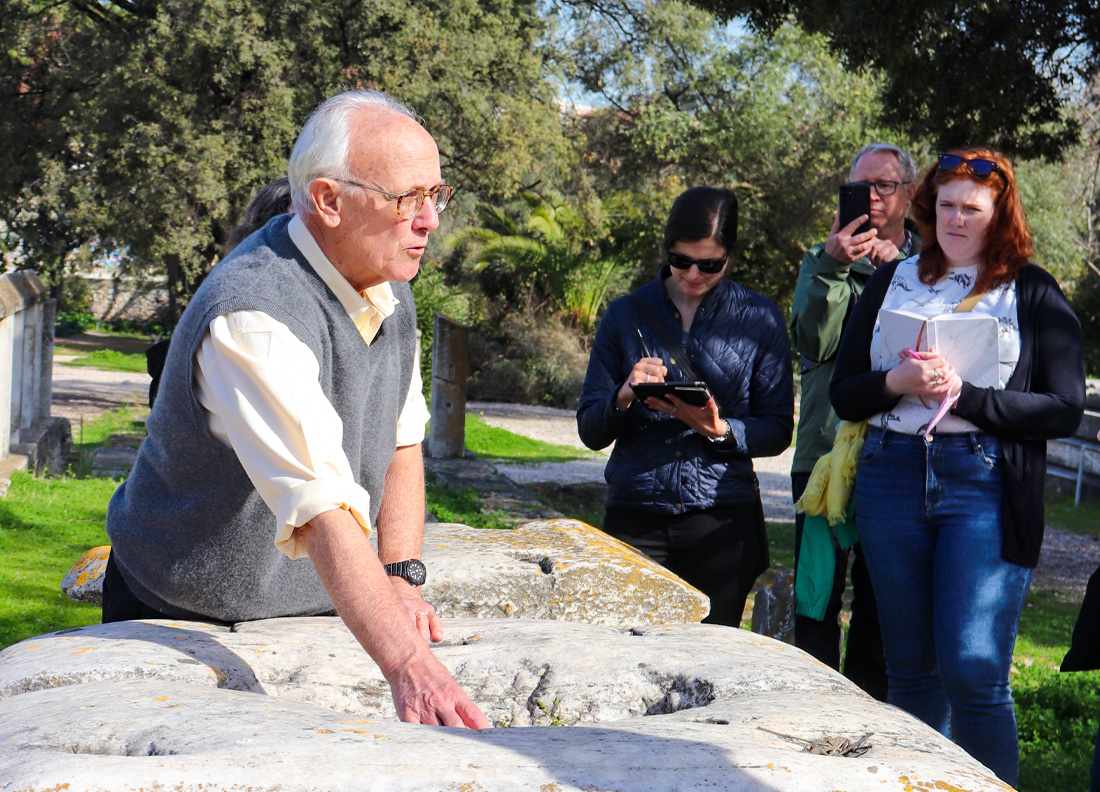 John Camp was selected as the 2024 recipient of the AIA Gold Medal for Distinguished Archaeological Achievement.
The Archaeological Institute of America (AIA) has announced that John McKesson Camp II will be the recipient of the Institute's 2024 Gold Medal for Distinguished Archaeological Achievement, citing his many contributions to Greek archaeology. As Director of the Agora Excavations from 1994 to 2022, John uncovered important evidence for the history of Athens in all periods, was a strong supporter of technological innovation, and oversaw the evolving documentation and ultimate publication of an enormous body of scholarship. He also recruited and nurtured a strong permanent staff, facilitated the work of dozens of scholars, selected and supervised more than 900 student volunteer excavators, and secured funding for several decades of excavation fieldwork.
John's nine books on the Athenian Agora, Athens, and Greek archaeology more broadly, five Agora Picture Books he has authored or co-authored, and more than 50 articles and published papers solidified John's lasting impact on Greek archaeology. The targets of his research range from the study of drought and famine through to artifacts such as a water clock from the Agora or a Lesbian spear butt, individual structures like the Agora mint (and Athenian coinage) as well as massive architectural monuments including the fortifications of Boeotia, to inscriptions and erudite investigations of knotty historical issues such as the relations between Alcmaeonidae and Peisistratidae in the Archaic period. He has contributed time and expertise to numerous museum exhibits as well, including an exhibition of Edward Dodwell's watercolors that traveled to the British Museum and the Getty. His books have seen multiple editions and are distributed globally in seven different languages. His clear and concise writing, always presenting complex material and lucid interpretations with compelling explanation and support, stands as a model for students even as it provides detailed understanding of archaeological developments in Athens.
John retired from the American School of Classical Studies at Athens last June, after 57 years of dedicated service to excavations at the Athenian Agora - the longest tenure of any employee in the School's history! As Andrew W. Mellon Professor of Classical Studies, he trained hundreds of graduate students in the skills they would need for their research and future teaching, as well as sharing with them his remarkable knowledge of and delight in Greece both ancient and modern. During his time as Director of Excavations at the Athenian Agora he continued involving students intensively in fieldwork and archaeological study and interpretation. His teaching was never limited only to those students under his immediate supervision. He never hesitated to provide visiting groups with a specialist's tour of the Athenian Agora. And long after he ceased to be Mellon professor he led research trips for members of the School.
"In addition to his service in the Agora, John has been one of the School's great teachers, " said William T. "Rob" Loomis, President of the School's Trustees, noting that "after excavating not only with Homer Thompson in the Agora, but also with Carl Blegen at Pylos, Oscar Broneer at Isthmia, and Charles Williams at Corinth, and also participating in what turned out to be a 30-year tutorial on the historical topography of Greece with the two great masters of that subject, Eugene Vanderpool and Kendrick Pritchett, John was uniquely positioned to transmit the wisdom and experience of the great pioneers of the School's past to the next generation."
Prof. Mark Lawall, Chair of the ASCSA Managing Committee, remembers: "As Andrew W. Mellon Professor of Classical Studies, he energetically led students from site to site, museum to museum, bringing the words of ancient writers like Thucydides and Pausanias alive amidst the archaeological remains. John showed us that a canvas bag for notes and site plans, simple sneakers, and a willingness to log miles of walking the countryside alongside hours in the library were the basic necessities of the scholar."
While his retirement and this most deserved award are important punctuation marks to John's remarkable career, he continues his work publishing the results of excavations carried out under his directorship. John will be honored at the AIA's Awards Ceremony at its 2024 Annual Meeting, which will be held in Chicago, where there will also be a Gold Medal colloquium in his honor.