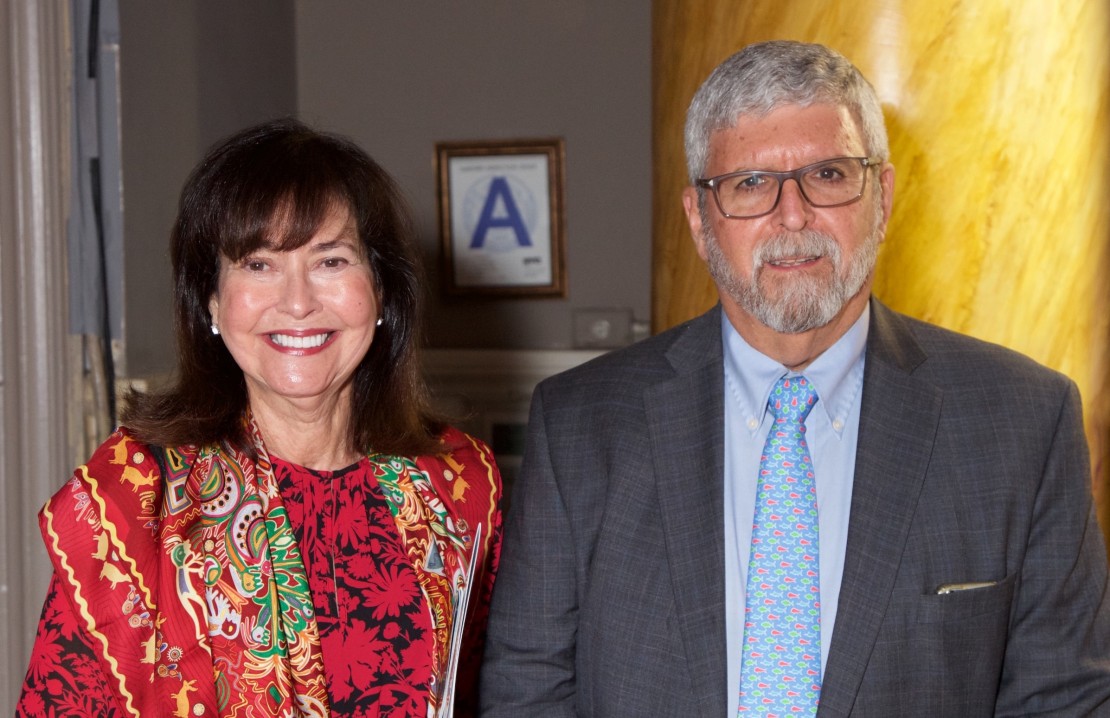 The American School of Classical Studies at Athens is pleased to announce a new major gift from Diana E. E. and Fred S. Kleiner: a room in Loring Hall named in honor of Hesperia. The Hesperia room is on the ground floor in the Loring Hall Annex and was dedicated by Fred on Saturday, October 21, 2023. Diana, who was too ill to travel, died shortly after Fred's return home. She was buried in the historic Grove Street Cemetery in New Haven, a few yards away from the graves of Eli Whitney and Noah Webster.
Now in its 92nd year of publication, Hesperia is the award-winning quarterly journal of the American School of Classical Studies at Athens. Founded in 1932 to publish the work of the School, the journal publishes leading scholarship from all academics working in the fields of Greek archaeology, art, epigraphy, history, materials science, ethnography, and literature, from earliest prehistoric times onward. Hesperia is a refereed and indexed journal, available in both print and electronic formats.
Since its founding, the journal has been produced by the following Editors: George H. Chase 1932–1938 (as Chair of the Publications Committee), Paul A. Clement 1939–1949 (as Editor of Publications), Lucy Shoe Meritt 1950–1972 (as Editor of Publications), Marian Holland McAllister 1972–1996 (as Editor of Publications), Kathleen Krattenmaker 1997–1998, Kerri Cox Sullivan 1998–1999 (acting), Tracey Cullen 1999–2013, Susan Lupack 2013–2017, Jennifer Sacher 2017–present. A significant contribution toward the production of Hesperia was made by Sarah George Figueira, who served as the journal's production manager for 40 years (1981–2021).
After the establishment of a dedicated editor for Hesperia, the following Directors of Publications have overseen the Publications Office at the ASCSA: Kerri (Cox) Sullivan 1997–2003, Tracey Cullen (acting) 2003–2004, Charles Watkinson 2004­–2009, Carol. A. Stein (acting) 2009–2010, Andrew Reinhard 2010–2014, Linny Schenck 2014–2016, Carol A. Stein, 2016–present.
This is the Kleiners' third major gift to the Loring Hall complex, following their gifts of the Diana E. E. and Fred S. Kleiner Saloni and the Athenian Agora Couryard Garden. One of Fred's earliest articles titled "The Earliest Athenian New Style Bronze Coins: Some Evidence from the Athenian Agora" was published in Hesperia issue 44 in 1975 while he was Agora Fellow.
Jennifer Sacher Editor of Hesperia, praised the Kleiners, stating, "This gift graciously honors the journal of the American School and highlights the contribution Hesperia has made to scholarly discourse in classical studies over the past nine decades. The work of the journal's editors and staff is often silent, and it is touching for those of us who have produced the journal to see Hesperia recognized so kindly. It is truly an honor that we were able to present one of Fred Kleiner's first articles as a young scholar. His erudite study exemplifies the high-quality scholarship that Hesperia is known for within our field."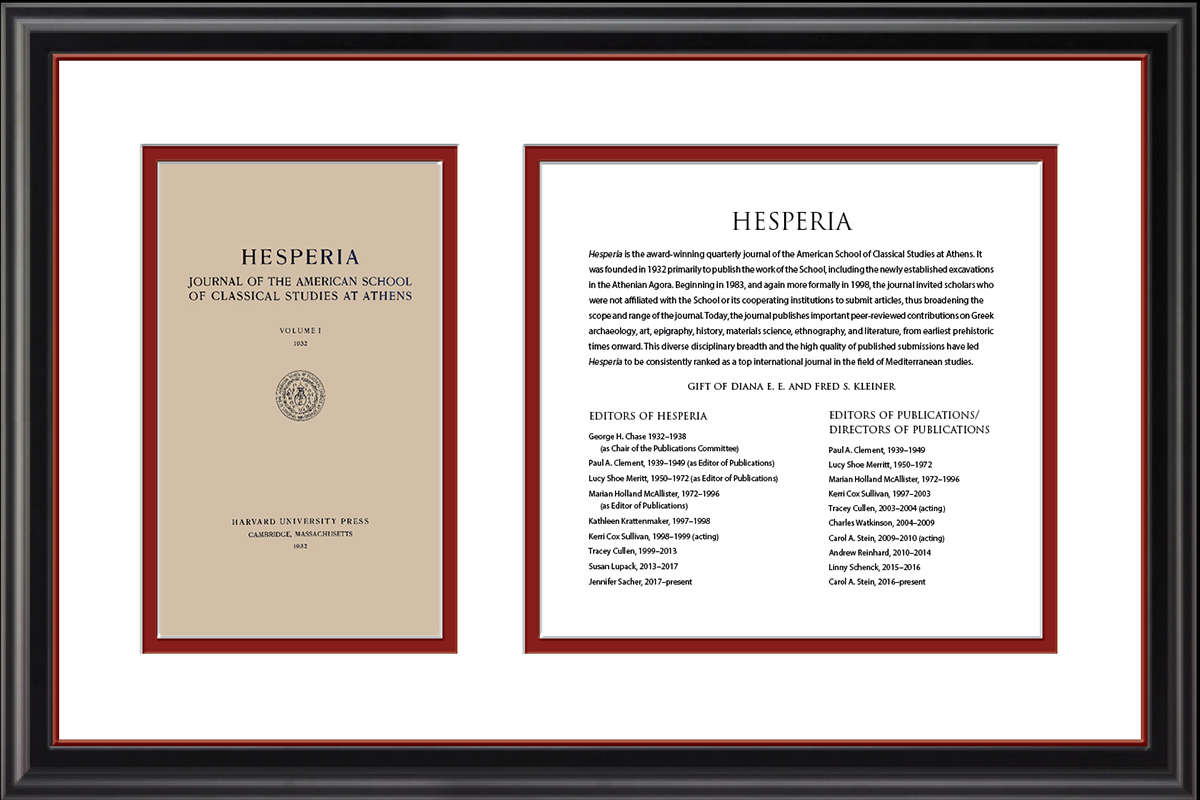 Plaque displayed in Hesperia Room

ABOUT THE KLEINERS

Diana Kleiner was the Dunham Professor of History of Art and Classics Emerita and former Deputy Provost for the Arts at Yale University, where she was also the founder and director of Open Yale Courses. Her major book publications include Roman Group Portraiture, The Monument of Philopappos in Athens, Roman Funerary Altars with Portraits, Roman Sculpture, Cleopatra and Rome, and Roman Architecture, A Visual Guide.

Fred Kleiner is Professor Emeritus of History of Art & Architecture at Boston University and one of the founders of its Department of Archaeology, as well as former Editor-in-Chief (1985–1998) of the American Journal of Archaeology. He is the author of more than a hundred articles, reviews, and books, including The Early Cistophoric Coinage, The Arch of Nero in Rome, A History of Roman Art (2nd edition 2017), and the 10th through 16th editions of Gardner's Art through the Ages.

Diana and Fred Kleiner arrived in Athens in July 1973, having lived in Rome for most of the previous two years while conducting research for their doctoral dissertations at Columbia University. Fred was appointed Agora Fellow for 1973–1975, and Diana was an Associate Member of the American School during those two years. Fred was responsible for studying and curating the numismatic finds from four decades of School excavations in the Agora. During his tenure as Agora Fellow, Fred published two Picture Books on the Greek and Roman and Medieval and Modern coins in the Athenian Agora to complement the display of Agora coins he mounted in the Stoa of Attalos. He also published articles on Athenian coinage in Hesperia, the American Numismatic Society's Museum Notes, Athens Annals of Archaeology, and Archaiologikon Deltion. Soon afterwards, Diana completed her dissertation on Roman group portraits of freedmen. She then undertook, at the invitation of Homer Thompson, the project he had begun with John Travlos to study and publish the Monument of Philopappos in Athens, which resulted in her comprehensive 1983 monograph published by Giorgio Bretschneider in Rome.

This latest gift to the Loring Hall project reflects, as did the Kleiners' previous two gifts, "our continued gratitude to the School and the Agora during our residency in Athens from 1973 to 1975, two years that had an outsized impact on our careers." Fred is especially pleased to honor with this dedication Marian McAllister, who edited his Hesperia articles and Agora Picture Books, and Tracey Cullen and Carol Stein, who worked with him as Associate and Assistant Editor, respectively, when he was Editor-in-Chief of the American Journal of Archaeology. He was happy to be able to return to the School in October to attend the ribbon-cutting dedication for all three of the Kleiners' gifts.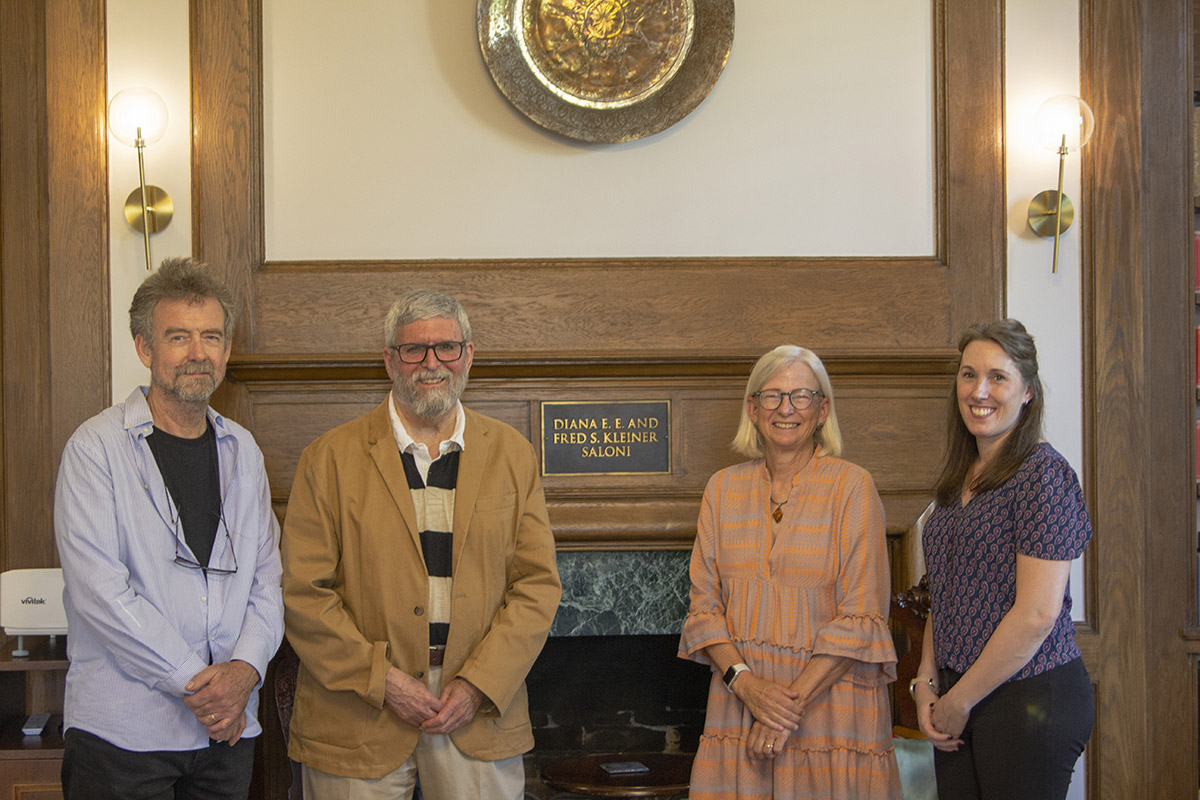 (From left: Craig Mauzy, Deputy Director, Agora Excavations, Fred Kleiner, Bonna D. Wescoat, Director of the School, Jennifer Sacher, Editor, Hesperia)


(From left: Jennifer Sacher, Editor, Hesperia, Fred Kleiner, Bonna D. Wescoat, Director of the School)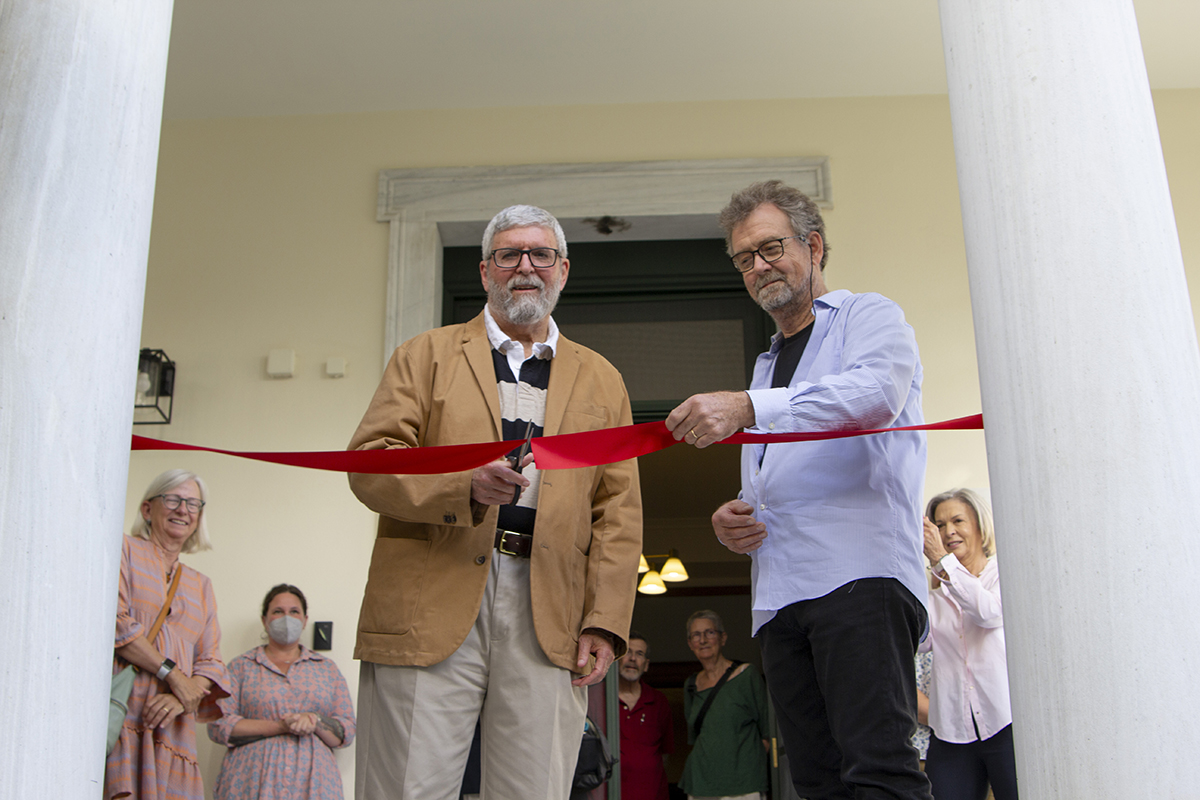 (Front: Fred Kleiner and Craig Mauzy, Back from the left: Bonna Wescoat, Katie Fine, Joshua Williams, Carol Lawton, Niamh Michalopoulou)

ABOUT THE CAMPAIGN

The campaign was launched in October 2018 to raise funds for expanding and renovating the three aging buildings that serve as the intellectual and residential heart of the American School: Loring Hall, the Annex, and West (now McCredie) House. This transformative project has increased housing capacity, reduced energy consumption, added state-of-the-art features and technology, and has brought the buildings up to the latest technical standards—all while preserving the complex's historical appearance. Loring Hall and McCredie House will remain the place where members of the community gather for meals, tea, ouzo hour, holiday celebrations, and lectures—a source of lifelong professional and personal relationships that characterize the collegial and intellectually vibrant atmosphere of the School. This modernized setting continues to enhance that experience and is meeting the needs of the School community well into the future.

SUPPORT THE CAMPAIGN

To learn more about how you can support this historic initiative, please contact Nancy Savaides, Director of Stewardship and Engagement, at nsavaides@ascsa.org or 609-454-6810. Naming opportunities for a variety of spaces are still available. Donors can choose from a wide range of gift levels to name a room or area in honor of themselves, an American School scholar, or a family member, friend, or group.

Please click the links below to view the nameable spaces and options that remain: