Return to News
New Publication! The Julian Basilica: Architecture, Sculpture, Epigraphy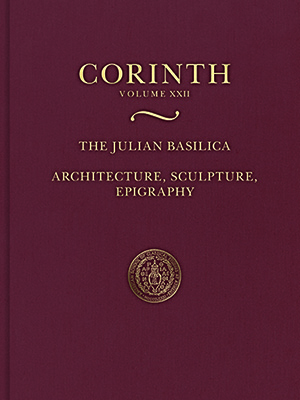 The American School of Classical Studies at Athens is pleased to announce the publication of The Julian Basilica: Architecture, Sculpture, Epigraphy (Corinth XXII) by Paul D. Scotton, Catherine de Grazia Vanderpool, and Carolynn Roncaglia.
Early-20th-century explorations of the Roman Forum at Ancient Corinth revealed a massive early imperial building now known as the Julian Basilica. The structure stood on a podium over four meters high, and it dominated the east end of the forum in size, aspect, and function until its destruction in the 4th century A.D. Within it was one of the largest known shrines to the imperial cult and the likely site of the imperial court of law for the Roman province of Achaia. The basilica housed 11 or more large-scale statues most likely to members of the Julio-Claudian family (including Augustus, Augustus's heirs Gaius and Lucius, and arguably Divus Iulius, Germanicus, Nero Caesar, and Claudius), as well as an altar to Divus Augustus and dedications to the genius Augusti, the gens Augusta, and other family members. This richly illustrated volume provides a thorough, contextual study of this important building, the remains of which were first published by Saul Weinberg in 1960 (Corinth I.5). Scotton treats the architectural remains, Vanderpool the sculptural remains, and Roncaglia the epigraphical material, each providing extensive catalogues with new photographs, in addition to color reconstructions of the basilica and its grand interior.
Contents
Chapter 1. Introduction to the Basilica
Chapter 2. History of the Excavations and Scholarship
Chapter 3. Methodology
Chapter 4. Architectural Elements in Situ
Chapter 5. Reconstruction
Chapter 6. Catalogue of Architectural Elements
Chapter 7. Form and Function
Chapter 8. Introduction to the Sculpture
Chapter 9. The Julio-Claudian Family Group
Chapter 10. Other Sculpture
Chapter 11. Catalogue of Sculpture
Chapter 12. Inscriptions
Chapter 13. Catalogue of Inscriptions
Chapter 14. Structuring Power in a Roman Colony

Corinth XXII
520 pp, 186 b/w figs, 24 b/w pls, 16 color pls, 17 tables, 2 foldouts
Cloth, 9" x 12"
978-0-87661-023-7
The Julian Basilica: Architecture, Sculpture, Epigraphy (Corinth XXII) can be ordered from our distribution partners: Casemate Academic (in the United States) or Oxbow Books (outsides of the United States).