Driscoll reading an inscription. Photo: Erika Jeck.
Return to News
Q&A with Incoming ASCSA Assistant Director Eric Driscoll
June 26, 2019
Lilly Kustec
The American School is pleased to announce that Eric Driscoll has been appointed to the position of ASCSA Assistant Director.
Driscoll, who will begin his tenure as Assistant Director on July 1, 2019, received his B.A. from the University of Chicago and completed his Ph.D. at the University of California, Berkeley in 2018. Driscoll has spent many years at the American School holding the John Williams White Fellowship in 2015-16, the Aleshire Fellowship, a travel grant from U.C. Berkeley, in 2016-2017, and the Edward Capps Fellowship in 2018-2019. An experienced excavator, he has dug at Argilos, Corinth, and Azoria, and worked alongside Andrew Stewart on classical relief sculpture from the Athenian Agora.
In preparation for his new role, Driscoll shares with us his enthusiasm for Athens, interest in classics, and goals for his next few years at the American School.
How did you become interested in the field of Classics and archaeology?
I had taken Latin in high school, but when I got to college classics was pretty much the one major I was sure I didn't want to pursue (even though Greek was on the long list of languages I wanted to study). I decided to take Greek Art and Archaeology to fulfill a distribution requirement and very much to my good fortune Richard Neer was the professor. The class opened my eyes to a whole way of thinking about antiquity beyond Cicero and Catullus. Then I took ancient Greek over the summer and never looked back, thanks to the amazing sequence of teachers I feel so fortunate to have known.
Tell us a little bit about your area of study.
I have a somewhat unruly bunch of interests. But my dissertation was on the Athenian empire of the fifth century B.C., which I tried to study in a relatively new way by exploring how cultural practices shaped and were shaped by Athenian imperialism in the subject cities. Traditionally, historians of the Athenian empire have restricted their attention to narrowly political history—things like changing levels of tribute collection and the movements of armies. By looking at Pindar, funerary art, the archaeology of Delos, and other kinds of evidence, I tried to show that the Athenian empire has to be understood in a more radically historicized way.
What new research do you anticipate doing while at the School?
Right now I am actually working on an article that comes out of one of my reports during the Regular Year. The Isthmus of Corinth was fortified repeatedly over the very long term—beginning as early as the Mycenaean period, all the way down to the Ottoman conquest. That's interesting on its own, and there's also a lot of intellectual reaction to these walls, or efforts at walling, which I think has to do with an enduring sense of the "defective insularity" of the Peloponnese. In the slightly longer term, I am planning to take advantage of my time in Greece as I start work on my second major project, which deals with materiality, knowledge, and communities in early Greek religion.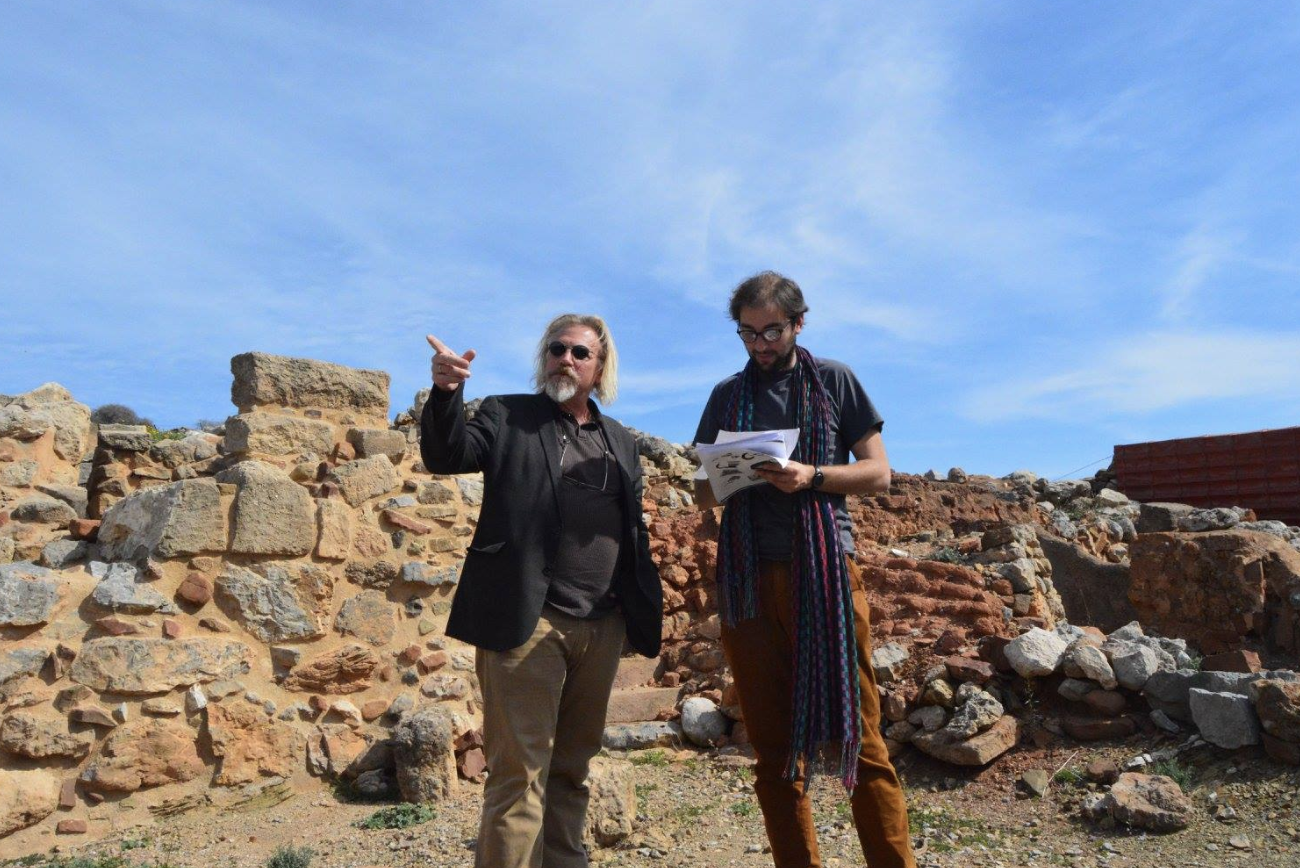 Driscoll with Donald Haggis at Zakros on Crete. Photo: Catharine Judson.
How have your experiences at the School shaped your studies and career?
Obviously, after spending three of the last four years here, the School has been important for me. There's so much to learn from everyone who passes through. I've become more intellectually open-minded since first coming here, as well, because there are many different ways to study the ancient world. Close behind the people is, of course, the stimulation of visiting so many sites and museums during the Regular Year (and beyond). I had already defended my dissertation prospectus when I came in 2015, but my second project coalesced out of some of the things I couldn't stop thinking about during and after the trips.
What drew you to the Assistant Director position?
Even though I've spent a long time here already, the chance to stay in Athens is a huge draw. And after spending several years as a student at the School, I think I have some ideas to help make it an even more productive experience for future students, and I am eager to contribute to a place I have come to love.
As a former participant in the Regular Year Program, how will you emulate past trip leaders and how might you change the approach to leading trips as the Assistant Director?
I will be leading the Crete trip and I could not be more excited! Crete offers a crash course in Minoan archaeology as well as in Archaic and Classical Crete, which has become one of the hottest topics in Greek archaeology. I've now seen a number of different trip leadership styles and have thought about the trade-offs inherent to different approaches, and I don't think there's a single best way to lead trips. My ambition is to help Crete cohere into an intellectual narrative, though, so I plan to give students a little bit more bibliographic guidance and to be a little bit more heavy-handed in drawing out the overall narratives than would be possible or appropriate for most of the other trips.

What do you hope to accomplish throughout your tenure at the School?
My main goal is to be useful to the School community in the broadest sense. I have some ideas for helping to foster dialogue between young researchers at the ASCSA and the other foreign schools. More narcissistically, I hope to get a couple of substantive things published from the research that I have done to date and to benefit from my time in Greece, both in terms of gathering data for my next project and meeting new people. The School, of course, has its own significant ambitions for the next few years, most notably the Loring Hall renovations, which I hope to make as painless as possible for our students.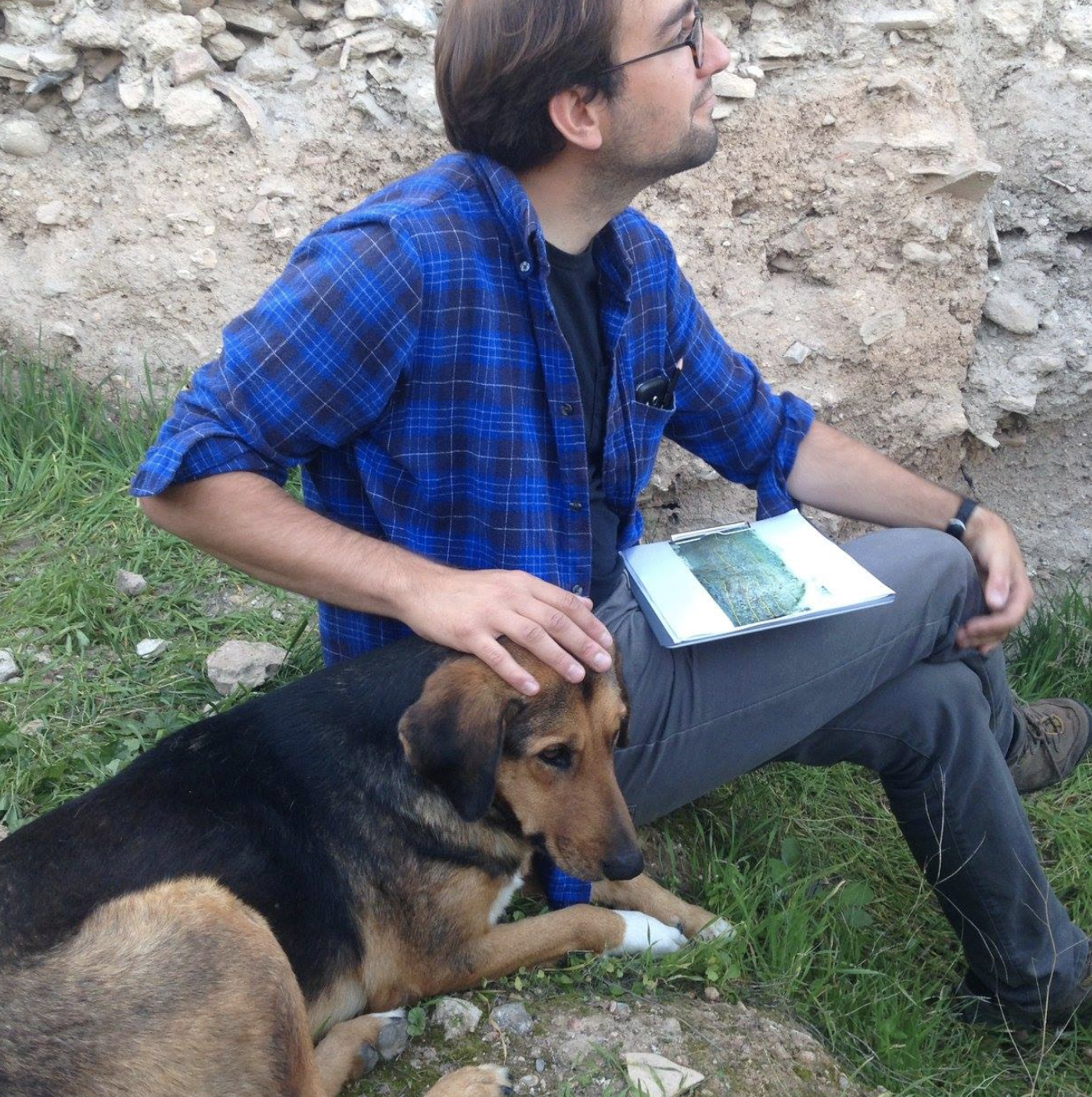 Driscoll with Boots at Corinth. Photo: Ashleigh Fata.
Tell us your favorite tavernas, excursions outside Athens, book stores or whatever else excites you about living in Greece.
I could say so much! Like everyone else at the American School, I really like the Exarcheia and Pangrati restaurant scenes. For bookstores, I always enjoy looking through the shelves at Protoporia or Politeia, but this year I've discovered that Itanos also has a great selection. Outside Athens, I have gone to Agistri on most of the birthdays I've spent here, starting in 2009. There are no cultural attractions, but it's a truly wonderful day trip, whether you like swimming or just walking around the forest.

What are you currently reading?
Other than research reading, I've very slowly been making my way through two books. One, a novel, is Telex From Cuba by Rachel Kushner (whose The Flamethrowers is one of the most memorable books I've read in the last decade—highly recommended!). The other is Niketas Siniossoglou's Weird Hellenism (Αλλόκοτος Ελληνισμός), which I originally got in connection with my Hexamilion project but is mostly about other stuff. Siniossoglou has a fairly distinctive approach to intellectual history and his writing is dense, but I'm enjoying it.
Which museum in Athens is your favorite? Why?
Well, I will start with a site because I have strong feelings about the Kerameikos. It's my favorite archaeological site in Athens. In part that's because of nostalgia from my first trip there in 2008, but it also has a little bit of everything, and on a manageable scale: the museum gives you a really great pottery sequence, and there are a ton of important funerary monuments, inscriptions, and more; the site has everything from horos stones to the city walls, the chance to talk about changing funerary customs and religious mobility, to name just a few things at random. I would have to say that the National Archaeological Museum is my favorite museum because how could it not be?
If you could be any Greek god or goddess, which would you choose?
Maybe Artemis. I am, or to be more honest, I used to be, quite outdoorsy. And sometimes you just have to get out of the city and engage in bear-related shenanigans. But, I don't know, Dionysos seems to have a good time too.