Return to News
Hands on in the Lab: Meet Wiener Lab Assistant Zoe Chalatsi
February 25, 2020
Lilly Kustec
Introduced to the Malcolm H. Wiener Laboratory for Archaeological Sciences by Professor Stefania Chlouveraki, Zoe Chalatsi started working in the Lab in early 2011. A trained conservator, Chalatsi holds a B.A. in Conservation of Archaeological Artifacts and Works of Art, from the Department of Conservation of Antiquities and Works of Art, at the Athens University of Applied Sciences (now University of West Attica) and is exploring opportunities to resume her studies at post-graduate level.
She has spent the last nine years at the Lab collaborating with bioarchaeologists working on several projects conserving human skeletal remains, and has also collaborated with archaeobotanists, zooarchaeologists, and geoarchaeologists. Now as the Wiener Lab Assistant, Chalatsi speaks with us about her archaeological experience and activities in the Lab.
---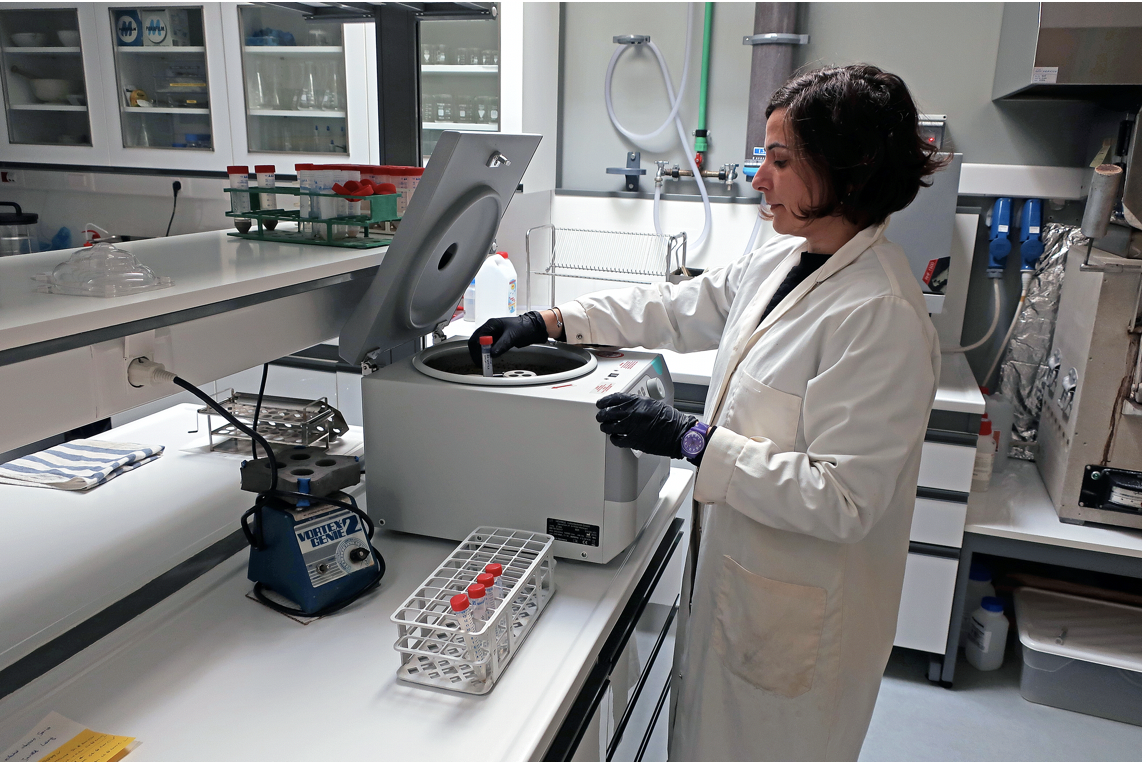 Centrifuging tubes for phytolith extraction at the Lab. Photo: D. Roussos.
Zoe congratulations on becoming the Wiener Lab Assistant! You have such an extensive history in the lab and field. How did you get interested in archaeological sciences?
Since I was a child I was always fascinated by the nature of ancient ruins, and the remnants of past human activity (artistic or simply functional). This sparked a further interest in contributing to their preservation, hence my academic path in conservation studies. Working hands-on with material culture made me better understand technology, and manufacturing techniques and the many tools researchers hold to unlock the biography of objects through time.
Do you have a specialty or focus within the field?
I have an extended experience in the conservation of human skeletal remains and pottery. My participation in different archaeological projects allowed me to master all the conservation steps of human remains from their discovery to their study and publication. My interest in deepening my understanding in the work of my colleagues, led me to attending an online osteoarchaeological course which provided a much clearer insight into bioarchaeological research and how this is linked to my work.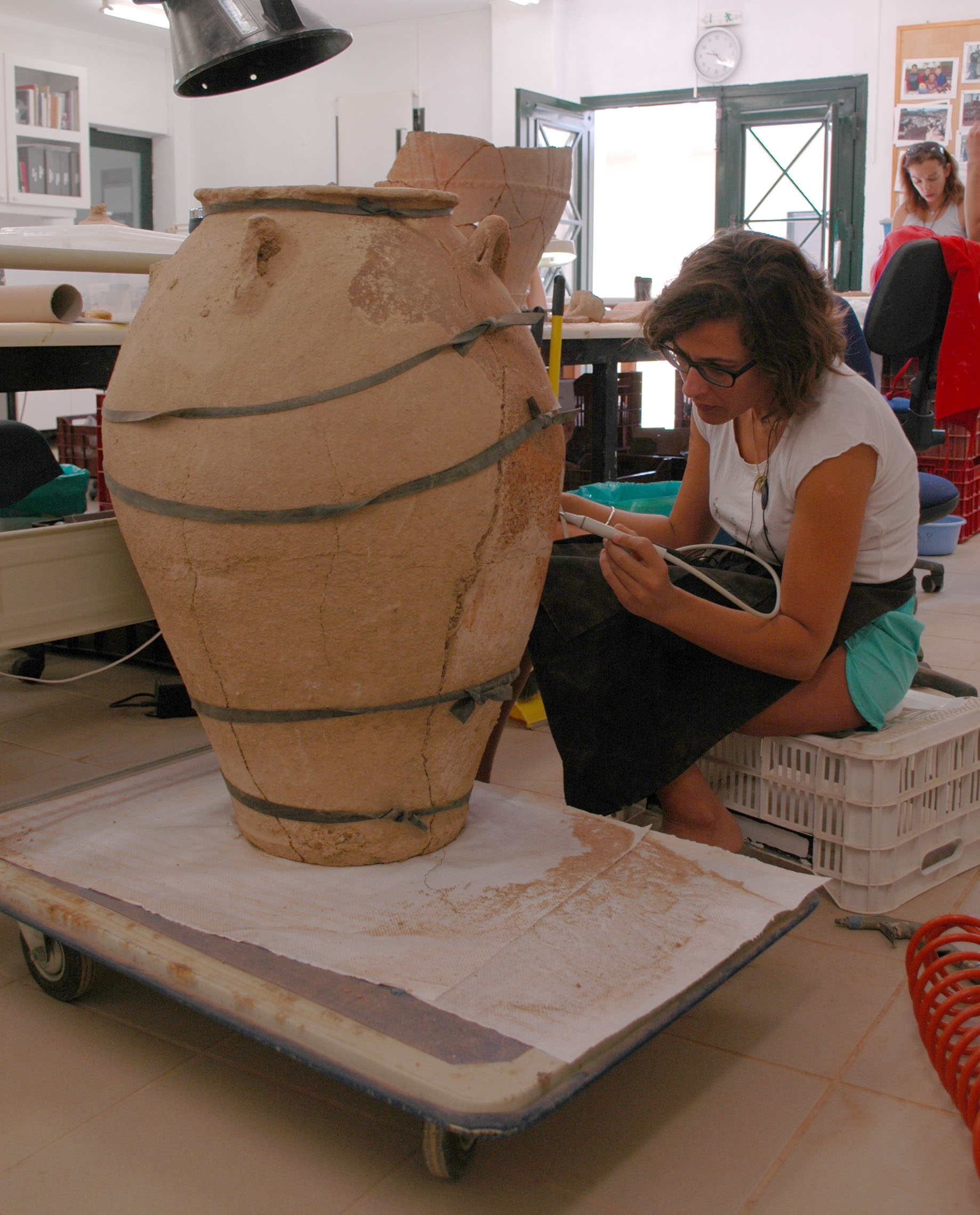 Cleaning a pithos at INSTAP. Photo: K. Hall
What was your first working and excavation experience related to the American School of Classical Studies?
I was initially introduced to the Malcolm H. Wiener Laboratory for Archaeological Sciences by Professor Stefania Chlouveraki, who was at that time Head of the Conservation Laboratory of INSTAP Study Center. I then worked to conserve human skeletal remains from the cemetery of Tsepi, Marathon which was part of Dr. Eleanna Prevedorou's PhD research.
The first excavation experience I had was in Crete through INSTAP in the in situ first aid treatment and lifting of archaeological materials such as zooarchaeological remains from the site of Azorias.
You are very involved with the Phaleron Bioarchaeological Project. How has it been working with the team as a conservator?
I had the opportunity to be part of this project at its beginning thanks to Dr. Eleanna Prevedorou. Working with the team as a conservator allowed me to expand my work experience in the conservation of human skeletal remains as well as testing my organizational skills. I had the opportunity to supervise and train conservation interns and teach them how to properly handle and treat such materials. My favorite material from the cemetery were the jar burials (ceramic pots, varying in size that were used for infant burials). While excavating micro blocks containing infants, extra attention has to be considered while revealing the tiny bones. It is very challenging having to deal which such fragile remains and be extra careful while handling them.
Conserving human remains at the Lab. Photo: E. Prevedorou.
What drew you to working at the Lab? How has the Lab helped or influenced your studies?
From the time I was first exposed to the Lab I was really fascinated to explore archaeological sciences beyond conservation. Until then I was only familiar with conservation related laboratories. The fact that I was in a Lab with a clear focus on archaeological sciences gave me the unique opportunity to get a very close insight of different archaeological fields and collaborate with prominent researchers and learn and apply new protocols that I wouldn't have the possibility to learn only through conservation.
What are your duties as the Lab assistant?
I am responsible for assisting in all activities associated with the operation of the Lab. More specifically, I am responsible for carrying out and assisting the curation and re-organization of the Laboratory's comparative collections, assist the Lab Coordinator in the training in the use of the laboratory equipment, and supervise laboratory maintenance including basic upkeep and cleaning of the lab's spaces and equipment. I am also in charge of monitoring supply needs and preparing ordering lists. Furthermore, I have to ensure that the Lab facilities as well as its equipment are used and maintained properly and provide technical support in the use of the Laboratory's equipment to fellows, members or visitors as well as provide tours of the Lab when required. Finally, I am responsible for sample processing in the fields that WL specializes in.
Cleaning human remains at the old lab. Photo: J. Morrisson
Which of the many machines and equipment in the Lab is your favorite?
I consider all Lab spaces and its equipment equally important in investigating and understanding the past. The equipment that intrigues me most is the 3D Laser Scanner. 3D Laser scanning technology has become a commonly used, high tech approach to accurately obtain surface three-dimensional data that can be used for precise measurements of an object, as well as for the reproduction of casts (3D printing). It is a great advantage to have a 3D digital copy (if not an actual 3D cast) of fragile or brittle archaeological artifacts considering that we can extract important information by applying the minimum of invasion to them. It also allows us to store digital data of whole collections of scanned objects when access or storage is not available.
Now that we have made so many amazing technical advances, it seems like there is so much more we can analyze from the past. But is there something missing? If you could invent anything that would help you learn something from the past, what would it be?
If I had the knowledge, the means and the technology I would definitely invent a portable CT scanner. It would be an ideal sci-fi solution where with the use of a hand operated portable CT scan we could obtain an accurate depiction of the composition and structure of an object such as the interior of jar burials within minutes.