Return to News
School's Libraries Implement Reclassification Project
July 20, 2018
Maria Tourna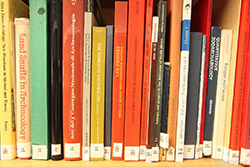 For background information on the project, including FAQs, see:
ASCSA Reclassification project: FAQ's
Reclassification Progress in the Blegen Library:
FINAL UPDATE ON THE LIBRARY'S CLOSURE DATES: The library will close on March 4, 2019 to allow for the completion of the reclassification project. It is scheduled to reopen in June 2019.
NEW BOOKS IN LC
UPDATE: Starting Μonday, October 22, all Blegen's new books, classified in Library of Congress system, will be shelved, until the library's closure, in the former Rare Book Room (Ground floor). Note that in Ambrosia the location will be: NEW BOOKS/LC ROOM. We strongly recommend that you consult them in this room; if not, please make sure you sign them out to your table using a legibly filled out sign-out card.
LIBRARY CLOSURE DATES
UPDATE: Due to an unavoidable delay in the reclassification project of the libraries, the reopening of the Blegen Library is now scheduled for June 2019. The Blegen will now be closing in late February or early March. We will inform you of the exact date as soon as it is determined by the outside vendors with whom we are working. We apologize for any inconvenience.
CONSTRUCTION WORK IN -1: As part of the Blegen Library reclassification project and in order to prepare the library building for the shifting of the collection, some construction work will be taking place beginning July 23, 2018. Rare Book Room and -1 (ex Archives area) will be remodeled in order to satisfy our needs for extra library space. All library areas will be accessible; however, inevitably, there will be some disturbance to users during the hours of 8am-1pm. We will try our best to keep noise to a minimum and we will post more updates as necessary. We apologize for the inconvenience and appreciate your patience.
NEW BOOKS IN LC: Starting Monday July 16th, 2018 all new books are being classified following the Library of Congress classification system. Books with LC numbers will be shelved for the time being in the New Book Shelf in the Reference area. If you need to sign them out, please make sure to return them there. This change is temporary and more updates will follow.
RARE BOOK ROOM: As of June 20, the process of moving the rare books of the Blegen Library to their new home in the Gennadeion, where all ASCSA's special collections are now housed, will begin. Therefore these books will no longer be accessible in the Blegen but can be consulted across the street at the end of July 2018. This is a permanent change necessitated by the consolidation of Archives and Special Collections in the East Wing of the Gennadeion and future renovations of the Blegen Library.
UPDATE: Starting July 23, 2018 users who wish to consult the Rare books of the Blegen will be able to do so.
Please visit the following page on how to get access: Gennadius Library: Visiting the library