Return to News
Reconsidering the Ostraka of the Athenian Agora: An Interview with Jim Sickinger
December 13, 2018
Lilly Kustec
Following his initial experience with the American School, Associate Professor of Classics at Florida State University, Jim Sickinger found himself returning to Greece year after year. "I first came to the American School as a Summer Session participant," recalled Sickinger. "I had studied Greek and Latin literature for the previous 8-10 years but had never really appreciated that there is a physical reality behind or with the texts one reads. I returned from the session and immediately asked my advisor, Alan Boegehold, what I needed to do to spend a full year at the School." Sickinger, determined, quickly finished his exams, applied for the Regular Member Program, and was accepted for the fall of 1989. That same summer he was already back in Greece as a volunteer sorting pottery in the Agora and then on Samothrace helping James McCredie with an architectural study.
Subsequently, Sickinger began his Regular Member fellowship at the American School with then Mellon Professor John Camp. "It was a transforming experience and I never wanted to leave. I then excavated at Corinth for two seasons before they forced me to graduate and I had to start looking for a job," said Sickinger with a laugh. Since hired at Florida State University, Sickinger has revisited the American School in a variety of roles—trench supervisor at the Athenian Agora Excavations, Summer Session Director, and Mellon Professor.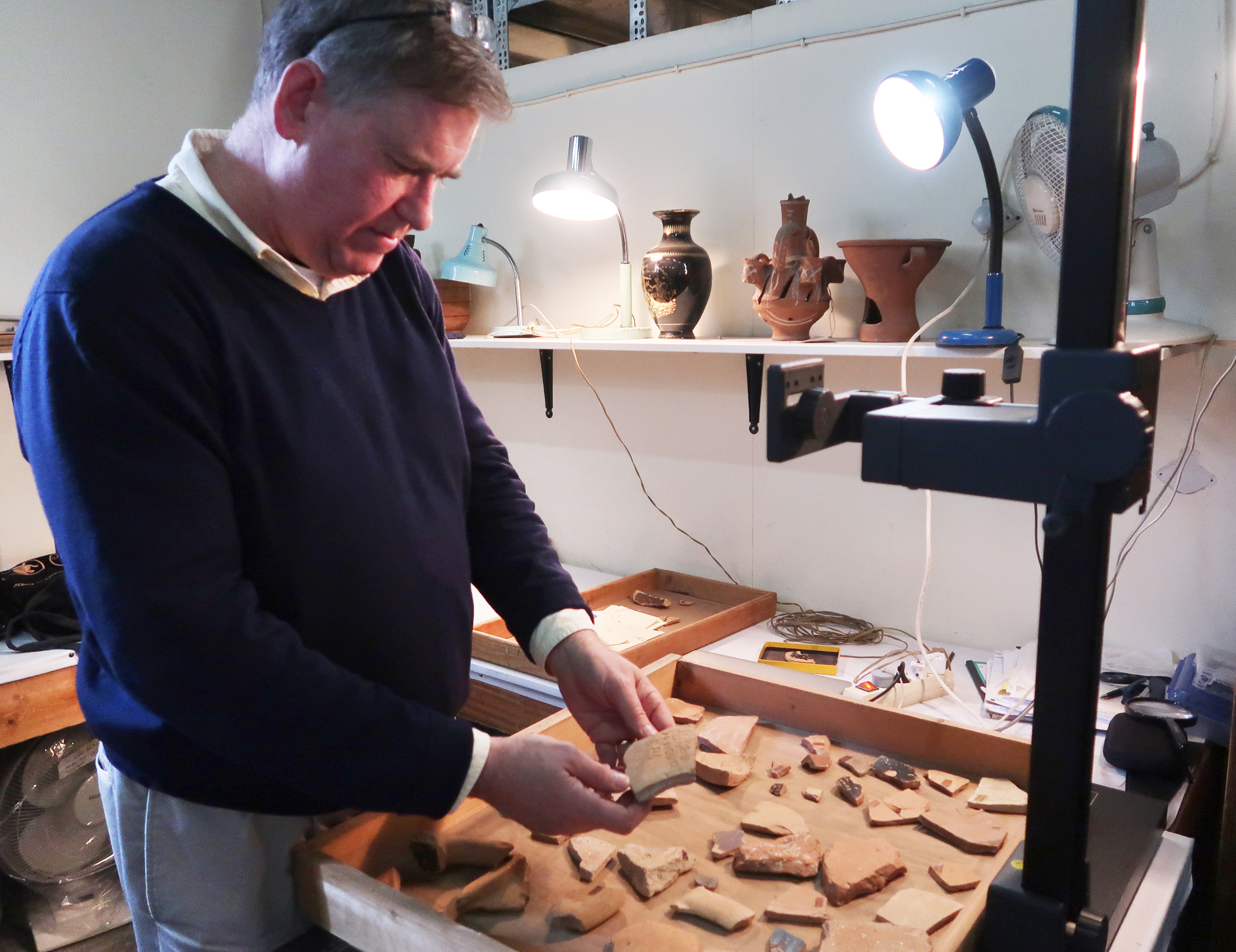 Jim Sickinger in the southwest workroom of the Stoa of Attalos.
A homecoming a decade in the making, today, Sickinger is in Athens again. This time as a National Endowment for the Humanities/American School of Classical Studies at Athens joint fellow studying ostraka, incised pot sherds, from excavations held in and around the Ancient Athenian Agora. Sickinger's current research builds on previous work conducted in 2000-2005. "Mabel Lang published an exemplary volume in the Athenian Agora series of all, roughly 1200, ostraka that had been found through the early 1980s," explained Sickinger. "Excavations carried out during the 1990s found only a few isolated ostraka until 1995-1997 when a hoard of about 150 were uncovered. John Camp asked if I was interested in working with the deposit, which I went on to publish in Hesperia." Expanding on this are two new developments that drive Sickinger's reconsideration of the entire Agora ostraka collection--90 finds from recent Agora excavations and an upcoming publication of ostraka excavated from the Kerameikos in the 1960s.
Spending his mornings in the Stoa of Attalos, Sickinger examines and reexamines the text on sherds catalogued as ostraka or grafitto after Agora excavations. Once unearthed, sherds identified with writing are given an inventory number and categorized. Most sherds, however, are fragmentary and only depict a few letters of a name. These sherds present challenges in identifying the individual targeted in the ostracism, especially if previous research only relied on names noted in ancient literature. "The Agora and Kerameikos ostraka demonstrate dozens of individuals we had never heard of and who left no impact on Herodotus, Thucydides, or Plutarch but were prominent enough in Athenian society to have votes cast against them," revealed Sickinger. "In reviewing the material, I've learned to reconsider fragmentary texts and be very careful to overcome biases of literary sources."
A previously unknown example is not even a name at all but rather a personification. "When this particular ostrakon was excavated in the Agora in 2010 it seemed to be a very unusual name, but after spending some time with the sherd I noticed it says "Λιμός," the ancient Greek word for hunger or famine and, in fact, the Kerameikos ostraka have about a half-dozen similar sherds," explained Sickinger. In Athenian history hunger and famine were relatively common occurrences, however, how to interpret these ostraka is not entirely clear. Yet, pulling from references to "Λιμός" in Greek comedy, Sickinger believes voters intended to be quite humorous or sarcastic.
While the Agora and Kerameikos ostraka present few parallels, what is most striking is the prominent amount of differences between each collection. "When the Kerameikos ostraka were excavated, it was thought that they, like the Agora finds, dated to 480s B.C., however, new research confirms that they belong to 470 or perhaps 471," clarified Sickinger. "This is important because the difference in dating lets scholars know we're dealing with two distinct chronological periods and even though they are only 10-15 years apart, the slight variations in letter forms and spellings provide a snapshot of changes in how Athenians were writing."
Photo of two ostraka from the Ancient Athenian Agora.
Despite new conclusions in his research, Sickinger has also noticed that many of the ostraka he's studying reinforce work by previous scholars, "Studies by Eugene Vanderpool, Mabel Lang, and others working in the 40s, 50s, and 60s made certain inferences based on their contemporary finds and now with more ostraka turning up within the last decade we're seeing their hunches, so to speak, enhanced by recent excavations." Sickinger is optimistic that more connections can be drawn by looking at the Agora ostraka collection as a whole and, in an effort to make the material more accessible, will build an online database in the next phase of the project. "In addition to reexamining the older ostraka, one of my goals is to make them available in the form of a digital archive with high quality images," said Sickinger. "My hope is to give both scholars and interested readers, not only a better idea of what we're talking about, but also to impress that ostraka were physical objects handled in antiquity and don't just demonstrate letters in a vacuum."
Interested to learn more? Sickinger will present the lecture, "Όστρακα and Οστρακισμός: New Discoveries in the Athenian Agora," on December 13, 2018 in Cotsen Hall and a recording will be available in the ASCSA Lecture Video Archive.