Return to News
School Awards Mark Mazower with the Gennadius Prize at Seventh Annual Gala
► View the Gala 2023 Photo Gallery
On Thursday, May 11, the American School of Classical Studies at Athens hosted its seventh annual Gala to honor Mark Mazower for his outstanding contributions to the advancement of knowledge of post-antique Greece.
Mark Mazower receives his Gennadius Prize at Gotham Hall. From left: Vice Chair of Overseers Kathryn B. Yatrakis, Natalia Vogeikoff-Brogan, Maria Georgopoulou, Mark Mazower,
Chair of Overseers Andreas Zombanakis, Vasili Tsamis, and School Director Bonna D. Wescoat.
Over 350 guests enjoyed an evening of inspiration, education, and celebration at the spectacular Gotham Hall in New York City. All proceeds from the Gala directly benefit the School's academic, archaeological exploration, outreach, publications, and research programs. These vital funds help the School strengthen its position as one of the preeminent centers for the study of the Greek world and continue its mission of preserving, promoting, and protecting Greece's past from antiquity to the present day. A replay of the Gala can be watched below.
Mark Mazower is the Ira D. Wallach Professor of History at Columbia University and a member of the Board of Overseers of the Gennadius Library. A specialist in modern Greece, 20th century Europe, and international history, he has written more than ten books and contributes regularly to The Financial Times, The Times Literary Supplement, London Review of Books and The New York Review of Books among others. In 2016, he and director Constantine Giannaris made the film, Techniques of the Body, a meditation on the refugee crisis in Greek history. He was awarded the Duff Cooper Prize for his most recent book, The Greek Revolution: 1821 and The Making of Modern Europe (Penguin Books).
Mark Mazower receives the Gennadius Prize.
He is the Stavros Niarchos Foundation founding director of the Columbia Institute for Ideas and Imagination, which opened at Reid Hall in Paris in fall 2018, bringing together scholars with leading artists, writers, composers and filmmakers from around the world.
In accepting the award, Mazower said, "Receiving this prestigious award from the American School is a tremendous honor, and I am truly grateful for the recognition. As one of the world's premier research libraries in Hellenic studies, the Gennadius Library is an indispensable resource for scholars and students alike, and a testament to the enduring legacy of Greek civilization."
Distinguished guests attending included some previous honorees, including The Stavros Niarchos Foundation, who received the Gennadius Prize in 2018, as well as recent Athens Prize recipients, Ed Cohen, and John Camp.

Save the Date
Please save the date for next year's Gala on Thursday, May 9, 2024, at Gotham Hall in New York City.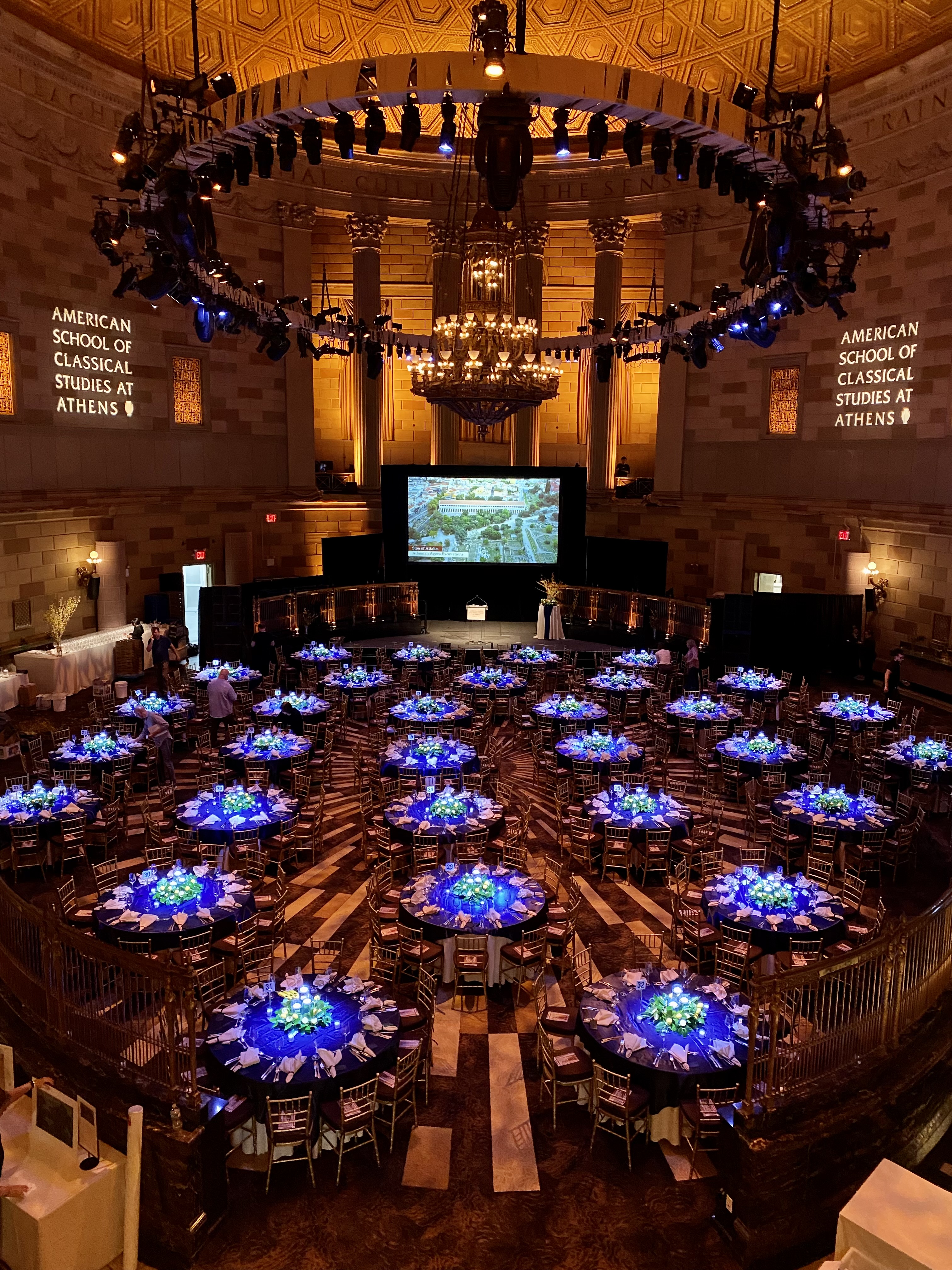 The American School's Gala at Gotham Hall.
Support the American School
Your generosity enables the American School to maintain its standing as one of the world's preeminent overseas research and teaching institutions. Please consider helping us preserve Greece's past by investing in our future. Kindly visit ascsa.edu.gr/give to pledge your support today.

Guests enjoy dinner at the Gala.