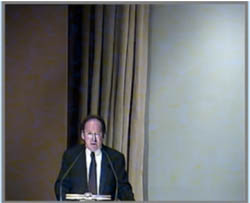 Are bald men smarter, more attractive, more accomplished on the battlefield?  Some ancient Greeks and Romans certainly thought so!  At least sometimes!  In a brisk and often humorous overview of ancient texts, Corey Brennan, Mellon Professor at the American Academy of Rome held his audience enthralled in his lecture "Baldness in the Greek and Roman Imagination" on March 1, 2011.
If you have trouble viewing this videocast, make sure your browser has Flash installed: Download Flash Player
The School is able to share videocasts of presentations worldwide via the Internet thanks to the generosity of the Cannellopoulos Foundation, the U.S. Dept. of Education, and Alex Zagoreos, president of the Board of Overseers of the Gennadius Library, as well as Lloyd E. Cotsen for support of the Gennadius lectures.
Running time 66 minutes
Corey Brennan "Baldness in the Greek and Roman Imagination"