Return to News
VIDEOCAST - History in Tune: The Ottoman Music Tradition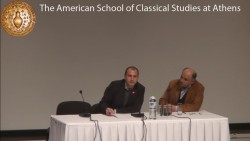 History in Tune: The Ottoman Music Tradition from ASCSA on Vimeo.
Panagiotis Poulos, Lecturer at the Dept. of Turkish and Modern Asian Studies of the National and Kapodistrian University of Athens, will speak on "Ottoman Song-text Collections: an Intercommunity Perspective"
Okan Murat Öztürk, Associate Professor at the Başkent University, Ankara on "Describing Any Melody: Makam Knowledge in the Ottoman Musical Writings".