Return to News
VIDEOCAST - St. Luke and the Icon of the Virgin Kykkotissa in Cyprus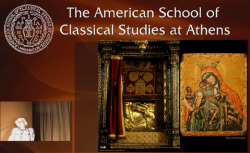 Annemarie Weyl Carr, University Distinguished Professor of Art History Emerita at Southern Methodist University in Dallas, Texas, has worked on the history of Middle Byzantine art, especially manuscripts; on art and issues of cultural interchange in the eastern Mediterranean Levant in the era of the Crusades, above all on the island of Cyprus; and on women artists in the Middle Ages. She is currently studying the life of icons after Byzantium.
She has written Byzantine Illumination, 1150-1250: The Study of a Provincial Tradition (1987), A Masterpiece of Byzantine Art Recovered: The Thirteenth-Century Murals of Lysi, Cyprus (1991), and Cyprus and the Devotional Arts of Byzantium in the Era of the Crusades (2005); and edited and co-authored Imprinting the Divine: Byzantine and Russian Icons in the Menil Collection (2011), Asinou in Time: The Church and Frescoes of the Panagia Phorbiotissa, Cyprus (2012), and Famagusta, Art and Architecture (forthcoming 2013).

She received the Lifetime Achievement Award for Teaching from the College Art Association of America in 2006. A former president of the International Center of Medieval Art, she is now the Vice President of the Board of the Cyprus American Archaeological Research Institute in Nicosia.
To explore the life of an icon over time, Professor Carr has been studying the icon of the Mother of God of Kykkos Monastery on Cyprus, known as the Kykkotissa. Her Gennadeion lecture took as its starting point a smallish icon in the Benaki Museum (T101) in which the Mother of God, labeled "the Eleousa of Kykkos", is accompanied by a little figure of St. Luke who is painting the very image we see and venerate. Her lecture explored the history of St. Luke in its images.
St. Luke and the Icon of the Virgin Kykkotissa in Cyprus from ASCSA on Vimeo.