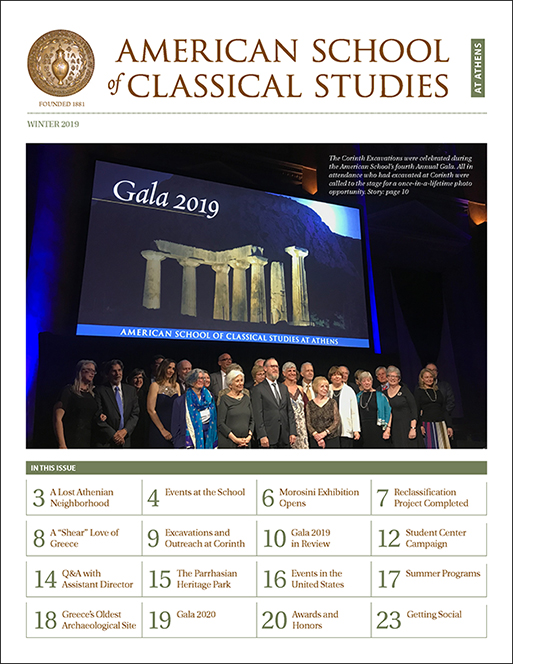 In this issue:
Rediscovering a Lost Athenian Neighborhood
Spring 2019 Blooms with Presentations and Performances
Morosini Exhibition Opens in Makriyannis Wing
Reclassification Project Completed
A "Shear" Love of Greece—A Look Back at Philhellenism
Excavations and Outreach at Ancient Corinth
Gala 2019 in Review and Looking Ahead to Gala 2020
Student Center Campaign Nearing Completion
School Launches Annual Appeal Campaign
Steinmetz Elected to Board of Trustees
Q&A with Assistant Director Eric Driscoll
Greek President Attends Talks on Greece's First Cultural Heritage Park
Broadening Awareness of the American School
Summer Programs Trek, Sail, and Discover
Excavating the Oldest Archaeological Site in Greece
Jack Davis to Be Awarded 2020 AIA Gold Medal
Mary Lefkowitz Honored by Alpha Omega Council
Susan Rotroff to Receive 2020 Aristeia Award
Gennadius Friends Visit Greek Islands
Getting Social
And more . . .
Click here to read back issues of the Newsletter.