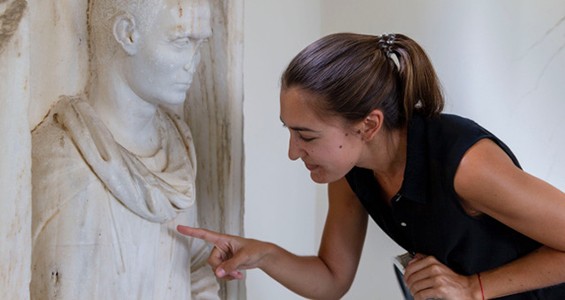 Aegean Networks of Technology (June 6-24, 2022)
This seminar will explore four fundamental technologies in ancient Greece (ceramics, wood-working, stone carving, and bronze-casting) and how craft practitioners shared their expertise in multi-craft projects, such as building a boat or a temple. Participants will discover how these networks of technology developed in a broad Aegean context, from Athens and Corinth on the mainland to the Cycladic islands of Naxos, Paros, and Santorini, and in a deep time frame, from prehistory to contemporary traditional practices. Taught by Professor Eleni Hasaki, University of Arizona.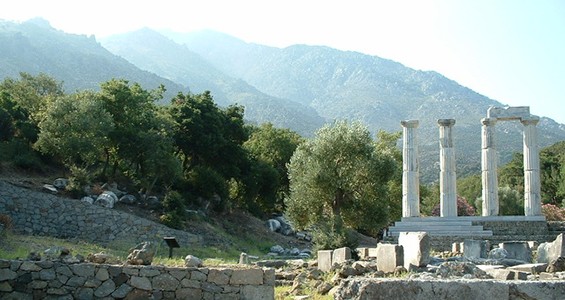 The Northern Aegean: Macedon and Thrace (June 30 - July 18, 2022)
In this seminar, participants will explore the Northern Aegean region during various time periods. The history of Macedon and Thrace bridges the East and West and offers a glimpse into some of the most significant developments in Greek history, such as colonization, cross-cultural relations, the Persian Wars, Athenian hegemony, and the rise of Macedon. Taught by Professors Amalia Avramidou, Democritus University of Thrace, and Denise Demetriou, University of California, San Diego.
General Information
Internationally known scholars of Greek history, art, and archaeology will participate as guest lecturers in both seminars. Students are expected to give on-site reports, which they will prepare in their home libraries before the program begins. Committed to presenting a comprehensive view of Greece's rich history and archaeology, these seminars involve long days and extensive walking in the hot Mediterranean summer, and participants should be prepared for a rigorous program of study.
Facilities
The Summer Seminars are based at the American School of Classical Studies at Athens. Participants enjoy 24-hour access to the world-class Blegen Library, including a computer lab, wireless internet access, archives, and individual study space. Participants will be housing in Loring Hall while in Athens, and have access to our welcoming and supportive staff, home-style Greek cooking, gardens, and verandas that look out onto Mount Hymettus. The School also offers numerous opportunities for informal conversation, learning, and networking with professors and students working at the ASCSA, and with members of the international scholarly community in Athens.
Participants/eligibility
Enrollment is open to graduate and advanced undergraduate students, as well as to high school and college instructors of classics and related subjects. Each seminar is limited to twenty participants. The language of instruction is English. Applicants who are not enrolled or teaching at English-speaking institutes, or schools, may be required to supply evidence of proficiency in English.
The program is both intellectually absorbing and physically challenging. Museum visits may involve long periods of standing, while many site visits require hiking uphill in the Mediterranean summer heat. Participants must be in good physical shape and be ready to work cooperatively as part of a close-knit Summer Seminar group.
Summer Seminar participants become part of the ASCSA alumni/alumnae community, with more than a thousand members around the world. Summer Seminar participation can open the doors to professional connections, mentoring, fieldwork opportunities, and scholarly support for years to come.
An attempt is made to ensure that the session includes undergraduate students, graduate students, high school teachers, and college professors, though there is no quota for any category. The American School of Classical Studies at Athens does not discriminate on the basis of race, age, sex, sexual orientation, color, religion, ethnic origin, or disability.
Costs
The fee for each summer 2022 Seminar is $2,750. This includes tuition, room for the entire 18-day period, partial board in Athens, travel within Greece, and museum and site fees. International airfare, most meals outside Athens, and incidental expenses are the participant's responsibility. Financial aid is available in the form of ASCSA scholarships, awarded on the basis of academic merit, and many classical professional organizations have funding opportunities. (Rates and fees are subject to change without notice.)
Academic credit
The American School is not a degree-granting institution. No grades are given for its programs, nor are transcripts provided. Inquire about course credit option.
APPLICATION
Deadline for the online application and two recommendations is TBA. (Application will open late summer 2021).

Link to the online application: TBA
Admission to the Summer Seminar is granted on the basis of academic performance and letters of recommendation.
Applicants will complete an online application, for which they will submit pdf scans of academic transcripts (unofficial transcripts are acceptable) and arrange for the online submission of two letters of recommendation by the application deadline. All applicants will be notified in February.
Visas
Any U.S. or Canadian citizen who plans to spend more than 90 days in Greece and/or any other member of the Schengen block of countries (Austria, Belgium, the Czech Republic, Denmark, Estonia, Finland, France, Germany, Greece, Hungary, Iceland, Italy, Latvia, Liechtenstein, Lithuania, Luxembourg, Malta, the Netherlands, Norway, Poland, Portugal, Slovenia, Slovakia, Spain, Sweden, and Switzerland) within a six-month period must obtain a special visa BEFORE entry into the Schengen zone. This visa must be issued by a Greek consulate/embassy in a country where the applicant is a resident, and the application process can take two or more months. Any participant who plans to combine, for example, a spring or fall study abroad program with the ASCSA Summer Seminars may exceed the 90-day limit. For further information, click here.
For additional questions or information:
Contact Professor Elizabeth Baltes (Coastal Carolina University), Chair of the Committee on the Summer Sessions at ssapplication@ascsa.org.