Friends of Barbara Tsakirgis
We are deeply saddened by the loss of Barbara Tsakirgis, a dear friend and colleague. She had an enormous impact on the field of classical archaeology as well as an extraordinary passion for Greece. A renowned scholar on ancient Greek domestic architecture, she was an archaeologist, professor, educational pioneer, and author.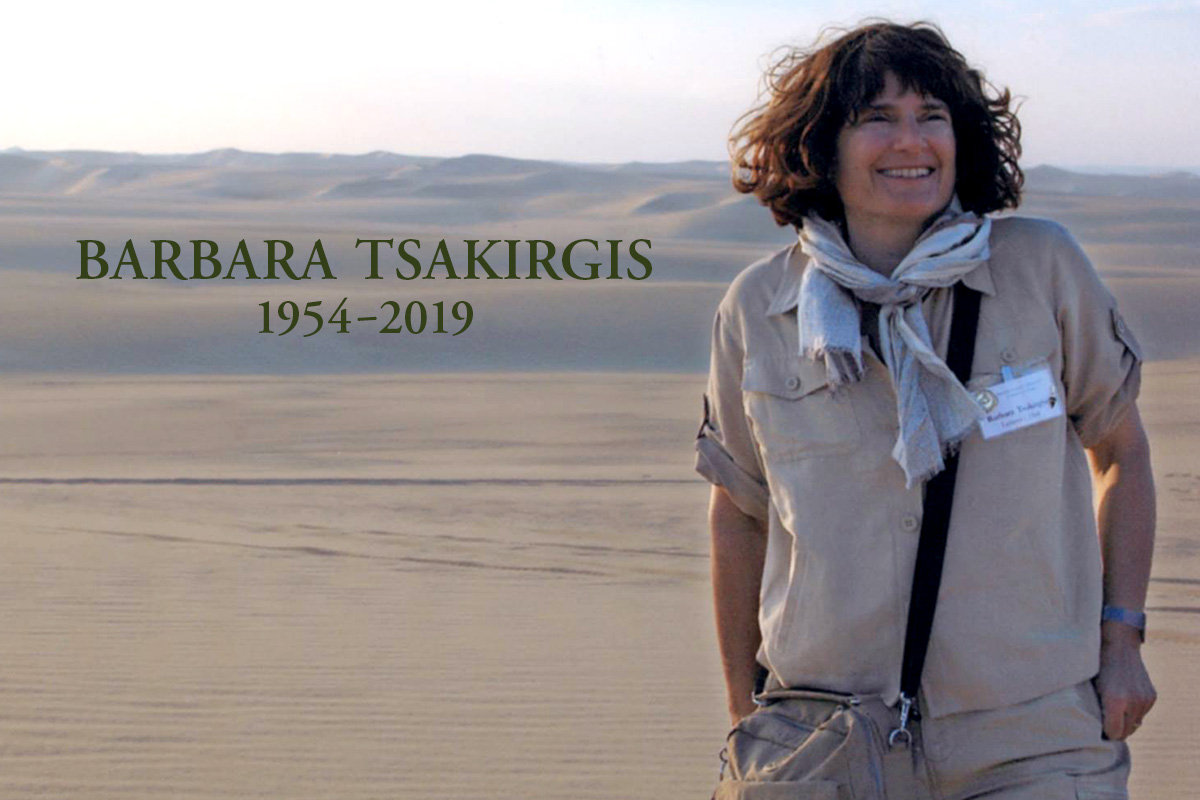 Barbara in the Egyptian desert, 2006. Photo: Kate Ortner.
Her Life and Legacy
In her many years at the American School, beginning with her Fulbright Fellowship in 1980, Barbara was always a joyful presence, sharing her unbounded enthusiasm for all things Greek, willing to trek just about anywhere in the Mediterranean, and serving untiringly as a long-time member and officer of our Managing Committee. As a Whitehead Visiting Professor (1996–1997), loyal lecturer in countless summer sessions, and author of numerous scholarly articles, she taught us much about Greek houses, from their mosaic floors to their chimney pots.
Barbara was Associate Professor of Classical and Mediterranean Studies and History of Art at Vanderbilt University, where she joined the faculty in 1984 and chaired the Department of Classical Studies from 2005–2011. Despite her tireless work as an archaeologist and educator, Barbara was extremely generous with her time and talents. She served many organizations with distinction, including the Archaeological Institute of America, where she was as an academic trustee from 2000–2006; the Nashville Society, where she was a long-standing coordinator; and the Conservancy for Centennial Park, where she was a board member. Barbara was also a strong community advocate for the Nashville Parthenon and her extensive work at the excavations of Morgantina, Sicily, is well documented. She began work there as a graduate student at Princeton and wrote her doctoral dissertation on its Hellenistic domestic architecture (1983).
Barbara passed away on January 16, 2019 after a long battle with ALS. She is survived by her husband of 36 years, Jeremy Spinrad, and two daughters, Demetria and Thalia.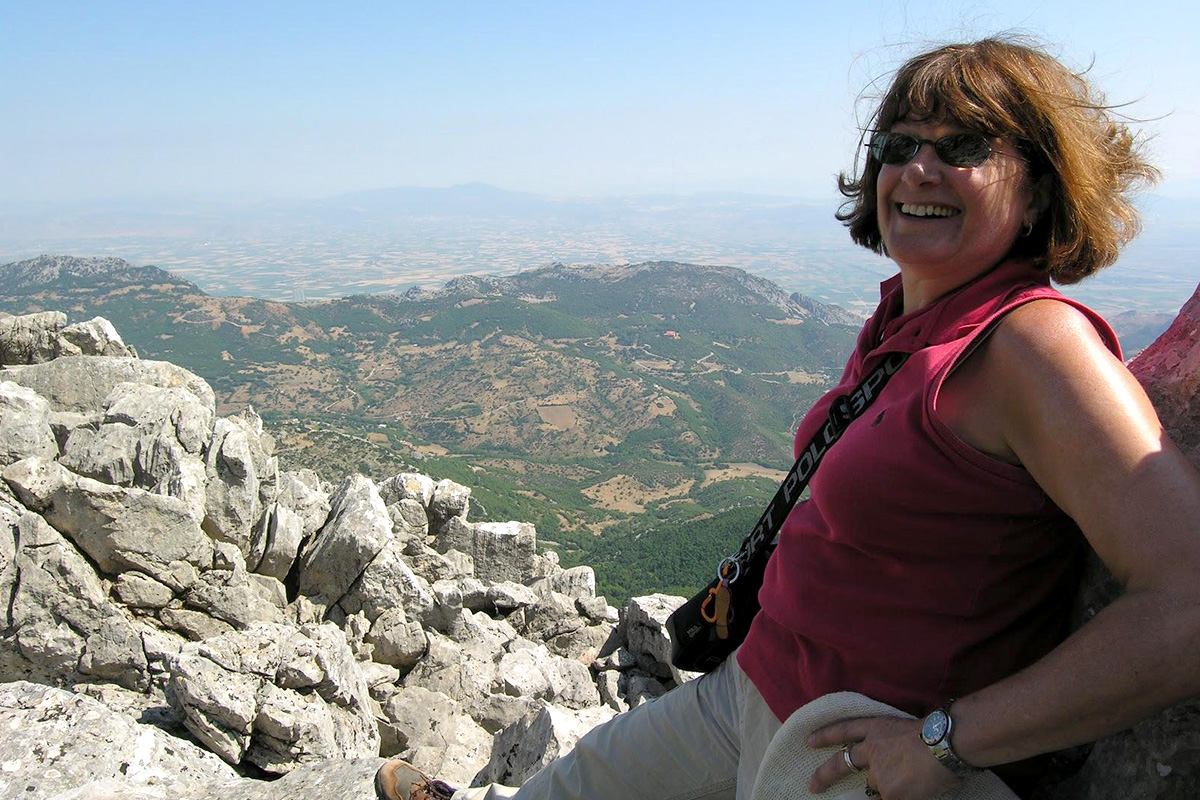 Barbara at Mount Helikon, 2009. Photo: Betsey Robinson.
Honoring a Friend and Colleague
The American School is currently in the midst of a capital campaign to completely renovate, remodel, and expand Loring Hall, the intellectual and residential heart of the campus and future site of the new Student Center. Spaces in this complex are being named in honor of special members of the community. With the funds raised thus far, a bedroom can be dedicated to Barbara. However, with your additional support, it is our hope that a more prominent space can be named in her memory.
Barbara teaching American School students in Greece.
Make a Gift
Please consider making a contribution to help recognize Barbara's incredible commitment and dedication to the American School. Your gift is tax deductible, so click the link below to make a donation today (enter "Barbara Tsakirgis" in the "In Memory of" section). Thank you for your generous support!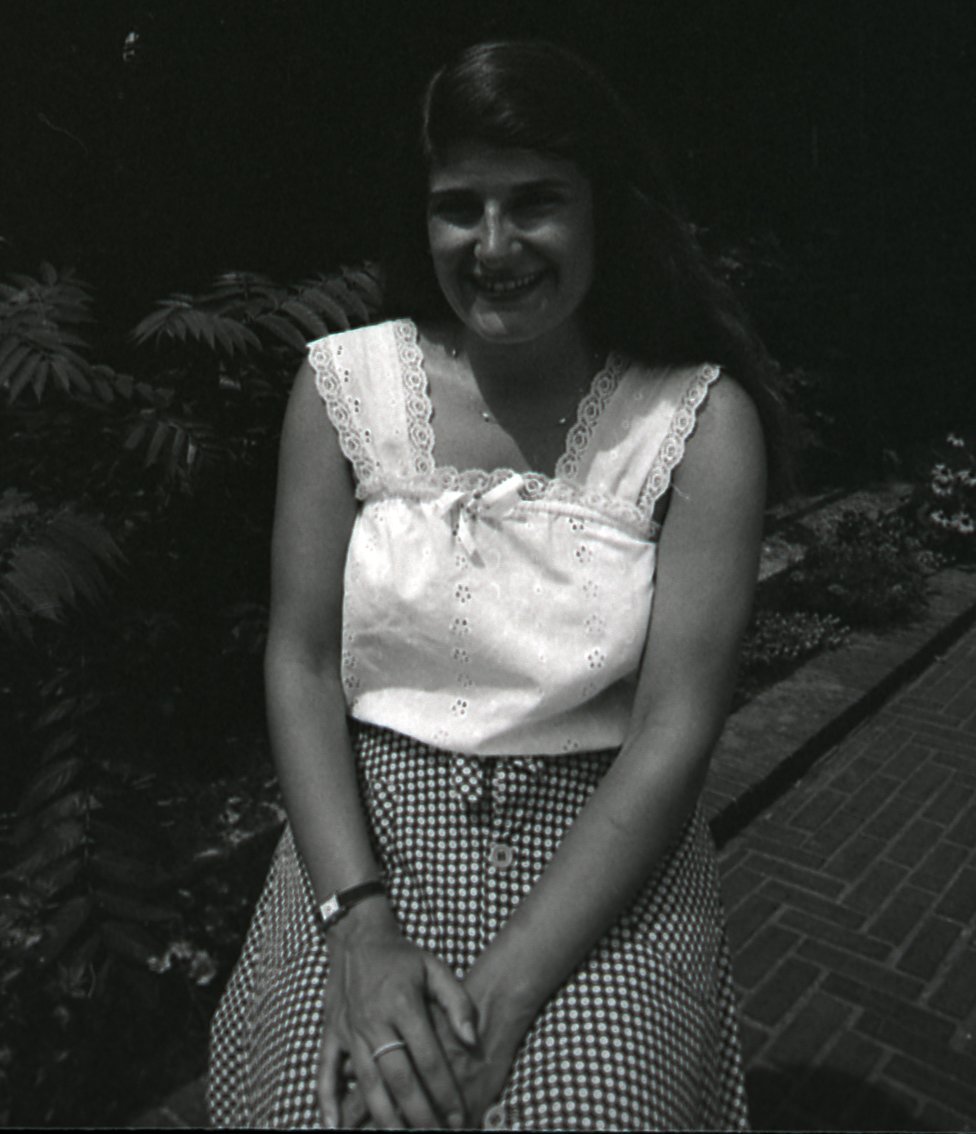 Barbara as a student at the American Numismatic Society, 1982. Photo: American Numismatic Society.