Friends of Henry and Sara Immerwahr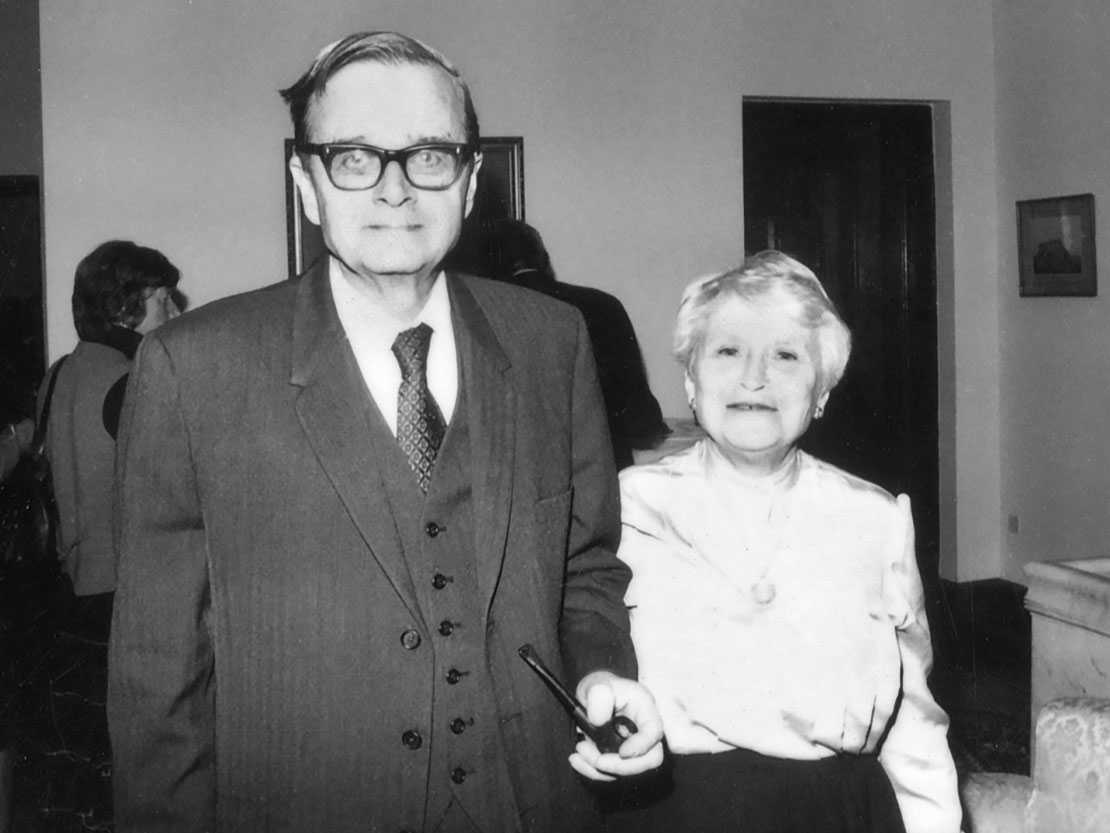 Dear friends and colleagues,
As you may already know, the American School of Classical Studies at Athens is renovating and expanding Loring Hall, built in 1929 and needing an upgrade. (Remember the bathrooms? The horsehair mattresses? The toasters?) The Student Center Campaign provides opportunities to name spaces in Loring Hall to honor scholars and friends of the School. Each named room will feature a tribute to the honoree(s), including biography, remembrances, and photographs. This is a wonderful way to pass on knowledge of past scholars and friends to successive generations.
We propose that Henry and Sara Immerwahr be recognized with a room in the newly named Student Center. The fundraising target for a named space is $50,000 (USD), which is a great deal of money, but we are confident that we can meet this goal with your support.
The Immerwahrs were deeply connected to the School and to the fields of philology, epigraphy, history, and prehistory. We hope that you will consider honoring them by contributing to the Henry and Sara Immerwahr Room. To donate, please click this link. If you know anyone who might like to participate in this campaign, send them this message or pass their contact information along to us. If you have any questions, please contact Nancy Savaides, Director of Stewardship and Engagement for the American School, at nsavaides@ascsa.org or +1-609-454-6810.
Thank you very much for your time and consideration.
Sincerely yours,
Carol Mattusch
Anne Chapin
Ronald S. Stroud
ABOUT HENRY AND SALLY IMMERWAHR
Henry Rudolph Immerwahr was born in Breslau, Germany (now Wroclaw, Poland), in 1916 and attended gymnasium there. He left Germany in 1934 and studied with Giorgio Pasquale at the University of Florence, where he received a Dottore in Lettere in 1938. From there he went to the American School, where he held the newly funded German Refugee Fellowship from 1939 to 1942.
Henry Immerwahr (photo courtesy of the University of North Carolina)
Sara (Sally) Anderson was born in Pennsylvania in 1914. She graduated from Mt. Holyoke College in 1935 with a B.A. in archaeology and went to Bryn Mawr College for graduate studies. She worked with Mary Hamilton Swindler, excavated at Tarsus, and received an Ella Riegel Fellowship in 1938 to attend the American School.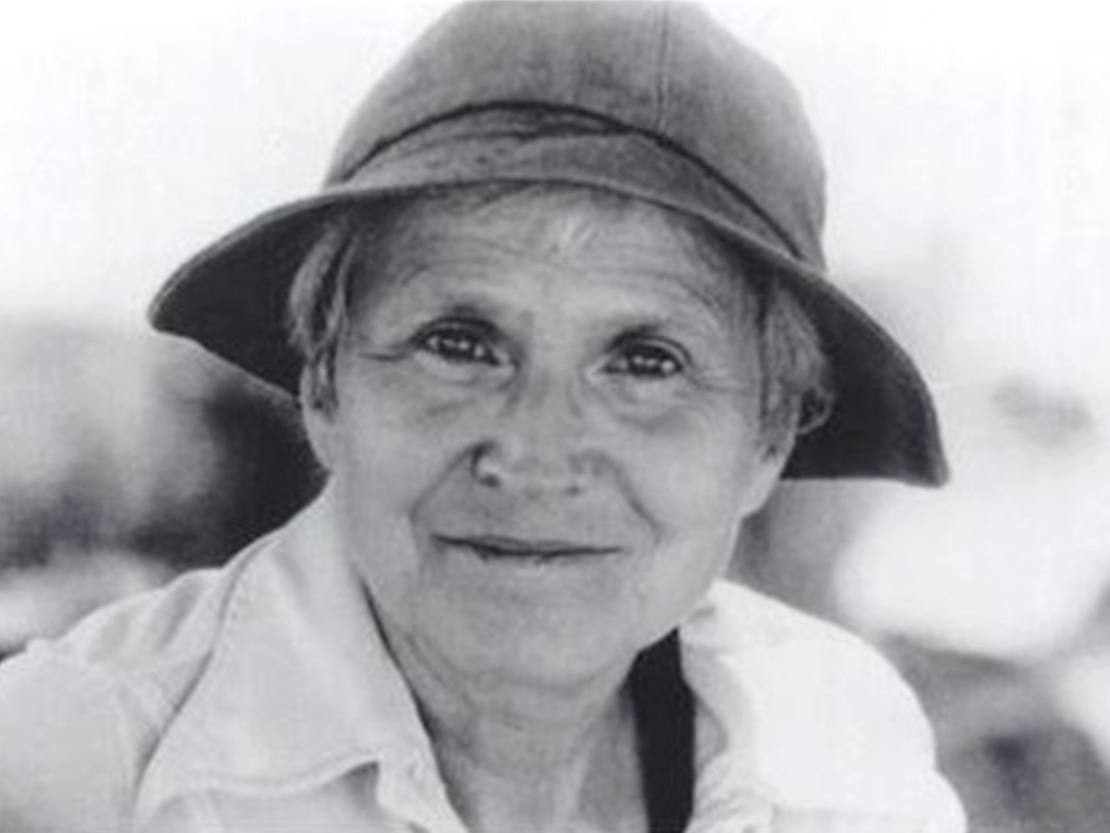 Sally Anderson Immerwahr (photo courtesy of the University of North Carolina)
On March 3, 1939, Henry met Sally during breakfast in Loring Hall. Although they worked in very different fields—he was a philologist and historian, and she was an archaeologist—they shared much in common. Their relationships with both the American School and each other would last a lifetime.
During their time at the School, H. Lamar Crosby was Director, followed by Gorham Phillips Stevens in 1939; Arthur W. Parsons was Assistant Director; and Mary Hamilton Swindler was Visiting Professor. Sally was the Acting Librarian and Fellow in Archaeology; she worked in the Agora, where T. Leslie Shear was Director of Excavations.
Driven from Greece by the onset of war, Henry and Sally left for the U.S. in 1940. Henry earned his doctorate from Yale University in 1942, working with Michael Rostovtzeff on "Records of Entertainers from Dura." Between 1940 and 1942, Sally worked as the secretary to Mary Hamilton Swindler, who was Editor-in-Chief of the American Journal of Archaeology; Sally earned her doctorate from Bryn Mawr College in 1943, working with Swindler on "The Mycenaean Pictorial Style of Vase Painting in the Thirteenth Century B.C." In 1943, Henry became a naturalized U.S. citizen; he served in the U.S. Army for two years. He and Sally were married in 1944. After the war, Henry returned to Yale, where he taught from 1947 until 1957. After receiving her degree, Sally taught at Wellesley, then at BMC, moving to New Haven in 1946 to join Henry, who had received a Guggenheim Fellowship. Their daughter Mary Elizabeth was born in 1948.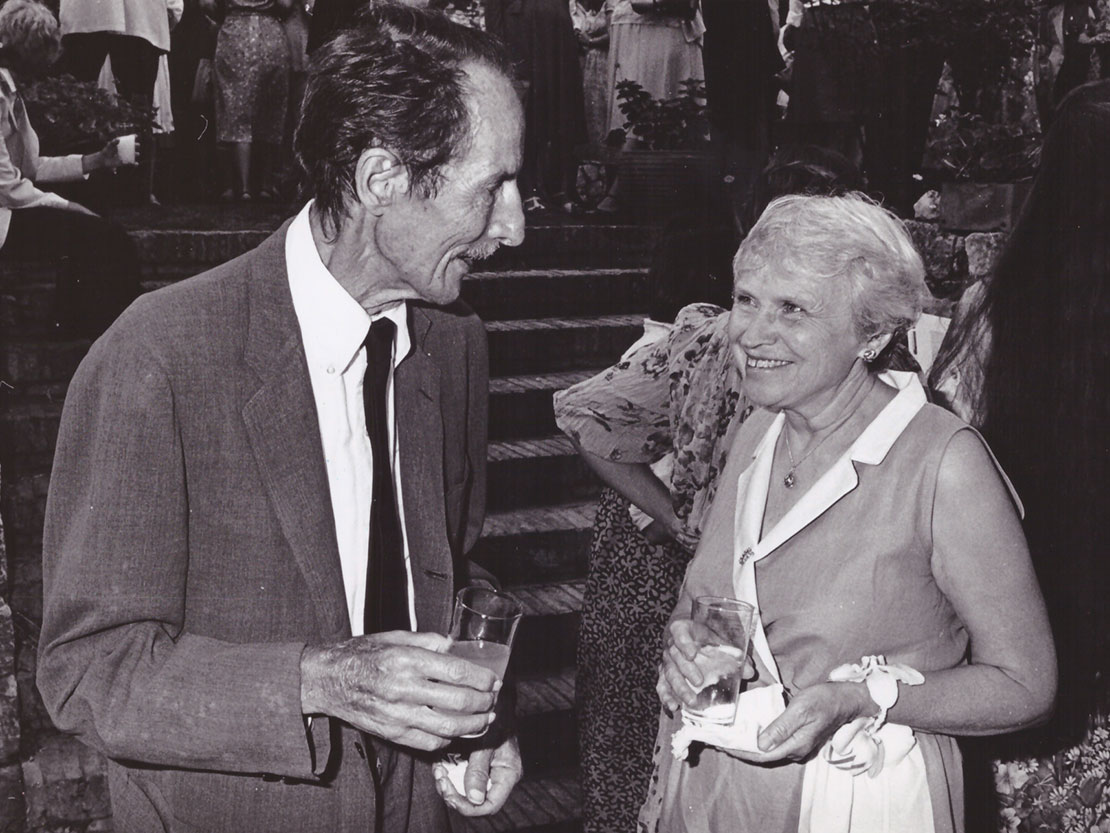 Eugene Vanderpool and Sally Immerwahr in the American School gardens, 1981
The Immerwahrs moved to Chapel Hill in 1957: they both taught at the University of North Carolina until retiring in 1977. If you studied with them there, you might remember Sally abruptly rapping her wooden pointer on the floor when she wanted the slides changed—and listening carefully to Henry to catch his sly remarks, delivered in an undertone. When the Immerwahrs entertained at 50 Davie Circle, Henry gnawed quietly on his pipe-stem while Sally loudly directed students to serve themselves. When Henry spoke, it was always interesting. Once, he pointed out a photograph that he had taken of dead octopi hanging on a clothesline to dry. With a slight smile, he muttered that it was originally hung in the bedroom, but after the picture was deemed unacceptable there, he moved it into the dining room.
With a sabbatical in 1970-1971, the Immerwahrs returned to the American School, Henry as a Visiting Professor, and Sally as a Senior Research Scholar in the Agora. After they retired from UNC in 1977, they returned to Greece. Henry succeeded James R. McCredie, a hard act to follow, as Director of the American School (1977–1982), and Sally was again a Senior Research Fellow.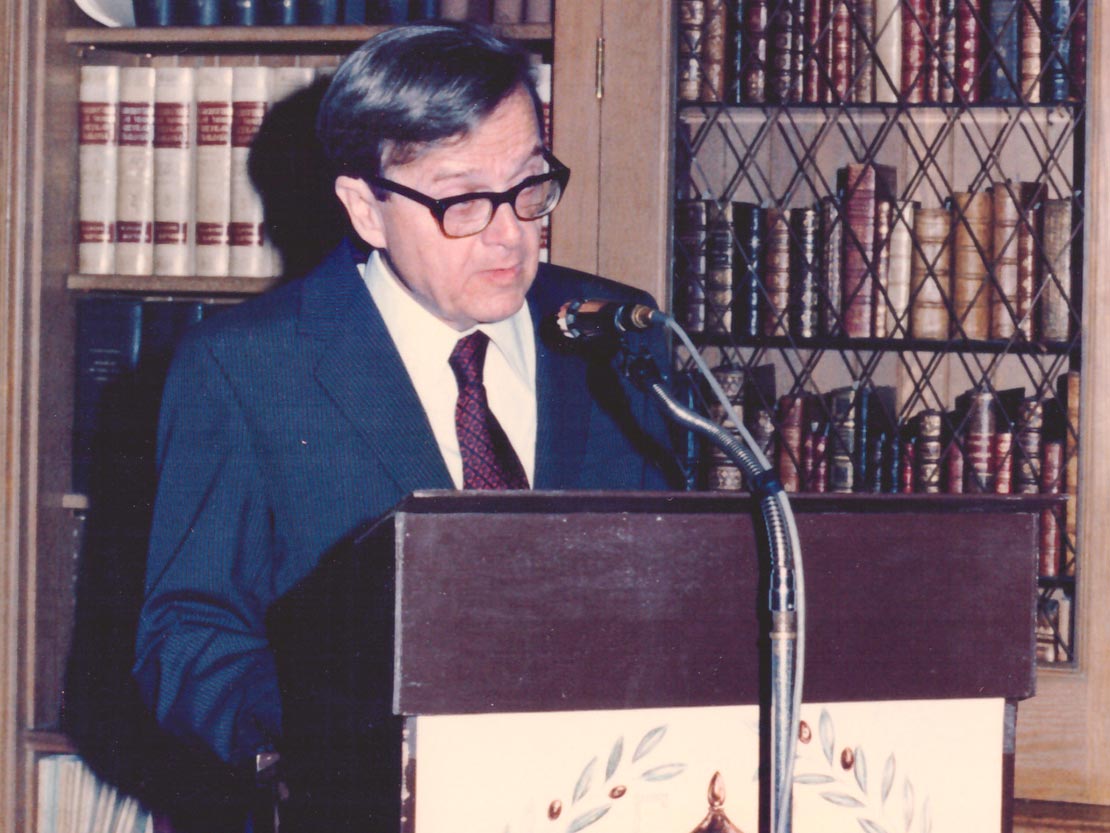 Henry Immerwahr speaks at the American School's Gennadius Library, 1981
Here's one of the stories from Henry's tenure as Director: during a thunderstorm, he sent two students up onto the Blegen Library's roof to unblock a drain and prevent the building from flooding. He assured them that if they were killed by lightning, he would put a plaque on the wall in their memory. Fortunately, no such plaque was needed.
Henry's groundbreaking Form and Thought in Herodotus was published in 1966, and Attic Script: A Survey came out in 1990. His "Corpus of Attic Vase Inscriptions" continues in Basel: avi.unibas.ch. The Athenian Agora, Volume 13 (1971) is Sally's The Neolithic and Bronze Ages; her indispensable Aegean Painting in the Bronze Age was published in 1990.
In 1982, the Immerwahrs returned to Chapel Hill, living happily at Carol Woods Retirement Community with friends and colleagues. Sally died there in 2008, Henry in 2013. They are buried on Chebeague Island in Maine, where since 1950, they spent most of their summers on Casco Bay, with Mary and her family, and with Henry's boat, the Argo.