Return to News
Rebecca Sinos Names Diskin Clay Room in New Student Center
The American School of Classical Studies at Athens is pleased to announce a gift from Rebecca Sinos in support of the renovated Student Center. Professor Sinos has named a bedroom in the Annex in honor of Diskin Clay, a classical philologist, distinguished educator, and former Whitehead Professor at the School.
Diskin Clay, ca. 2000 (photo courtesy of Jenny Strauss Clay)
Rebecca Sinos, the Edwin F. and Jessie Burnell Fobes Professor in Greek at Amherst College, was a student of Diskin Clay's at Johns Hopkins University. "It is a great pleasure for me to have this way of commemorating the teacher from whom I first learned about the American School," Sinos said. "Diskin Clay encouraged his students to go to the School, get to know the landscape of Greece, and try to see things through the eyes of that culture whose written words and material remains we study."
Sinos heeded Clay's advice and attended the School in 1978–1979: "My year as a Regular Member, when Colin Edmonson was the Mellon Professor, sowed in me a passion for Greece that has been growing ever since. At the School, I have found not only the best research center I know for the field I love but also friendships, inspiration, and great generosity—things that make life worth living."
ABOUT DISKIN CLAY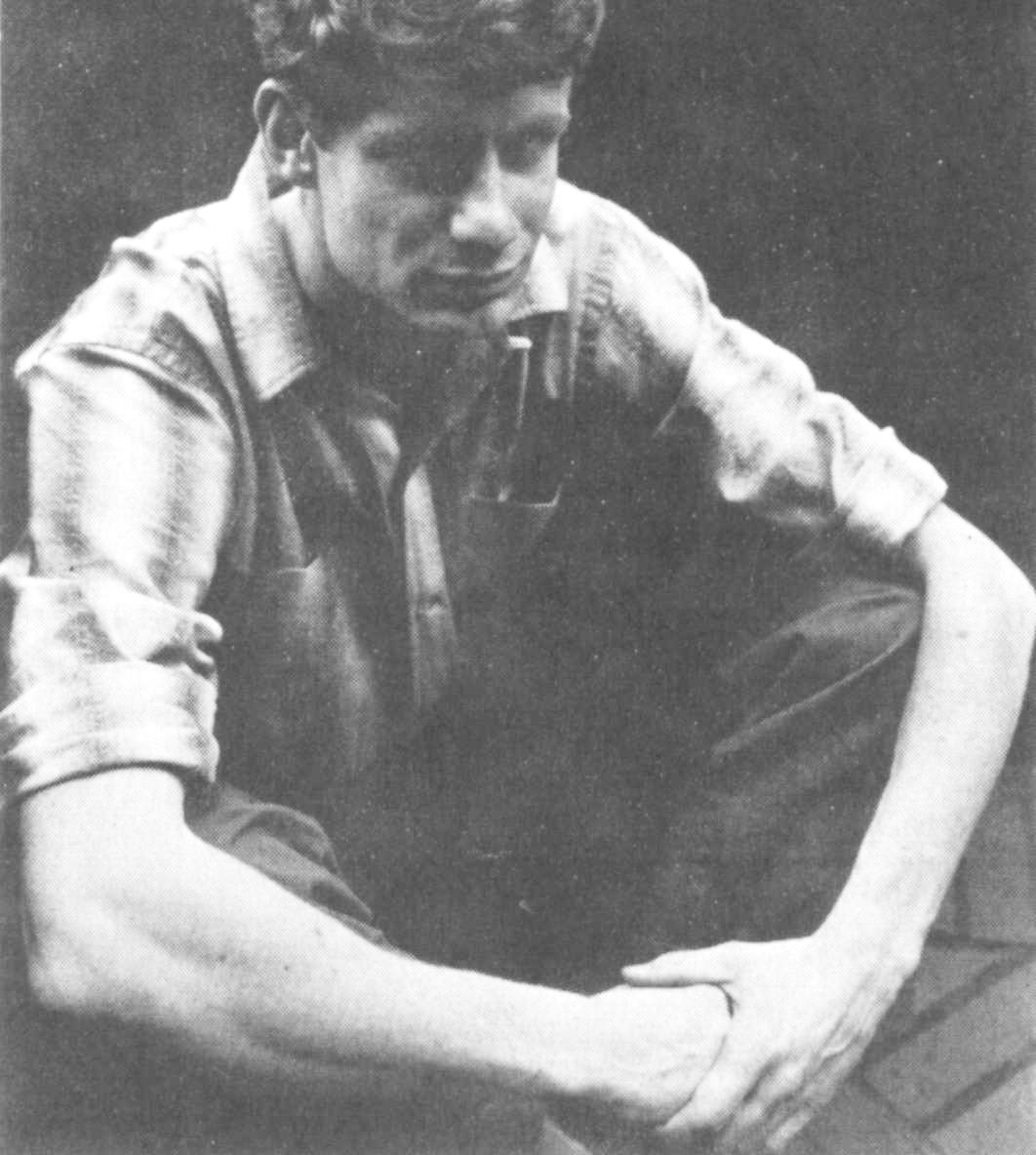 Diskin Clay's Reed College yearbook photo, 1960 (photo courtesy of Reed College)
Diskin Clay (1938–2014) was born in Fresno, California, to Norman William Clay and Florence Patricia Clay (née Diskin). He spent most of his childhood in Reno, Nevada. As a boy, he struggled with polio, managing to overcome his physical limitations to participate in various sports and even mountain climbing.
Clay earned a B.A. in Literature from Reed College (1960) and an M.A. (1963) and Ph.D. (1967) in Classical Studies from the University of Washington in Seattle. He won numerous awards, scholarships, and grants, including a Fulbright fellowship to the University of Montpellier, and fellowships from the Center for Hellenic Studies in Washington, D.C. and the National Endowment for the Humanities.
Diskin Clay at the Acropolis as a Regular Member of the School, ca. 1963 (photo courtesy of Jenny Strauss Clay)
Clay's long association with the American School began in 1963–1964 with a fellowship to attend the School as a Regular Member, studying under such giants as Eugene Vanderpool, Carl Blegen, and Oscar Broneer. Clay was a dedicated member of the School's Managing Committee throughout most of his career, representing Johns Hopkins University (1977–1988) and Duke University (1995–2009) before serving as a non-voting member until his death. He also served on the Committee on the Gennadius Library (1988–1992, 1993–1997; Chair, 1994–1997), the Committee on Publications (2005–2009), and the newly created Board of Trustees (now Overseers) of the Gennadius Library (1994–1997).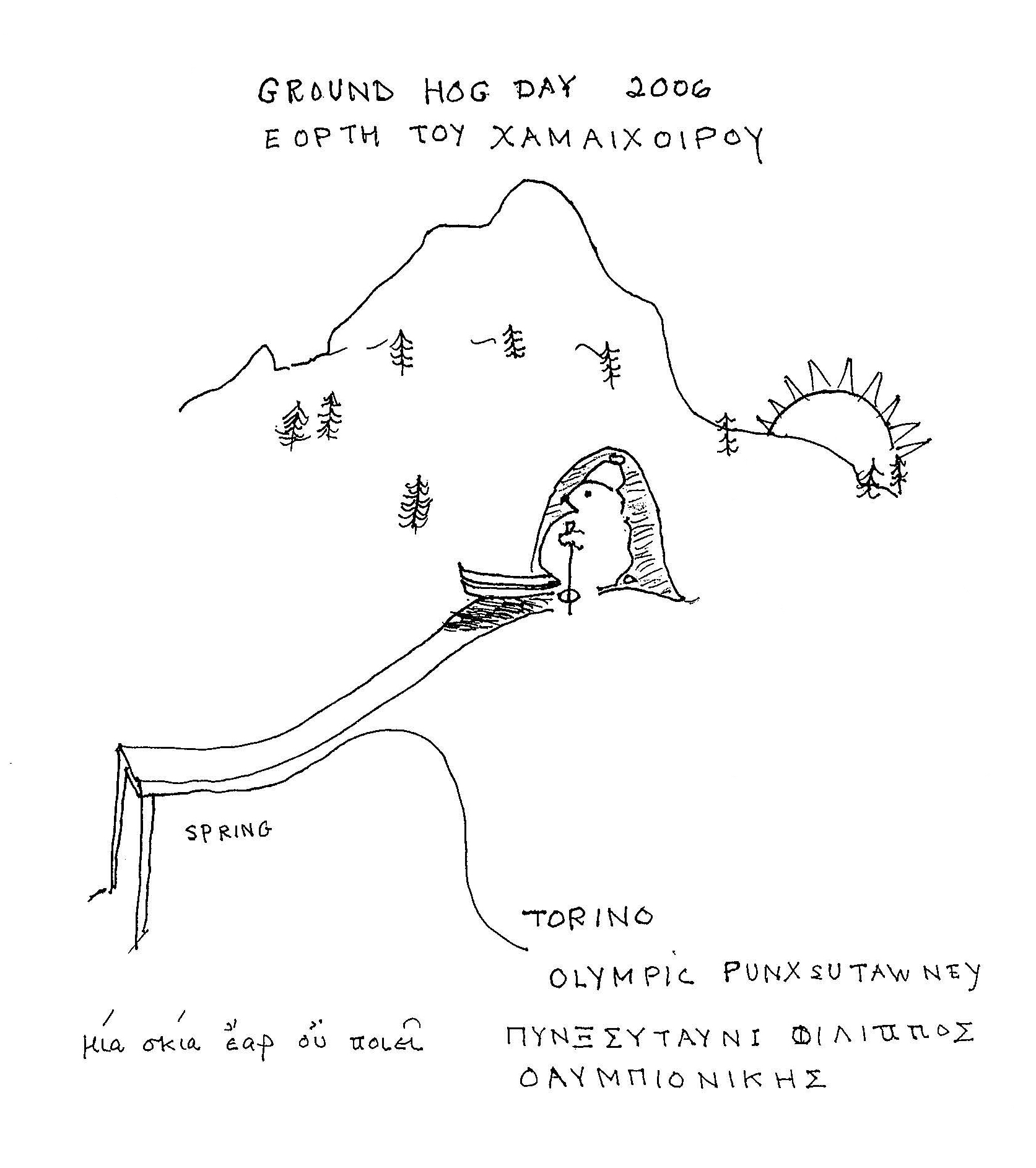 Diskin Clay enjoyed drawing cartoons and sending them along with holiday greetings to his friends and students. Pictured above is Clay's Ground Hog Day (ΕΟΡΤΗ ΤΟΥ ΧΑΜΑΙΧΟΙΡΟΥ) illustration which was an homage to the 2006 Torino Olympics. The quote "μία σκιὰ ἔαρ οὐ ποιεῖ" translates to "One shadow does not make spring." (Illustration courtesy of Rebecca Sinos.)
Clay's 42-year teaching career began as Assistant Professor of Classics and Humanities at his alma mater, Reed College (1966–1969), followed by a year at the Center for Hellenic Studies. He taught next at Haverford College (1970–1976) and was also a visiting professor at the University of Lille (1972) during his tenure there. He then joined the faculty at Johns Hopkins University, where he was an associate professor (1976–1980), Chair of the Department of Classics (1976–1983), and the Francis White Professor of Greek (1980–1988). He also held appointments as Blegen Distinguished Visiting Research Professor in Classics at Vassar College (1985–1986), Elizabeth A. Whitehead Professor at the American School (1988–1989), and Distinguished Professor of Classics, Philosophy, and Comparative Literature at The Graduate Center of the City University of New York (1988–1990). In 1990, Clay moved to Duke University, where he was the Arts and Sciences Professor of Classical Studies before being named the R. J. R. Nabisco Distinguished Professor of Classical Studies in 1991, a position he held until he retired in 2008. The Archives at Duke University house the Diskin Clay Papers, which include 14 boxes of Clay's correspondence, writings, teaching files, and research materials.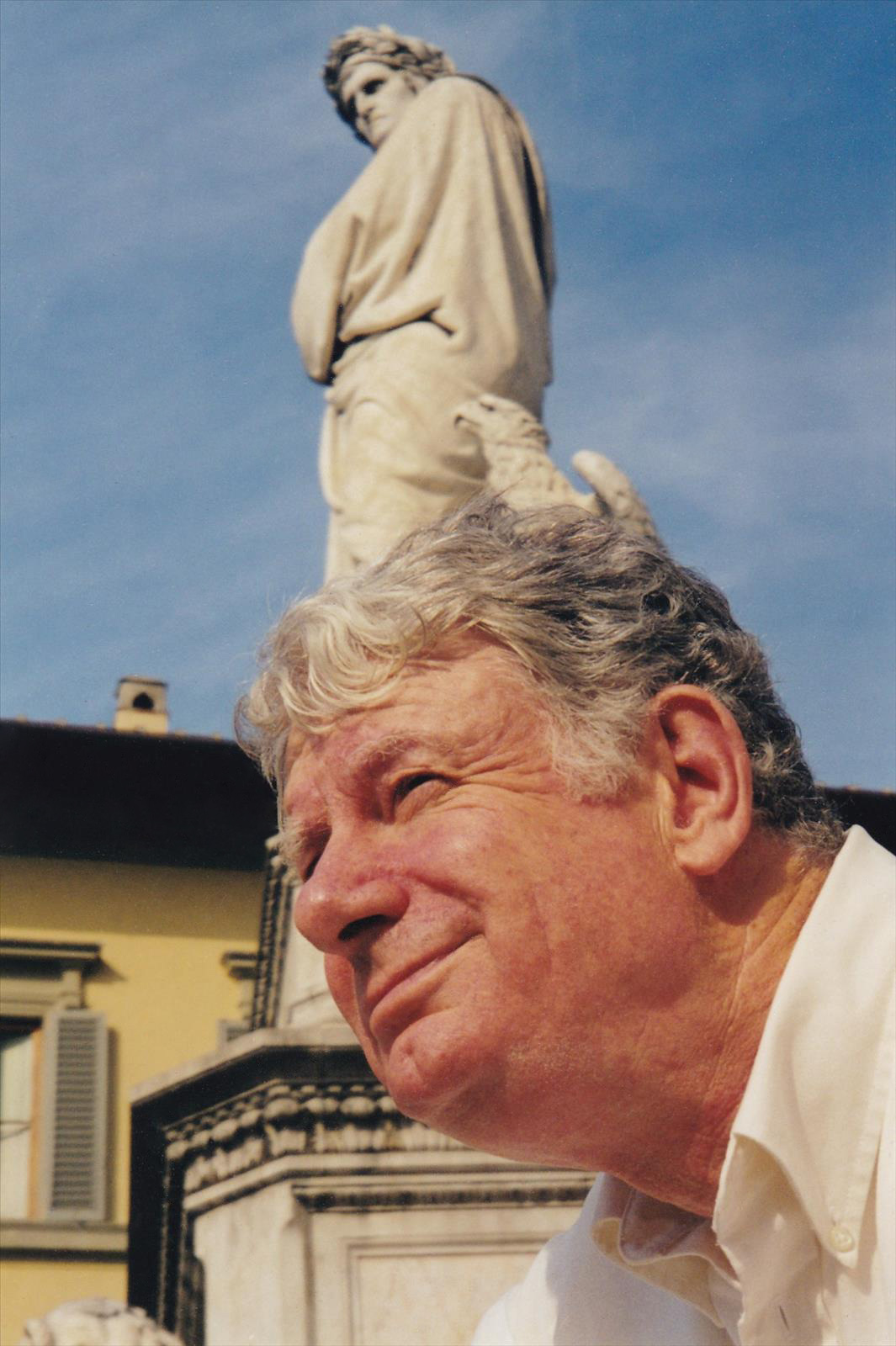 Diskin Clay in Florence, 2000 (photo courtesy of Andrea Purvis)
Clay was also known for his editing prowess. He was Associate Editor (1976–1981) and Editor (1982–1987) of the American Journal of Philology (AJP), and also edited AJP Monographs in Classical Philology (1985–1989). Demands for his expertise led to further service on the editorial boards of several other scholarly publications, including the Journal of Modern Greek Studies and Arion.
As an educator, Clay was able to communicate his passion for his work, and he inspired generations of students in their own teaching and research. He also learned and spoke multiple languages, which benefited him during his extensive travels. Clay's love of teaching and traveling shaped much of his scholarly and creative work. He published 13 books (written or co-authored), more than 100 articles, notes, and miscellanea, and 29 book reviews, including Archilochos Heros: The Cult of Poets in the Greek Polis (Center for Hellenic Studies, 2005); an introduction to Marcus Aurelius' Meditations (Penguin Books, 2006); Platonic Questions: Dialogues With the Silent Philosopher (The Pennsylvania State University Press, 2000); a translation and commentary of Lucian's True History: The Art of Hell: From Dante's Inferno to Rodin's The Gate of Hell; "Dante's Parnassus: Raphael's Parnaso" (Arion 22, 2014, pp. 3–32); "A Gymnasium Inventory from the Athenian Agora" (Hesperia 46, 1977, pp. 259–267); and The Memoirs of Diskin Clay: Fragments of a Life Never Whole for Which the World Is Not Yet Prepared (unpublished manuscript).
Clay's Festschrift, Euphrosyne: Studies in Ancient Philosophy, History, and Literature in Memory of Diskin Clay (Peter Burian, Jenny Strauss Clay, and Gregson Davis [Eds.]; De Gruyter; 2020), is a collection of essays and other contributions by colleagues, students, and friends.
Diskin Clay's Festschrift
Co-editor Peter Burian hailed Clay as being a true "citizen of the world." His extraordinary linguistic skill and appreciation for life in different communities made him a welcome member everywhere he went; his energy, and the breadth of his interests, carried him far afield. In addition to his various teaching positions in the United States and abroad, he participated in an underwater excavation of a ship off Kyrenia and traveled to Oenoanda in ancient Lycia to study the lengthy inscription carved into the walls of a stoa by the Epicurean philosopher Diogenes.
Burian added, "This extraordinary range reflects the breadth of Diskin's interests and the passion with which he pursued them. But whether his subject involved monuments, artifacts, texts, or all three, Diskin's work was always aimed at getting inside them, so to speak, discovering the codes and contexts that reveal something about life as experienced, meaning as conceived at the time, and place in question."
Walter Englert, Professor Emeritus of Classical Studies at Reed College, wrote, "Diskin was one of the most prolific and wide-ranging scholars of his generation. His primary research and publication interests were in ancient philosophy (Socrates, Plato, Epicurus, and Lucretius) and poetry (Greek lyric poetry and Greek tragedy), but his scholarly interests extended far beyond those topics. He had significant archaeological and epigraphical experience in Athens, Cyprus, Paros, Thasos, and Turkey, and was a distinguished translator of works by Sophocles, Euripides, Plato, Lucian, and others. His intellectual interests were not confined to the ancient world. He also published on Dante, the reception of Plato in Renaissance Italy, Francis Bacon, John Locke, C. P. Cavafy, and George Seferis. Diskin's greatest strength as a scholar was his ability to combine superb close readings of texts with a deep knowledge of the cultural contexts in which those texts were written."
In these and all of his writings, Clay's obvious erudition is accompanied by the subtle understanding of a man who is both a poet and gifted translator, who can lift the reader to share in his insights and even in his great appreciation for life.
Diskin Clay passed away peacefully at his home in Durham, North Carolina, on June 9, 2014.
ABOUT REBECCA SINOS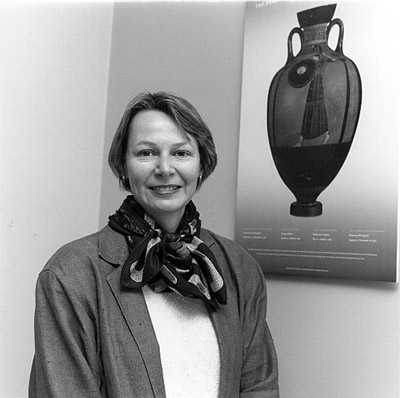 Rebecca Sinos (photo courtesy of Frank Ward)
Rebecca Sinos received an A.B. from the College of William and Mary (1976) and an M.A. (1978) and Ph.D. (1980) from the Johns Hopkins University. As a graduate student, she spent a year at the American School. Since then, she has been teaching Greek art and archaeology, Greek and Latin language and literature, Greek history, and Greek mythology at Amherst College, where she is a professor of classics. Her research interests include Greek iconography, religion, and vase painting. She co-wrote The Wedding in Ancient Athens (University of Wisconsin Press, 1993) with John H. Oakley.
ABOUT THE STUDENT CENTER CAMPAIGN
The Student Center Campaign was launched in October 2018 to raise funds for renovating and expanding the three aging buildings that serve as the intellectual and residential heart of the American School: Loring Hall, the Annex, and West House. This transformative project will increase housing capacity, reduce energy consumption, add state-of-the-art features and technology, and bring the buildings up to the latest technical standards—all while preserving the complex's historical appearance. The Student Center will remain the place where members of the community gather for meals, tea, ouzo hour, holiday celebrations, and lectures—a source of lifelong professional and personal relationships that characterize the collegial and intellectually vibrant atmosphere of the School. This modernized setting will enhance that experience and will meet the needs of the School community well into the future.
SUPPORT THE CAMPAIGN
The goal of the Student Center campaign is $9.4 million, inclusive of a maintenance endowment. Thanks to generous supporters like Rebecca Sinos, $7.7 million has been raised to date. The new Student Center is expected to open in June 2021.
To learn more about how you can support this historic initiative, please contact Nancy Savaides, Director of Stewardship and Engagement, at nsavaides@ascsa.org or 609-454-6810. Naming opportunities for a variety of spaces in the Student Center are still available. Donors can choose from a wide range of gift levels to name a room or area in honor of themselves, an American School scholar, or a family member, friend, or group. Please click the links below to view the nameable spaces and options that remain:

STUDENT CENTER CONSTRUCTION PHOTO GALLERY
Click this link to view more photographs of the work in progress.