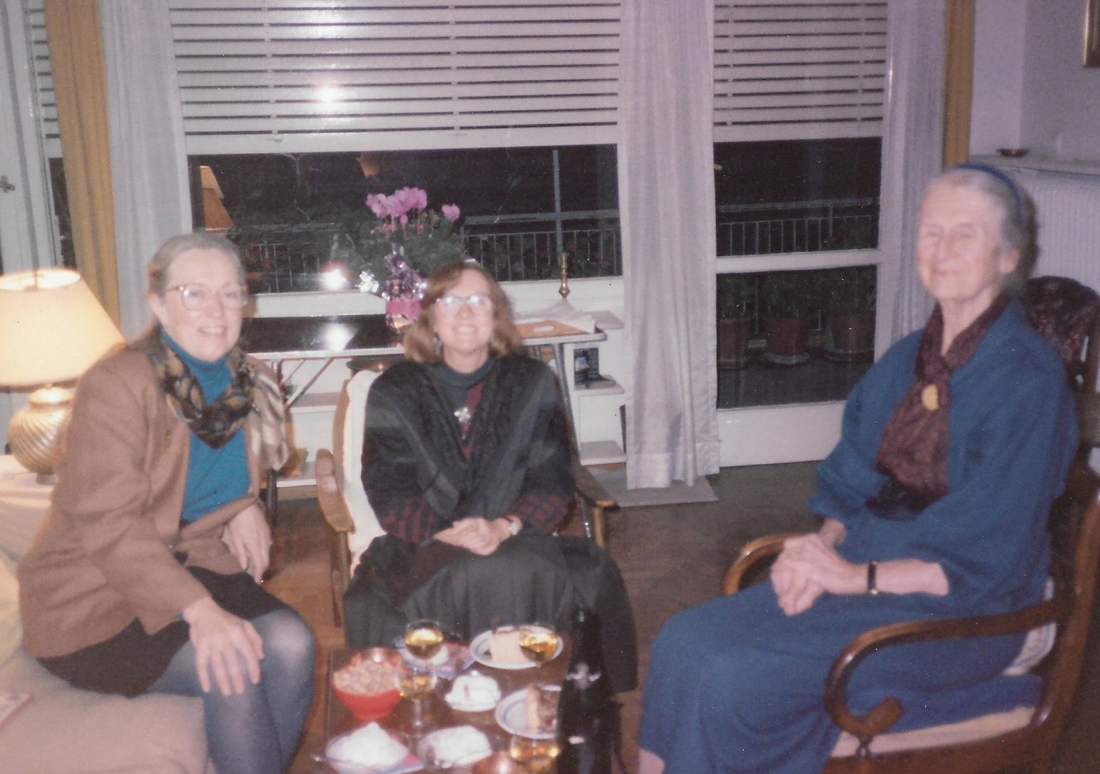 Kate Butterworth, Nancy Winter, Mary Zelia Philippides, 1980s. ASCSA Archives, Nancy A. Winter Papers.
Return to News
Intensive Cross-Cultural Experiences – The Katharine Butterworth Papers
June 1, 2020
Eleftheria Daleziou
Intensive Cross-Cultural Experiences – The Study in Greece Program (1970-1987)
Back in the late 1960s - early 1970s, for an American undergraduate student who wished to spend a semester in Greece, the options were not that many. While Greece was, and still is, the Wonderland for all aspiring archaeologists, classicists, and philosophers alike, for the rest of the students, who wished to spend an academic semester in Greece in direct contact with Modern Greece, academic programs were not available. This gap was filled by a program designed to offer students an opportunity to enjoy and understand Greece of the present. The name of the woman who envisaged, materialized and directed the program was Katharine M. Butterworth (1931-2018). Butterworth, an American, a graduate of the University of Michigan, had worked for the Council on International Educational Exchange and had served also as the Director of its Programs Department. Being in close cooperation for years with educators and students, having herself designed and helped execute programs and having spent time in Greece, Butterworth knew well how to respond to the challenge.
In the preface to the Study in Greece handbook of 1970-1971, one reads the philosophy behind the program: "SIG is designed to bring the American student into direct contact with modern Greece, its people, institutions, culture, art and heritage. In every phase of the program the student will be relating with the Greek people." At the ASCSA Archives we are proud to have the papers of Katharine M. Butterworth related to the Study in Greece program, which run from 1970 up to 1987. Handbooks, course syllabi, lists of tutors, alumni newsletters, all provide a clear picture of the program and the work of this ambitious American, who helped young Americans to get themselves acquainted with modern Greece: by attending courses, but also living in an island near Athens for a month, traveling on a boat for a week to other islands, attending performances of ancient Greek theater in Athens and Epidaurus, dancing and singing, even living with a rural family and taking part in village life. She had done so with the help of an array of young talented instructors, one of them our very own Nancy Winter, Librarian Emerita of ASCSA, who offered a course on Ancient Greek Art History. Among the lists of tutors and the descriptions of course syllabi one can also find names such as Kostas Karamanlis, the former Greek Prime Minister, who taught Greek Politics, or Theodoros Pangalos, former Minister of Foreign Affairs, who offered a course on Social and Economic Dynamics of Greek development.
If there are any of the program alumni out there, and there are many as the program attracted students from a number of colleges and universities across the States (e.g., Boston University, Brandeis University, University of California, Dartmouth College, the University of Massachusetts, Vassar, to name a few) or any of the course tutors, who would like to contribute a short story or a photo from their experience with SIG, please get in touch with us and help complete the history of the Study in Greece program.
---
ADDITIONAL NOTE
After we posted this story, Nancy Winter sent us a copy of the tribute she wrote for Kate's memorial, which we reproduce with Nancy's permission:
"I first met Kate when I went to Athens to work for the American School of Classical Studies in 1971. One day she phoned to ask my help: her students had arrived, and the Greek professor who taught ancient Greek art had just had a family emergency and couldn't teach that term. Three days later, I was teaching ancient Greek art, taking students through museums and to archaeological sites.
Our friendship grew over the years, as did my admiration for Kate. Few knew that, during the years when Greece was under a military junta, Kate employed the dissidents who couldn't find other work. Many of these people went on post-junta to become important political figures: a mayor of Athens, and even one or two government ministers. She remained a life-long friend of one major dissident literary figure who went into exile in Paris, Elias Petropoulos, with whom she wrote a book on rebetika music and dances; she later donated her letters from him to the archives of the Gennadius Library in Athens. These friendships opened many doors for her and the students fortunate enough to come to SIG. And they made eating out with Kate a constant adventure, waiting to see who came forward to greet her, with the deference, respect, and affection she had so richly and graciously earned."